Written by

Jennifer Doherty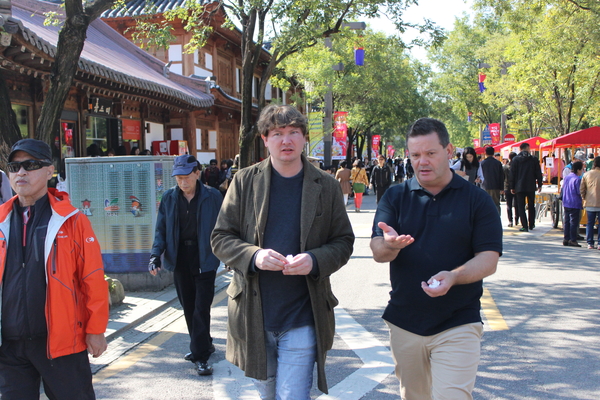 Be watching this Saturday, 29th August from 6-7pm to follow MasterChef judge and Chef Gary Mehigan as he journeys through South Korea on his new hit series Far Flung with Gary Mehigan. 
"Korea Tourism Organization were very pleased to have the opportunity to support Gary Mehigan's Far Flung adventures in Korea and have such a well known Chef and MasterChef judge such as Gary exploring his love of Korean food and sharing that with Australians.  Korean food is now well known all over the world and one of the major reasons that foreign visitors travel to Korea" stated the Director of Korea Tourism Organization Mr. Sang-weon Je .
Join Gary as he enjoys a feast of street eats in Seoul's Gwangjang Market with Chef Leo Kang, the MasterChef Korea star judge.  Then join Gary as he enjoys his passion for motorcycles and rides a Harley with Chef Youm of the famous Les Trois Restaurant in Seoul.  Chef Youm specialises in fine dining with an emphasis on 'healthy cuisine'.
See Gary display his culinary skills in the Jeonju Bibimbap Festival competition and take a lesson in making kimchi (fermented pickled cabbage) from a master kimchi maker in Jeonju Myeong Ja An.
Gary Mehigan particularly enjoyed his adventure to the Gwangjang markets for a unique taste of Seoul treats.  He recently commented following his visit " For a taste of Seoul then the Gwangjang markets are an absolute must. The countless stalls are fascinating, full of locals and not a little unlike a scene out of 'Bladerunner' - crowded, vapour rising from boiling pots, and delicious treats at every turn. Local specialities worth a try include: Sundae (blood sausage), tteokbokki (rice cake),  bindaetteok (mung bean cake) dumpling and noodle soups, and bibimbap....gee I'm getting hungry just writing this!"
He also made comment about his perceptions of Seoul city - "What struck me about Seoul most, was the juxtaposition of old and new. It's a new city nearly 50 years old, full of high rises, neon signs and wonderful new age architecture. The subway system is incredible and pretty much all directions include a station as your reference.   The trains are comfy, super clean and have free wifi!  Gangnam is worth a visit and the main strip is like 5th Avenue NY full of glitz and glamour. On the flip side, the palace with the mountains in the back ground is a glimpse of Korea's past, steeped in tradition and proud of it."
Following the broadcast on Network Ten the South Korea episode will be available for viewing on tenplay.com.au. 
For more information on Korean cuisine or planning travel to South Korea get your free guide book from the Sydney office of Korea Tourism Organization Email: visitkorea@knto.org.au or visit the Sydney office webpage: www.visitkorea.org.au