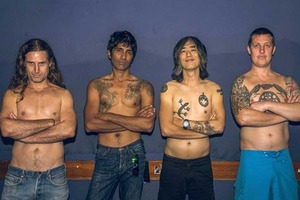 Sydney rock'n'roll stalwarts and beloved Pinball Punks From Punchbowl Hard-Ons have offered up their services to the Sydney Community Cup for a huge fundraiser at Newtown Social Club on Friday July 29. Hard-Ons have hand-picked War Hawk and Dune Buggy Attack Squadron to join them in the best band-named line-up you'll see this year!
The gig is one of a run of live music fundraisers leading into the big game with all profits from the cover charge going straight to Reclink. Vic on The Park Hotel are also hosting free live music on 15 & 22 July and 5 & 12 August, and with co-sponsors Young Henrys are providing schooners of Newtowner for $5 at those gigs with 100% of that going to Reclink.
"The Sydney Community Cup is good fun for a great cause. Reclink connects with disadvantaged young people through arts and sport and is making a positive difference to their lives." – Anthony Albanese, MP
Reclink is an Australian charity that brings sports and arts programmes to some of Australia's most vulnerable and often over-looked people – youth experiencing mental illness, disability, homelessness, addiction, social and economic hardship.
The Community Cup is the annual grudge match which pits musos against media in a colourful, fun family- and dog-friendly day of Aussie Rules - with funds raised on the day going to Reclink. The musos team are called the Western Walers and made up of musicians, managers, and DJs, while the media team known as the Sydney Sailors hail from community radio, street and music press. Hard-Ons' own Keish de Silva is even a member of the gender-inclusive cheer squad!
Ray Anh has generously donated an incredible Hard-Ons prize pack including original art and band merch that will be raffled off on the night to raise additional funds.
Tickets on sale now at newtownsocialclub.com/gigs.
Newtown Social Club:
July 29 Hard-Ons
War Hawk and Dune Buggy Attack Squadron
Vic On The Park:   
July 15 Dyan Tai, Toydeath
July 22 The Escapes, Rackett       

August 5 Georgia Mulligan, Bow Campbell & Davis Claymore (Front End Loader)
August 12 Walers vs Sailors Open Mic Battle 
2016 Reclink Community Cup:
August 14 – Henson Park Marrickville 11am gates
Reclink Australia acknowledges the support of the 2015 Reclink Community Cup partners: 2SER, FBi Radio, Newtown Social Club, The Vic On The Park, The Music and Young Henry's.
communitycup.com.au     sydneycommunitycup     SydCommunityCup
  sydneyreclinkcommunitycup // reclinkcommunitycup // ReclinkAustralia