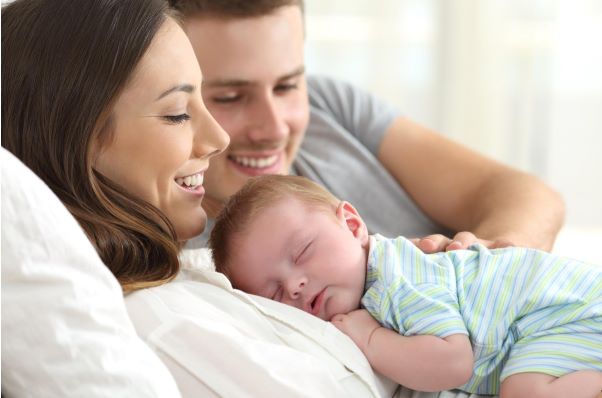 For new parents, the world can be an overwhelming and even stressful place. Between the sleepless nights and the revised timetable, it can feel like an unending test - one where you never get the rest or relaxation you crave (and deserve).
In order to preserve your sanity and restore your equilibrium, there are actions you can take to help lessen your load in the first few days, weeks, and months of your baby's life.
Go Hands-Free
One of the most obvious struggles for new parents (and for parents with multiple small children or babies) is the practical management of children - that is, holding them and directing them when they can't do it for themselves.
In order to stem any distress or frustration when trying to navigate transporting your family, consider going hands-free. From carriages and twin prams, to baby slings and backpacks, there's a way to get-around with your baby which doesn't have to create a complicated, stressful logistic arrangement. You won't regret having a free arm when something doesn't go quite to plan.
Piece By Piece
Fitting your life back together as a new parent can feel like constructing a huge and complex jigsaw puzzle. There are pieces which represent old commitments, pieces which represent financial commitments, pieces which represent time commitments, and the pieces which represent new commitments. Finding the right place and the right connections for all of these pieces can initially seem difficult, even overwhelming.
As with any meaningful change, it's best approached in incremental steps. You can start by breaking up your day into small sectors of time, and allocate these for specific tasks. For example, if you need to clean your home or spend time studying, create a time in the day where you are most likely to be able to achieve this goal (this can be through set baby nap times, short-term care with a babysitter, relative or partner or another arrangement).
With this positive reinforcement comes the the slow and gradual attainment of little goals, and can help you to feel like you're successfully coping - especially in the early, sometimes daunting days and months.
Schedule Some 'Me' Time
In the well-intentioned rush towards making your new baby comfortable and happy, it can be easy to forget and forgo your own needs. The importance of self-care in creating a healthy environment for your baby and your family shouldn't be underestimated.
Whether it's a haircut, a massage or an hour to catch up with friends for coffee (sans baby), everyone needs a little 'me' time - particularly new parents. Not only does scheduled 'me' time help new parents to recharge their figurative batteries, it also enhances their mental health, and provides an outlet for any stress or physical and emotional discomfort. If you're part of a couple and are able to arrange care for your baby so that you can have time with your partner, it can also be an excellent way to renew and strengthen that couple bond.  
Group Dynamics
Parenting groups have come a long way since the days of tucked-away suburban mothers and workaholic fathers. Parenting groups are now inclusive and open to all types of parents, and often utilise online and social channels in order to connect parents to each other.
Having the ability to connect with people going through a similar experience can ease feelings of isolation in parents, especially during times where they have no additional support or company. Parenting forums can also help to provide practical advice and solutions from the comfort of home (or bed, or a cafe, or the beach), meaning that parents who are geographically isolated can connect with others at any time, no matter where they're located.
Finding small and smart workarounds for problems before they compound is the key to avoiding untold stress as a new parent. By taking time to attend to your own needs and by creating practical strategies for dealing with the everyday logistics of having a new baby, you can help to get your life back to feeling normal and manageable.