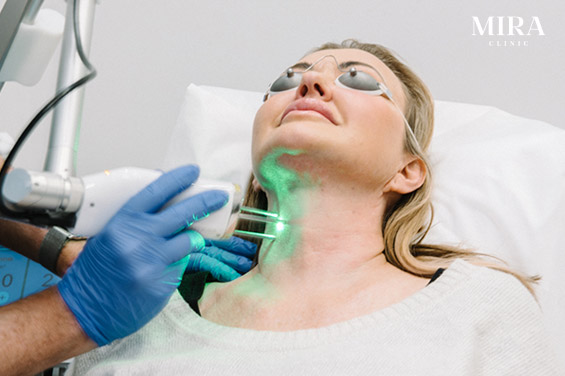 Laser tattoo removal is safe and effective but it does require patience. One treatment is not nearly enough to completely get rid of a tattoo. Most patients will need several treatments spaced four to six weeks apart before they will see a noticeable difference.
How you prepare and care for your skin before and after your treatments can make a difference though.


Before Your Laser Treatment


Tanning should be avoided two weeks prior to treatment. It can be difficult to avoid the sun in Australia but it's important to keep your tattooed skin protected for at least two weeks before your treatment. This includes staying away from self-tanners. The more pigment you have in the tattooed area, the less effective your laser treatment will be.
Clean and prep the treated area. Make sure that the tattooed area is clean and free of makeup and lotions before your treatment.
Discontinue any photosensitising medication six months prior to treatment. Speak to a clinician at the best Genesis laser clinic in Perth to find out more about the medications that you should discontinue before starting treatment.
Stay hydrated on the day of your appointment. Drinking enough fluids on the day of your appointment makes a difference.
Ensure you're an ideal candidate. Pregnant or breastfeeding women are not ideal candidates for this treatment.


After Your Laser Treatment


Use a cold compress to relieve swelling. Use an ice pack wrapped in a cloth or towel to soothe the treated area and reduce swelling.
Be gentle with your skin. Your skin will be very delicate for the first seven days after your treatment so be careful not to cause trauma to the area.
Keep the area clean. Gently clean the treated area every day by running water over it and patting it dry. You can expect your skin to be quite sore to the touch when doing this.
Keep the area moisturised. Speak to your clinician about a cream that you can use on the treated area to keep it moisturised.
Leave your scabs alone. Let your skin scab and heal on its own. Picking your scabs will only lead to scarring. It's also important not to scratch the area once it starts to itch.
Find out about using gauze pads. Some people prefer to use non-stick gauze pads to protect the treated area while it heals. Speak to your clinician about this.
Don't submerge the area in water. It's important to not swim or soak the treated skin in water for two to three days after your treatment.
Be wary of sun exposure. To protect your delicate skin after treatment, it's best to avoid sun exposure and to always wear high-quality sunscreen.
If at any point after your laser tattoo removal session you are concerned about side effects, rather contact your clinician as soon as you can to avoid any serious complications.