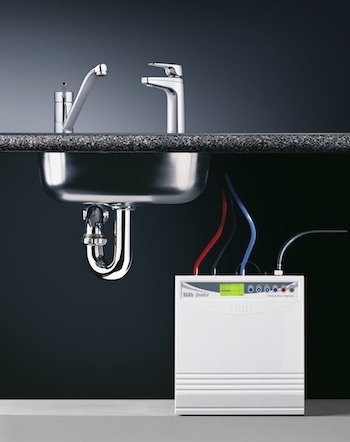 Adding a filtered water system into your home is the best, affordable upgrade you can make to add instant value to your home. Whether you choose a whole-house filtration system, or a simple tap filtration system, a filtered water system in your home is a great way to enhance the health of your family, while helping your property stay modern in the competitive property market.
A filtered water system makes your home healthier
Whether you're living in your home, or you're renting it out for short term holiday makers, a filtered water system makes your water safer for your family and your guests. Water filtration systems contain multi-stage filtration, and filter out dirt, rust, sediment, bacteria, heavy metals, chlorine, chlorine by-products, and nasty colours and odours. If needed, you can even add a UV lamp filter system to kill any nasties that have made it through the earlier filtration stages.
Not only do these complex filtration stages make your home's water taste much better, they prevent your family and guests from ingesting chemicals and nasty bugs that cause skin irritation and illnesses.
Water filtration systems also prevent harmful chemicals from crossing into your bloodstream through your family's most absorbent organ: Their skin. Whole home water filtration systems filter every drop of water in your home, and are the easiest way to ensure your family and friends aren't exposed to nasty chemicals when drinking tap water, washing their hands or showering in your home
Filtered water systems add value to your home
The property market is incredibly competitive, and every modern tweak can make a world of difference to your home's value. Installing a filtered water system into your home is an obvious, tangible and useful addition to your home, immediately adding value. This can translate into generating a higher sales price, or getting you higher rent if your home is listed on a short term rental website.
Filtered water systems prevent damage to your appliances
Installing a water filtration system protects your home, saving you money by helping your appliances look newer for longer. Unfiltered water stains enamel basins and baths due to rust, chlorine and sediment. These ingredients can also cause irreparable damage to appliances, tiles and pipes. Home water filtration systems protect your favourite appliances, bathroom features and vanity sets, while injecting longer life into your household pipes, saving your thousands on plumbing costs.
Saving the environment has never been easier
Saving the environment and setting a good eco-conscious example for your family and the guests who rent your home is another motivation for installing a water filtration system. When your home tap water tastes great, you and your family are far more likely to fill up your reusable water bottles and take them with you throughout the day. If you install a carbonated water tap or chilled tap, you are even more likely to take your filtered cool water out and about with you instead of buying plastic water bottles.
Integrating a filtered water system into your home is safer for your family, better for the environment, and is a clear selling point for potential buyers, or holiday makers looking to rent your home for the short term.