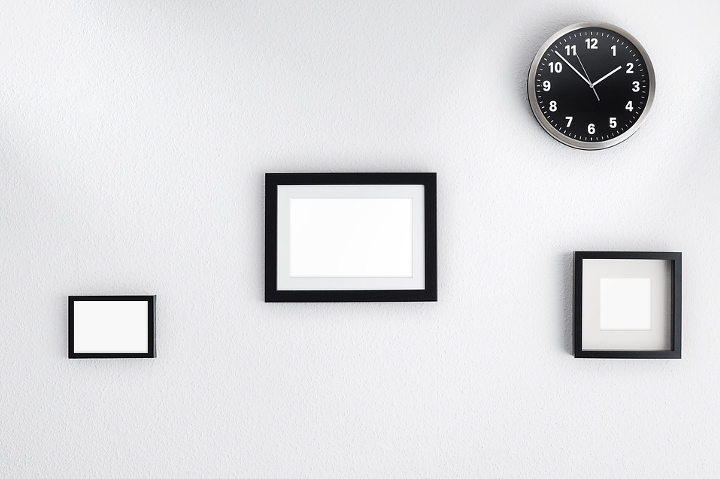 Wall clocks have made a big comeback in recent years and are evident in even the most modern of homes. They can be stylish, depending on the design you choose and the décor. But what constitutes a stylish, modern wall clock? What kind of wall clocks can complement any room? What is a statement that you should be trying to achieve with your new time-keeping piece? These are all questions that we have answered below to assist you in choosing your new wall clock.
It gives the feeling of a stately home, classic as well as put together. It can become the focal point of the room if you choose the right one for you.
Minimalist clocks are the height of modern fashion when it comes to interior design. Colours such as black, white and grey can match most rooms, no matter the style These can create a great statement piece for your home in the communal living areas. Larger wall clocks are more sought after, especially for this style of clock.
There are many materials from which you can choose for your modern wall clock. One of the most popular this decade is rustic wood. These can be found at many different stores, both chains and independent homewares shops in your local area. Another popular design would be the plain neutral coloured circle that is outlined by gold or silver roman numerals. It is simple in design, but powerful addition to the room.
They are best situated in living areas, such as the kitchen or the sitting room where they can be seen by guests as well as your family. There are certain feng shui tips that you can use to position your clock in the best way possible to bring positive energy as well. Things such as facing the clock toward a window or balcony to increase airflow or placing it near the door so it does not draw your eyes as you walk into the room.
All in all, each room calls for a different clock. There is no one style which will suit every home. You need to consider the room colour and other pieces, such as furniture, that occupies the area. If you have polished wooden furniture, then a wooden clock in a similar colour can elevate the room. The style of the room, whether modern or otherwise, can also impact the clock that you choose. The above clock designs can be used as a guide, but the final choice comes down to your unique style.
There are plenty of ways you can incorporate the wall clock into your room design. It is a great piece to add a little flair to any home and can be utilised in so many ways. It is not only decorative but also functional, which only adds to the appeal. If you are on the fence about including a wall clock in your living areas, then it is time to make that leap. Take a chance on a wall clock and you will instantly see how beneficial it can be.