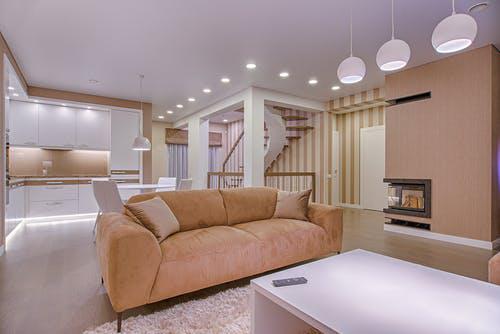 Home improvement ideas are hard to define. They vary from person to person, and every idea sounds like the best. What did you think of changing during your home renovation? There must have been several ideas popping in your mind, but you can't implement every idea.
Improvement does not only mean reconstructing a few areas of the house. From hanging curtains to adding decorative pieces, changing the colors of the walls, and placing the furniture, everything comes under home improvement. Once the home improvement session is complete, what have you thought about the lighting of your house?
Lighting adds value to your home, and several ideas surround you about this. Choosing the most appropriate lighting for your house isn't tricky if you have all the choices in front of you. Just like several color choices in paint and design choices in furniture, lighting has several choices as well. Among these infinite choices, you must keep the infrastructure of your house and choose wisely.
To make things a little less complicated for you, the best types of lighting ideas have been discussed below. Give them a read, and you might find the best option for your improved home.
FLUSH LIGHTS
With their flat base and variable fixture size, you can benefit from these small lights to the fullest. For places where you need dimmer and smaller lighting, flush lights would be the most appropriate choice. Also, the fixture gets attached to the ceiling perfectly, so you don't lose them due to falls.
The light spreads evenly, and the ceiling captures it perfectly, then what are you waiting for? Get electrical services in Sydney and enlighten the smaller spaces.
SEMI-FLUSHED LIGHTS
As the name might suggest, semi-flushed lights are a combination of flush-mounted lights and chandelier. They need four to eight feet from the ceiling and look perfectly hanged lights. The room choice isn't restricted. Ideally, living rooms are the best for semi-flushed lights.
Also, people who are chandelier lovers and don't have sufficient space for it can choose this alternative.
MOUNTED LIGHTS
If your house has low ceilings and you are worried about the spread of light across the room, mounted lights might be an effective choice. Mounted lights are fixed in the ceiling and spread light throughout the room although the ceiling is low and the room is large. Also, it is a good pick if you want ambient lighting at your place.
Parents of little ones and pet owners are usually not in favor of hanging light. Hence, this an epic choice such people as well. Several benefits, fully lightened house, and your pets or kids stay protected.
LED INDIRECT LIGHTING
In the movies, the lights behind any portrait or the television set might be appealing for you. It looks like the lights are serving as a border. Some people say that it is a fluorescent light effect, and several other theories are associated. All of it may not be true because LED indirect lighting is an option and the most appropriate answer. You can get the same effect you see in the movies at your place. It gives an elegant yet fancy look to your place.
PENDANT LIGHTS
Hanged items are the choice of the majority of the people. How would you feel if there are hanging lights at your place just like the ones you saw at your favorite restaurant? Well, pendant lights work best for the purpose. Be it your kitchen or the reading area, and pendant lights are just perfect for a fancy but convenient look.
TRACKS LIGHTS
Highlighting your artwork and most expensive decorative items is not a bad act. Displaying the best of your house is good, and track lights make them prominent. Their sole focus is the area they are fixed in. For example, your French decorative pots can be placed in a shelf, but one small track light for each. It looks decent and fancy.
RECESSED LIGHTS
Are you searching for subtle lighting at your place? Recessed lights are the best then. They are fixed behind the false ceiling, and the source of light is not visible. The effect of these lights is subtle and works best in the bedrooms.
THE TAKEAWAY
Renovating your house does not end with changing the design of the rooms or colors of the walls. There are several minor details that you should consider to add value to your house. Lights play a chief role in presenting your house. They make your freshly renovated house look more attractive and comfortable for you. While planning your home improvement session, make sure you research about lights and which one would be the best for your house.