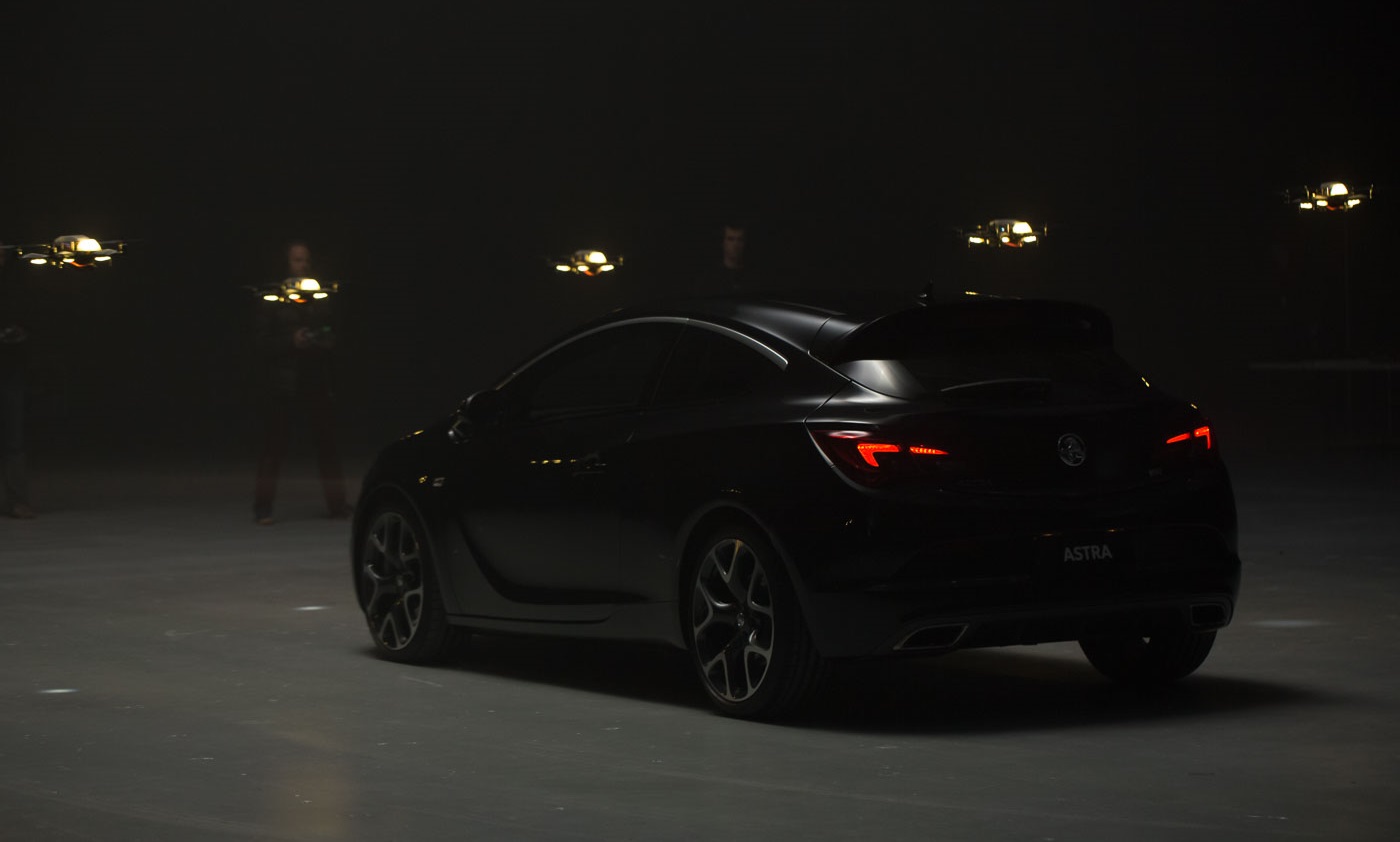 Holden has partnered with VICE's in-house creative agency Virtue and arts and technology channel, The Creators Project to produce a unique, world-first short film pitting the new Holden Astra VXR against a swarm of custom-built spotlight drones.
The Astra vs. Drones trailer is scheduled to air on Australian television on Tuesday 21 July, with the full length short film available on the Holden website and The Creators Project the same day.
Shot in a darkened warehouse, the film captures spotlight drones flying in synchronised formation to form a moving racetrack, with corners and checkpoints for Astra VXR to attack.
VICE AU/NZ's Managing Director, Michael Slonim, said the concept of marketing a product by leading with engaging content represents fresh thinking and a more progressive approach
"This project is all about treating consumers like audiences. Savvy brands such as Holden know it's okay to market a product, as long as it's adding value, and they're telling a story that has a cultural relevance," Mr Slonim said.
The slick, Carbon Flash Black Astra VXR used in the shoot is the ultimate challenger for the drones, packing 206kW of power and 400Nm of torque in addition to the sophisticated Flexride chassis control system.
Set to the bespoke music of Australia's Rohan Rebeiro (My Disco/Kangaroo Skull), Astra vs. Drones is directed by Bradley "GMUNK" Munkowitz – a US-based veteran of the global design community who has worked on a range of projects from music videos to Hollywood blockbusters including Tron and Oblivion.
"The various techniques of light manipulation positioned the exercise more towards an art film than anything else, allowing the dramatic, abstract competition between the drones and the car to create a beautiful dance of light, form, colour, performance and technology," Mr. Munkowitz said.
WATCH THE BEHIND THE SCENES HERE
Holden Executive Director of Marketing & Customer Experience, Geraldine Davys, said the Astra vs. Drones short film captures the progressive and powerful personality of Holden's latest sports hatch and a signals fresh direction for the brand.
"Astra is stylish and sophisticated with power and performance to spare; it's sure to attract new customers to the Holden brand," Ms. Davys said. 
"We are taking the Holden brand into new territory and challenging the status quo. Holden is going to continue to produce engaging and innovative content for our customers, content that traditionally may not be associated with the Holden brand. Astra vs. Drones is perfect example of this, it's a short film that certainly makes you sit up and take notice.
"The concept of a car vs. drones forming a moving racetrack is one that has never been attempted before, and to demonstrate something as unique and progressive as this is really exciting."
The new Holden Astra is now available from Holden dealers across Australia.
To view Astra vs. Drones and the special behind the scenes footage, please visit the Holden website.
PRODUCTION CREDITS:
Director: GMUNK
Production: AIRBAG
Creative: Virtue and AJF
Media: Carat Australia
Publisher: The Creators Project
Music: Rohan Rebeiro
ABOUT THE CREATORS PROJECT
The Creators Project is a global celebration of creativity, arts and technology. Launched in 2009 with Intel as founding partner, the platform features the works of visionary artists across multiple disciplines who are using technology to push the boundaries of creative expression. The Creators Project includes daily video and editorial content, an official YouTube Channel, original artwork commissions and global events. To date, there are more than 600 Creators from around the world. Participating artists include Karen O, Daft Punk, Spike Jonze, M83, Benh Zeitlin, Animal Collective, The xx, Chris Milk, Florence and the Machine, Amon Tobin, Matt Pyke, Anthony Wong, Supermarche, United Visual Artists, Sticky Monster Lab, Takeshi Murata, Andrew Huang, Vega Zaishi Wang, Mick Rock, David Bowie and Barney Clay.
ABOUT VICE MEDIA
VICE is the world's preeminent youth media company and content creation studio. Launched in 1994, VICE now operates in over 30 countries and distributes its programming to hundreds of millions of viewers each month across digital, linear, mobile, film and socials. VICE includes an international
network of digital channels; a television and feature film production studio; a magazine; a record label; an in-house creative services agency; and a book-publishing division. VICE's award-winning programming has been recognized by the Academy of Television Arts & Sciences, Peabody Awards, Sundance Film Festival, PEN Centre, Cannes Lions, Frontline Club, Knight Foundation, American Society of Magazine Editors, LA Press Club, and Webby Awards, among others.