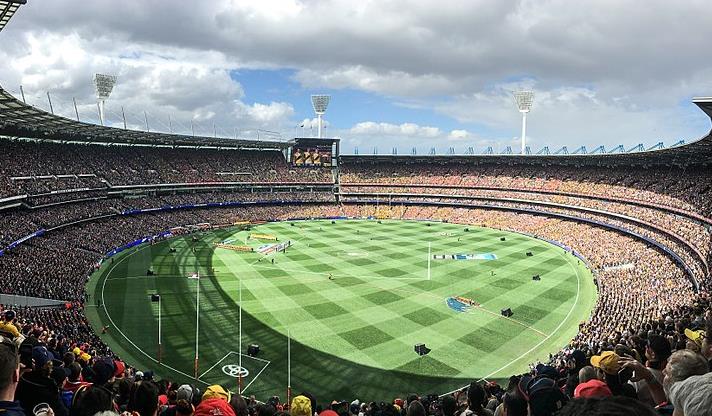 The AFL Grand Final is the biggest and most important sporting event on the calendar. It is a sort of Superbowl for Australian Rules Football. Traditionally held on the last Saturday in September, there's still several months to wait for the 2019 running which will take place on 28th September.
The 2018 Grand Final was a closely fought game between West Coast and Collingwood, with the latter taking the victory. According to odds comparison website Oddschecker, both teams are contenders again for 2019, along with Richmond and Adelaide.


The AFL Grand Final Stadiums


The AFL Grand Final is traditionally held at Melbourne Cricket Ground, with the majority of games in its history being held there. This tradition looks set to continue, as the Melbourne Cricket Club and Victorian Government reached an agreement in Spring of 2018 that would see the venue host the annual event until at least 2057 - a significant commitment. Notable exceptions where alternative venues have been used include the years during World War II, when Melbourne Cricket Ground had been requisitioned for the war effort, and 1954 to 1961, when it was being prepared and used for the 1956 Olympic Games.


The First Grand Final
The 1898 VFL (the previous name for the AFL) Grand Final was the first event held to decide the winner of that year's season. Although it is now recognised as the first "Grand Final" event, the name was not commonly used until 1931. Due to a number of strange decisions around not booking a venue for the event, and then choosing a St Kilda Cricket Ground, which had not been prepared in time, the 1898 VFL Grand Final was played on a slippery ground that did not have any grass. The dry soil that covered large sections of the pitch created large dust clouds that impeded the view of fans. Despite this, the event was deemed a success with over 16,500 fans paying to attend the event. The Grand Final has become an annual tradition that continues to this day.


The Flag
The winner of the AFL Grand Final is known as the Premier and receives a cup, similar to many other team competitions. The winner also receives the AFL's premiership flag, which is a large pennant to unfurl during the team's first home game in the next season. The flag dates back to 1895, prior to the first Grand Final event, but the cup has only been awarded to winning teams since the 1959 event.
The AFL Grand Final is the biggest sporting event in Australia, and is the most prestigious in Australian Rules Football. For the reason, all eyes are on the teams likely to find their way to the Grand Final, but only time will tell who will win.

Image credit


Photo by Biatch, CC BY-SA 4.0