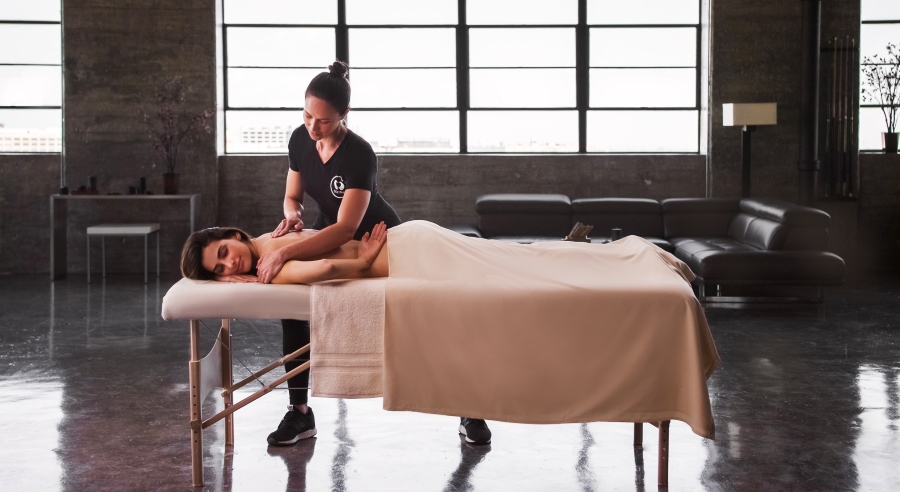 A common misperception is that sports massage is only for professional athletes, but it is actually extremely beneficial for the everyday sports enthusiast.
Whether trying to reduce your timings, hold your handstand longer, or move past a recurring injury, incorporating regular sports massage therapy into your fitness routine will help drive peak performance. Sports massage targets muscle-tendon junctions and uses stroking movements, deep kneading, stretching and trigger point therapy to help extend and enhance muscle health.
"The techniques used during a sports massage provide a myriad of benefits to the everyday athlete. Sports massage helps with everything from performance, to muscle health and injury recovery." says Jeff Bishop, Director of Operations at Soothe, the world's largest on-demand massage company.
Though massage is often thought to be an activity reserved for relaxation, enjoying a sports massage provides several health benefits.
Reduced Muscle Soreness
A sports massage can help accelerate the body's natural restorative process against delayed onset muscle soreness and shorten recovery time by as much as 50%. A sports massage can also lessen muscle spasms and tension.
Optimized Performance
Regular sports massage trains muscles to respond more quickly, efficiently, and powerfully. This prepares the body for strenuous activity and peak performance.
Increased Flexibility
Techniques used during sports massage often stretch muscles with more care than traditional stretching. The stroke techniques of a sports massage increase circulation and blood flow to the muscles to prepare them for a deeper stretch.
Lessened Risk of Injury
Sports massage improves the overall health of muscles and can help prevent and reduce injuries. Incorporating regular massage into an exercise routine means that each muscle group receives special attention and care. A regular massage routine is also said to improve the career lifespan of an athlete.
Improved Overall Muscle Health
Sports massage reduces metabolic waste build-up in muscle tissues by improving the effectiveness of the circulatory system. This system delivers oxygen and nutrients like glucose and electrolytes to the muscle. The circulatory system discards metabolic by-products and waste like lactic acid, cortisol, norepinephrine, and epinephrine. These are all chemicals that your body releases in stressful situations.
There's a formula for choosing the right time for a sports massage – before and after you've challenged yourself. Just like training, the benefits of sports massage improve with repetition. Consider the following aspects of planning before booking your massage.
Timing
Be aware of your fitness schedule before booking a sports massage. If you receive a deep massage too close to a big workout, it may adversely affect performance. If you wait too long after a workout, muscle tension may set it in. Book your massage in advance and schedule at least one day between a hard workout and a deep massage.
Preparation
1-2 days prior to a race or particularly challenging work out, ask your massage therapist to administer a lighter, more invigorating massage that focuses on stretching. This will increase flexibility in areas that will be used and help loosen connective tissues.

Recovery
A massage post-workout will help with muscle recovery, soothe the nervous system, focus on muscle groups stressed during the activity, and help prepare your body for the next work out. A scientific study shows that a undergoing a sports massage immediately after a highly intense workout will decrease inflammation and turn up production of mitochondria in the muscles. If your muscles are very sore after an intense workout, wait 2-3 days for soreness to dissipate before enduring a deep tissue massage.
With Soothe, you can easily incorporate sports massage when you need it most. Just download the easy-to-use app or book via the website to book your treatment that comes to you. Now available in Sydney and Melbourne and coming soon to the Gold Coast.