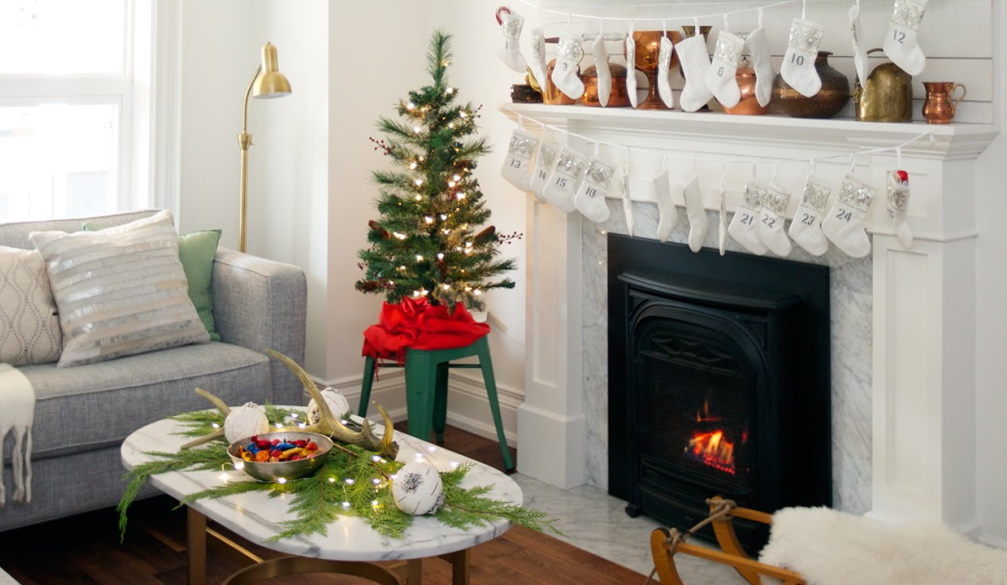 Christmas is one of the most exciting times of the year because everyone gets the opportunity to creatively express their festivity through 
Christmas decorations
. Those who live in smaller spaces may feel as though they can't adequately express their Christmas cheer to a degree that matches their festive fever. We're here to show you all that smaller spaces aren't necessarily a constraint but an opportunity for you to embrace your creative side. Here are our tips on how to make the most of the space you have, and transform your home into a festive fantasy.

The Christmas Tree
Perhaps you don't have the room to fit a Christmas tree as large as you'd like to have within your home. I'm sure everybody relates to feeling mesmerised by towering public Christmas trees we may stumble across in our local town squares, and daydream about taking them back home with us. Though large Christmas trees can be a great spectacle, the real endearing quality of a Christmas tree is the joy you share with your friends or family when spending time together and decorating a tree to your liking. Nowadays, there are a great selection of smaller Christmas trees available to suit homes of varying sizes.
If you're adamant that you have absolutely zero room to display not even the smallest of Christmas trees then do we have a treat for you. Tabletop Christmas trees are cute miniatures that can be situated upon just about any flat surface within your home. This is a great compromise you can make to ensure that you still get the chance to enjoy this essential Christmas tradition.

Dining Room Flow


This one is for those of you who are living in spaces that might not have a designated dining room, and are hesitant about having guests over for a Christmas feast. There are ways to section off a cosy space that is perfect for having a wholesome Christmas banquet with your friends and family. One of the best ways to do this is to use low-height benches instead of regular seats so you and your pals can easily huddle together and make the most of your space. You can decorate the edges of your benches and tables with Christmas garlands and fairy lights to really elevate the Christmas spirit.


Ambient Lighting
One advantage to having a smaller space is that it is significantly easier to set the mood with festive lighting. Mounting Christmas themed fairy lights along the walls will create a cosy Christmas atmosphere. Not only will you require fewer Christmas lights, but they will pack more of a punch.
An alternative for this is making use of candles. In a smaller room, candles will be a lot more effective in illuminating the space. You will find that there are a large range of festive Christmas candles available to produce an intimate environment graced by beautiful ambient lighting.
Recycled Decorations
Storage can be a hassle for those living in smaller spaces. It's needless to say that you probably won't want to be hoarding Christmas decorations in your meagre storage spaces being they may only be used once a year. One way to get around this is to either hire your decorations or buy used / recycled decorations from your local thrift store. If you were to hire them, you won't have to worry about storage, and simply return them when you're done. If you're getting them second hand from an op-shop, you'll be paying pennies for them and won't feel too bad either letting go of them or returning them to the store for a reduced price.
Setting The Scent

One area that people regularly overlook when trying to create the perfect festive environment is scent. Your Christmas feast will likely fill the room with mouthwatering aromatic sensations. Though when that's concluded and packed up, you may want to light some scented candles or Christmas themed incense to engulf the room in a soothing natural fragrance. This will be a nice addition when creating a stellar Christmas vibe, and is sure to be appreciated by all of your guests.


Christmas Colours
Another area you aren't limited to within a small space is expressing yourself with colours. Green and reds are quintessential Christmas colours, and it's very easy to drape your furniture and walls with any materials, fabrics, or even blankets you may own. You can also treat your guests with gifts wrapped in decorative wrapping sheets which you can usually find in a large range of appropriate Christmas colours. Perhaps you can encourage your guests to follow a dress code, and have everybody in attendance wearing matching Christmas colours.
Forget The Floor Space

When decorating a small space for Christmas, you may develop tunnel vision and exclusively focus on your floor space. It's easy to neglect the wealth of space you have available to embellish your walls and ceiling. Christmas garlands and tinsel are simple additions you can include in your space that will bring heaps of Christmas cheer. As for the ceiling, this is the perfect opportunity to mount a mistletoe above unsuspecting guests.

We hope you've enjoyed some of these creative tips, and are optimistic about transforming your small home into your very own Christmas wonderland! Merry Christmas to you and your family.