Written by

Stephanie Denman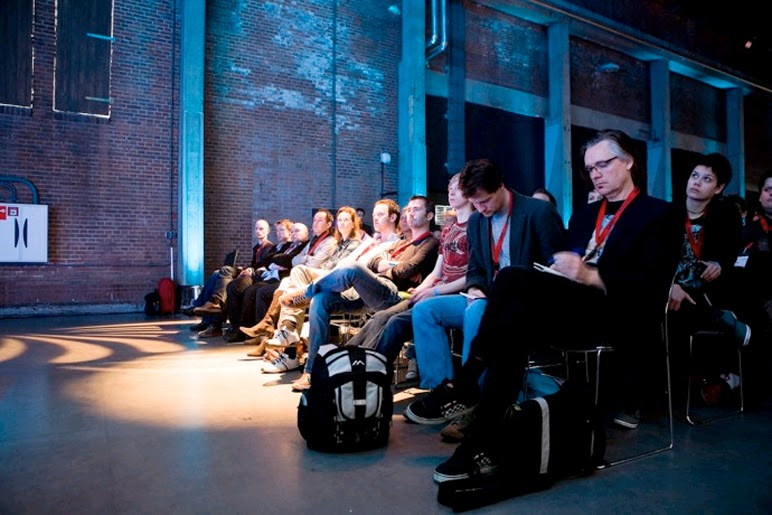 Sydneysiders are set to receive an extra healthy dose of motivation this August thanks to an all-star line up of Wellness practitioners, artists and experts who will be imparting words of wisdom at the inaugural 2015 Conscious Living Expo and Conference. The Conference, aptly titled the "The Heart of Conscious Business and Careers", will gather together business owners and employees engaged in purpose orientated occupations, including renewable energy, nutrition, health education and spiritual awakening.
Running from Friday 21 to Sunday 23 August at the Australian Technology Park Conference Centre in Eveleigh the Conscious Living Expo and Conference aims to encourage businesses to engage in a sustainable and conscious world of peace and abundance. At its core are the five elements that make up all Conscious Living events: Earth, food, Health, Arts and Spirit.
One of the highlights of the conference will be Nepalese born raw and organic food chef Jeevi Ramtel, also known as "The Laughing Chef", who will be teaming up with menu designer and "Raw Model" Hannah Ubl to set your taste buds dancing during their Raw Desserts Masterclass on Saturday 22 August, 12:15 – 2:30 pm. They'll help you bring the 'wow-factor' to your home kitchen with five killer easy, amazing, health-promoting treats courtesy of their Raw Living Academy.
Continuing the discussion of all things delicious will be health educator and wellness revolutionary, Mason Taylor, who will be sharing his view on natural food, fuelling and energising. In his presentation Conscious Food For A Conscious World, Taylor will explain how a connection to Mother Nature, personalised nutrition, tonic herbalism, and passion-based living, can help you experience an enchanted state of inner and outer health. If the idea of eating super foods such as Cacao and bee pollen is enough to get you salivating, than this is a presentation not to be missed!
Also joining the line-up will be business advisor and culinary expert behind Bake It Bottle It Sell, Lorri Loca. Drawing on her years of experience in Australia's food industry, Loca will be presenting a seminar called Foodie Dream to Reality: 5 Steps to Starting Your Food Business on Saturday 22 August, from 5:00-6:30 pm, which will outline how to channel your creative energy and plan for success in one of the toughest markets out there.
Patrons will be provided with invaluable advice from the Wellness industry's most brilliant minds. On Sunday 23 August, Nikki White, a Certified Theta Healer and business mentor, will be presenting Competition is Out – Collaboration Is In – an approach to business that encourages people to grow their business by building a connection with those traditionally thought of as "competitors". Similarly, Katrina Friel's seminar, 10 Secrets to Business Success, and Quentin Strauli's presentation, Is there Still A Place For Passion in Your Business, both on Sunday 23 August, promise to help you develop your business successfully and passionately.
Satisfying the more spiritual dimensions of the conference will be Australian spiritual teacher and author of Awaken You, Isira Sanada. Once a street kid, she has recovered from a "terminal illness" and has been ordained by HH the Dalai Lama. On Sunday 23 August, Isira will be discussing her new book and addressing the burning issue of how to resolve the central cause of all your conflicts. Similarly, Living Guru and sacred musician, Shakti Durga, is also set to inspire with her presentation of Ignite Your Spirit – a motivational class that will help you build relationships and reach your full potential.
These and many more key amazing speakers will fill up a jam-packed program of talks across the three day conference, ensuring that the attendees will come away informed, empowered and motivated to achieve their respective goals in the Wellness field or to embrace a happier, more healthy lifestyle.
Created by the Conscious Living Co-Creations Founder, Patricia Hamilton, the Heart of Conscious Business Career Conference is an event not to be missed.
Friday night, Friday 21 August will see the opening of the Conference with 2 FREE events which are open to all Expo visitors as well as Conference participants. The free opening night events include: Opening performance for the Conference and Expo by Chris James renowned professional singer, musician and voice teacher and a presentation on the heart of relationships by Robert Kirby, of Heart Centred Living.

SOCIAL MEDIA:
Facebook:   https://www.facebook.com/ConsciousLivingFestival
Twitter: https://twitter.com/clivingmag
WHAT: The Heart of Conscious Business Career Conference, Conscious Living Expo
WHEN: Friday 21 August 2015, 2:00 pm – 9:00 pm.
Saturday 22 August 2015, 9:30 am – 6:30 pm.
Sunday 23 August 2015, 9:30 am – 5:30pm.
WHERE: Australian Technology Park Sydney
2 Locomotive St Eveleigh NSW 2015
For more info: http://www.sydney.consciouslivingexpo.com.au/

FULL PROGRAM:
Friday August 21, 2015
2:30 pm – 5:00 pm – Shifting to the New Earth Friday
David Lubimoff - Spiritualist, board certified hypnotist
Dr Lana Lubimoff, Medical Doctor, Psychotherapist
Brendan D. Murphy, Author, Researcher, Activist and Musician.
Gerard Bini, Professional Geomancy Servicer
6:30 pm – 8:30 pm – Conscious Living Conference
Chris James, Singer, Musician, Healer and Voice Teacher.
Donna Gianniotis, Yoga Instructor, Esoteric Healing Practitioner
Robert Kirby, Business Consultant & Coach.
Please note you will need to have an Entry Ticket to the Expo ( $10)  or a Conference Ticket to attend this Event
Saturday August 22, 2015
9:30 am – 12:00 pm – Conscious Living Conference
Russell Setright, Naturopath, Medical Herbalist
Mason Taylor, Health Educator, speaker, writer, Wellness Evolutionary
Chris James, Singer, Musician, Healer and Voice Teacher
Cameron Little, Judge/ Sustainable Technical Adviser for various Development Groups
2:30 pm – 5:00 pm
Shakti Durga, Spiritual Teacher, Author, Sacred Musician, Guru
Robert Kirby, Business Consultant & Coach
Heather Pope, Senior Executive in Corporate World
Artist Performance by Shanti Music
Sunday August 23, 2015
9:30 am – 12:00 pm – Conscious Living Conference
Isira Sanada, Spiritual Teacher, Author
Quentin Strauli, Qualified trainer/ master practitioner of N.L.P. Hypnotherapy.
Robert Kirby, Business Consultant & Coach
2:30 pm – 5:00 pm
Nikki White, Certified Theta Healer and business mentor
Katrina Friel, Expert in Business Development
Christine Reid. Expert in Ancient Atlantian Mastery of Crystal Therapy.
MEDIA CONTACT: Cardinal Spin P: +61 2 8065 7363
Matt Fraser matt@cardinalspin.com.au P: 02 8065 7363 M: 0401 326 007
Amy Owen amy@cardinalspin.com.au M: 0404 977 338
*** click on link HERE for full press pack, and images.
About Conscious Living Expo
The purpose of our events is to create connections for the expansion of consciousness and to inspire people to co-create a more sustainable way of living in peace, harmony and happiness. We bring together practitioners and businesses to showcase a range of choices for living consciously through food and nutrition, sustainable environment, health and wellbeing, creative arts and spirituality. Our events provide a local and global platform for emerging authors, musicians, speakers and artists to communicate their ideas, to express their purpose and vision in contributing to a more conscious world. We connect people who are interested in waking up and living their purpose on the planet today with leaders and innovators as well as fellow travellers.