Written by

Elise Hendriksen
Successful Australian Entrepreneurs Join Forces To Teach Corporate Intrapreneurs To Innovate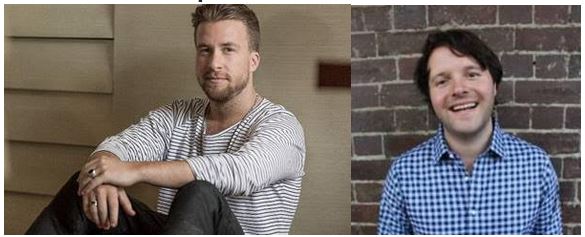 Two successful Australian entrepreneurial thought leaders are collaborating to bring entrepreneurial thinking to large corporations. Jack Delosa, author and founder of The Entourage, Australia's largest educator and community of entrepreneurs and Peter Bradd, founding director of Fishburners and StartupAUS, tech entrepreneur and corporate and government innovation advisor, are joining forces to launch The Entourage Beanstalk Factory.
The Entourage Beanstalk Factory will teach individuals to innovate within their existing big business. The need to drive innovation in Australia was reflected just last week when Prime Minister Malcolm Turnbull announced a $1.1 billion package to fund Australia's "ideas boom" for the next four years.
Delosa and Bradd will provide training and coaching to employees within organisiations, so they are empowered to achieve the change they are passionate about making.  
Bradd has been helping Australia's largest companies to innovate for nearly 10 years, partnering with Qantas to distribute his startup's postcard service. "Innovation isn't something that is left for entrepreneurs in garages. Every company has an incredible capability to be innovative by training their staff on world leading innovation tools and entrepreneurial decision making."
With small, nimble companies taking significant market share from our biggest and best known Australian brands faster than ever before, many ASX listed companies have in turn seen the need to increase their internal innovation capability by embracing approaches like Design Thinking and Agile Delivery. These companies have different innovation objectives; Some are aiming to transform their existing business model to deliver in a new, more customer centric, productive and competitive way, while others are taking advantage of their under utilised assets to bring in new revenue streams. The Entourage Beanstalk Factory is here to bring the entrepreneurial approach into all functions of a business, be it Sales, HR or Product.
Delosa says, "There's an opportunity for a lot of corporations to re-think how they're approaching the future. The future isn't something to be 'proofed against, but rather something to be embraced. This is achieved through innovation and agility."
Bradd shares that "Many of Australia's big businesses have an urgent need to find new business models, while for others the need is less urgent but the opportunity to discover new revenue streams and streamline their existing business models is still huge."
"Global Innovation Index Australia ranks us 81st for innovation efficiency and last in the OECD for research-business collaboration. Entrepreneurs and small business start-ups have constraints which force them to think creatively and act in a lean way and this thinking definitely has a much-needed place in corporate Australia."
The Entourage is Australia's leading business education institution, delivering world class education from leading global entrepreneurs with "been there, done that" experience. It currently boasts a global community of over 120,000 business leaders and entrepreneurs.  In July 2015, The Entourage became a registered training organisation offering a Diploma of Business (BSB50215), specialising in entrepreneurship.
"Entrepreneurship is about enriching the lives of our customers in small or large ways and enabling the individuals that make up our teams to become the best version of themselves and develop into a person they hadn't ever imagined," says Delosa.  
Delosa's mission has always been to transform the way the world views business education. "For years our vision has been unwavering, we want to be the world's number one entrepreneurial education institution as judged by the commercial results of our students." While he has worked largely with entrepreneurs, his dealings with larger corporations have made him realise that there is a need for a shift in thinking there too.
"The Entourage Beanstalk Factory isn't about magic beans but rather a structured training program that helps big businesses re-imagine what they can achieve in the future."
The name, The Entourage Beanstalk Factory, comes from the well-known fairy tale of how Jack and his family's cash cow stops providing milk, forcing him to sell it. Instead Jack - an early entrepreneur - trades the cow for some magic beans which eventually results in a profitable business selling golden eggs, and the hand in marriage of a beautiful princess. "We can see parallels between what Jack achieved and with modern business, in particular in terms of corporate disruption and corporate innovation," says Delosa.
For more information, please visit http://www.beanstalkfactory.com/
About Jack Delosa
Jack Delosa is changing education for entrepreneurs. He is the founder of Australia's largest and most disruptive education institution for entrepreneurs, The Entourage. Prior to The Entourage, Jack co-founded MBE Education which assisted SME's to raise money from investors. MBE quickly became one of Australia's fastest growing companies. Along the way, Jack also became a high-profile investor, investing in growth companies such as Q-Biotics, Martin Jet Pack (ASX:MJP), and founding The Entourage Growth Fund. His last book UnProfessional became a best-seller in just three weeks. He has been listed in the BRW Young Rich List since 2014.