What are the important factors that you need to consider when hiring the right office cleaner for your commercial cleaning business? How can you make sure that these individuals are hardworking and trustworthy? 
You can start by posting online job listings around your local area. When a successful candidate for an
office cleaner
position applied to this post, you may want to check if the person has a Linked In account, you can also check their social media accounts and see what it says. You can also put your posting in local colleges and universities. 
It is important to run a legal check. It will not harm you or the applicant for doing so. Look for red flags as well, did they arrive on time for that interview? Do they look presentable? Know why they left their previous employer. Always hire an employee that displays a willingness to learn the industry and who will stick with your business and be successful with it. Hire someone that you will trust. 
Different people have their unique traits and character. A commercial cleaner can be someone that is experienced. Your employee has to undergo training that is why it is imperative that these people are willing to learn. Employees that are not willing to learn can hurt a great deal from your business by doing a poor job. Always remember that your employees are the face of your business and they represent you. Having that said, you need to hire someone that you will be proud of in representing your business. Alternatively, you could also look at hiring a commercial cleaning company instead of looking for separate employees. Opting for services offered by the likes of green facilities or other cleaning companies can be a much safer and efficient hire for your business.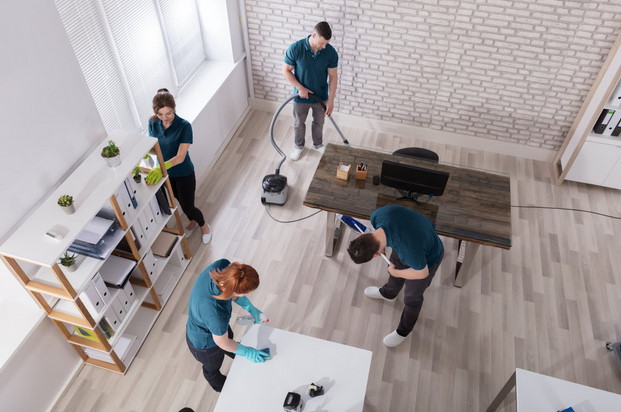 You may start by training on or two office cleaners. Each employee has their own learning curve and they learn at their own pace. Some employee may excel in a certain area that your other employees failed to do. In this case, you need to know the strengths and weaknesses of each employee and how to approach it in the best way you can. Get to know the people who works for you and ask them if they prefer a written guide, verbal explanations or demonstrations, or work as a group. This is how well-rounded employees are created. 
Clearly, it is a big no to send a new, untrained employee to the battlefield. You have to provide them with adequate knowledge and skills for them to deliver the performance you require. When they get used to the job, they can apply their own skills and techniques on how to go about simplifying the workload that is assigned to them. Let your office cleaner be comfortable with the equipment and let them feel that you trust them enough to work on their own.