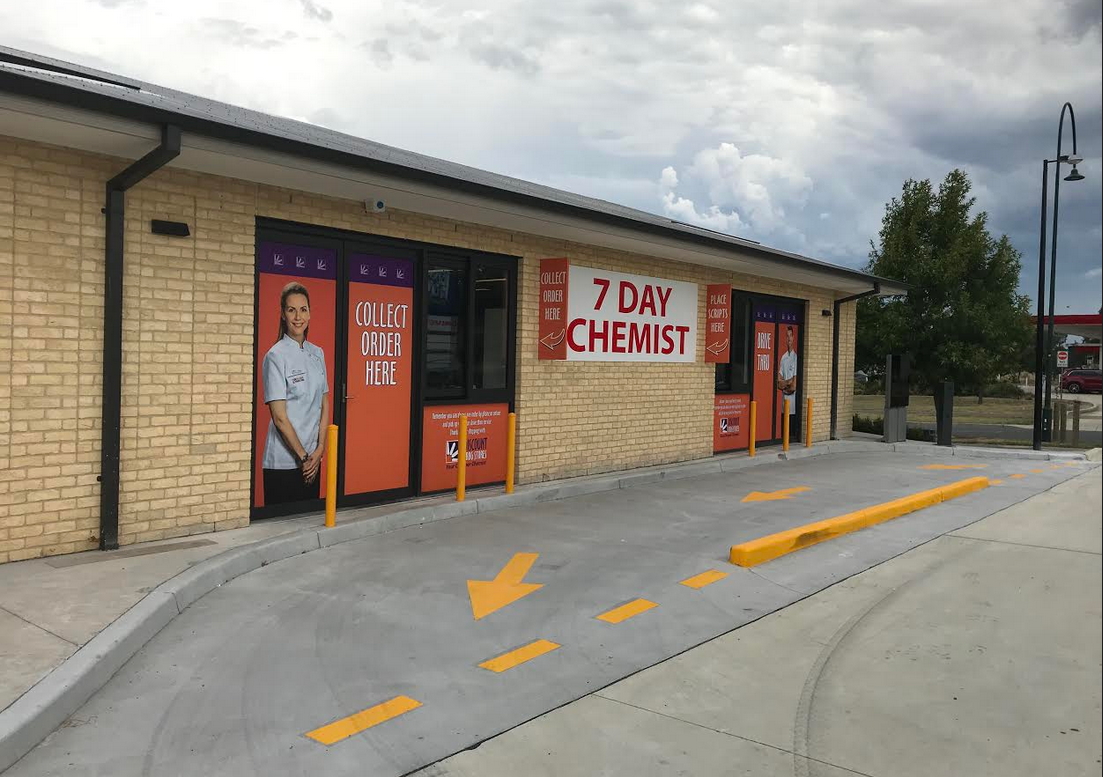 With COVID-19 presenting more challenges than ever for customers needing to access pharmaceutical services, Discount Drug Stores has expanded its drive-thru option at select stores to provide a flexible and innovative alternative for medication collection.
Discount Drug Stores is renowned for its innovative approach to pharmacy services, being amongst the first to introduce automated dispensing, e-commerce and even home delivery options.
Now the pharmacy group is going one step further again expanding its drive-thru service offering to ensure no one need miss out on receiving their medication or pharmaceutical needs.
The drive-thru service offers script collection, over-the-counter medication, and click-and-collect services to both new and existing customers.
Customers can easily call their local participating pharmacy and place an order for pick-up from the convenience of their own vehicle, alternatively, customers can place medication orders in advance via the Discount Drug Stores app and opt for a later pick-up time.
The service's number one priority is to provide greater accessibility, convenience and flexibility to the local community.
Head of Discount Drug Stores', Patrick Stoll stated that ensuring greater access to drive-thru services at this time was critical as many Australians rely on their local pharmacy for essential medication, particularly the elderly, people with a disability, those with compromised immunity or those who are self-isolating.
"Our drive-thru service offering enables local patients to become more independent on their journey to better health and make a positive shift to feeling self-sufficient as many patients will no longer need to rely on family members and neighbours for assistance," said Mr Stoll.
"This flexible service is a convenient option for all Australians including working professionals, parents and pregnant women, all of whom we have already seen enthusiastically taking up this service."
ACT's Gold Creek Discount Drug Store was the first to roll out drive-thru services in February 2018 and at the time was developed to meet increased demand from both local and rural patients requiring flexible alternatives for collecting medication.
This model has now been opened up in a range of select locations to meet the demands that have come from COVID-19, together with home delivery, both of which are services that Mr Stoll says may continue to grow further in the future.
"There has certainly been a lot of interest in alternative service offerings and we would not be surprised if more pharmacies looked at introducing either drive-thru or home delivery options, subject to their location and space options."
Discount Drug Stores has recently teamed up with Drive Yello to provide on-going support to pharmacies offering these delivery services. The Discount Drug Stores' App will allow new and existing customers to order, pay and request delivery of their much-needed medication from the comfort of their own home.
The app is installed with privacy software to ensure all patient's personal information remains private and only the delivery team will have access to the patient's home address.
For more information about Discount Drug Stores , please visit www.discountdrugstores.com.au.
About Discount Drug Stores
Discount Drug Stores is a leading discount pharmacy group which commenced operations in late 2001, with the first store opening at Sunnybank in Queensland. Discount Drug Stores is an Australian owned and operated business that strives to make a positive difference to its customers' wellbeing by providing medicines and health care solutions at everyday low prices, with an uncompromising approach towards the delivery of professional health advice and exemplary customer service. The group has now expanded to over 136 store locations Australia wide.
Last year, Discount Drug Stores entered into a sale agreement with Central Healthcare (CH), a wholly owned subsidiary of Sigma Pharmaceuticals Ltd (Sigma). The backing of Sigma provides Discount Drug Stores with access to greater capital, resources and the business intelligence that comes with being part of a large corporate entity. A national wholesaler and retailer to the pharmaceutical industry, Sigma distributes to over 4,000 pharmacies nationwide. It is also the owner of retail pharmacy brands Amcal, Amcal Max, Guardian, and Pharmacy Advance, totalling almost 600 stores.
Web: www.discountdrugstores.com.au
Facebook: www.facebook.com/discountdrugstores