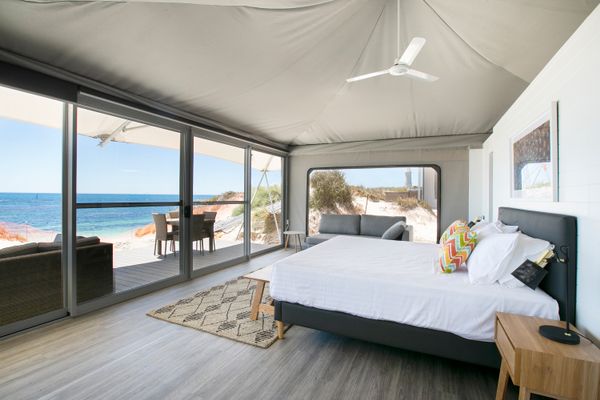 The West Australian reports that Perth's economy has been showing steady signs of recovery; this is despite the high levels of unemployment in the region, which still remain above 6 percent. As lockdown restrictions in the area are slowly being eased, let's take a look at how some of Perth's prominent industries are faring in the wake of the COVID-19 crisis.
Western Australia is home to some of the world's most impressive deposits of economically important metals and minerals, including coal, iron ore, gold, nickel, copper, lead and zinc. Many of these substances are currently in hot demand throughout the world. As a result, mining is one of the bright spots in Perth's post-COVID-19 economy.
Mining of iron ore is particularly profitable at the moment. Currently, Chinese demand for Australian iron ore and coal is surging -- and Western Australian businesses are well positioned to help with filling this demand.
In fact, with prices of iron ore trending dramatically upwards, experts think it is possible that iron might be the commodity that saves Western Australia's economy. They're forecasting that an additional $2 billion worth of iron ore sales will boost Australia's GDP. Much of the resulting revenue will flow into the greater Perth area.
Gold mining is another bright spot in Western Australia's economy at the moment. Gold prices are volatile and unpredictable; but, historically, during times of uncertainty and economic turmoil, demand for gold has increased, along with its price. Right on cue, prices and demand for gold in Australia are currently soaring.
Western Australia has sizable deposits of gold and has attracted the attention of globally significant gold mining operations. Notably, the Boddington Gold Mine, which is located about 120 km east of Perth, is one of the more prominent mining operations in the area. This mine typically produces between 6 - 7 million ounces of gold every year.
In general, the mining sector in Perth was relatively less affected by the shutdowns that slowed the flow of income into many other Australian businesses. Many, but not all, of the region's miners continued working while almost everyone else locked down. Some mining companies did shut down or initiate redundancies. However, overall, mining has proven to be one of the more resilient industries in Perth, and in Australia.
Education
Perth has historically been home to a thriving education sector that includes both public and private primary and secondary schools. Perth offers people of faith a broad variety of choices for schooling their children including Catholic schools and other independent religious schools.
There is a postsecondary college system in the region offering TAFE courses that prepare students for a broad range of career opportunities in the trades and other vocations. The Perth area is also home to 5 major university campuses including the University of Western Australia, Curtin Perth, Edith Cowan University, Murdoch University and the University of Notre Dame.
There are also a variety of academic opportunities that were historically available to international students, both via online degree programs and face-to-face course offerings. Perth has a track record of welcoming significant numbers of international students to her sunny shores to live and study.
In normal times, international education contributes more revenue to the Western Australian economy than tourism does; it also influences revenues in other sectors like the property market. This is because, while they are in the country, the international students spend money on many products and services other than just education, including housing, food, clothing and entertainment.
With the Western Australia border closed, and Australia's national borders also being closed, Perth is now not so easily accessible to international students.
On a nationwide basis, the government's response to the Coronavirus has had the effect of devastating foreign student enrolments at Australian universities. On average, foreign student enrolments typically make up about 29 percent of the total student body at Australian universities.
This situation is likely to result in the loss of significant numbers of university jobs. Experts are unsure of exactly how many jobs are at stake, but they're forecasting a tentative total number of 30,000 university job losses across all of Australia.
Perth, with its sizable investments in academia, will not go unscathed if their forecasts prove to be accurate. The main questions include how bad the losses will be and how soon the sector can recover from them.
It is possible that the numbers of international student enrolments may rebound when Australia decides to reopen her borders. Indeed, provisions are already being made to expedite the processing of international student visas. It is uncertain when the borders will reopen, but it isn't likely to happen in 2020.
Tourism
Interstate and international travel restrictions are adversely affecting more than half of Australian businesses. The tourism sector is one of the industries that is suffering the most as a result.
In 2019, Chinese holidaymakers traveled to Western Australia in droves, and they spent an estimated $34 million in the region. As the COVID-19 crisis unfolded, industry stakeholders were hopeful that perhaps some of that lost revenue could be made up by welcoming domestic travelers to Perth and other Western Australian destinations. However, considering that Western Australia has now closed its border, it is unlikely they will be able to do this in the immediate future.
The Western Australian government is making a sizable investment of $150 million in infrastructure upgrades to several of the region's most popular travel destinations, which might help to boost tourism in the area when the borders do reopen.
Property Markets
The property markets in Perth have recently fallen. By April of 2020, nationwide, there was a 1.1 percent decrease in home loan activity. In Western Australia, nearly 10 percent fewer loans were issued since roughly this time last year. The average loan recipient for a new home is having to borrow a record-setting $418,000. The bright spot for aspiring homeowners is that Perth currently has some of the most affordable real estate offerings in the entire country; however, it's a tough time to be employed in Perth's property markets.
That's the status of 4 of Perth's prominent industries in the aftermath of COVID-19. Overall, the economy in Perth could be doing much better, but it is faring as well as could be expected under the circumstances.