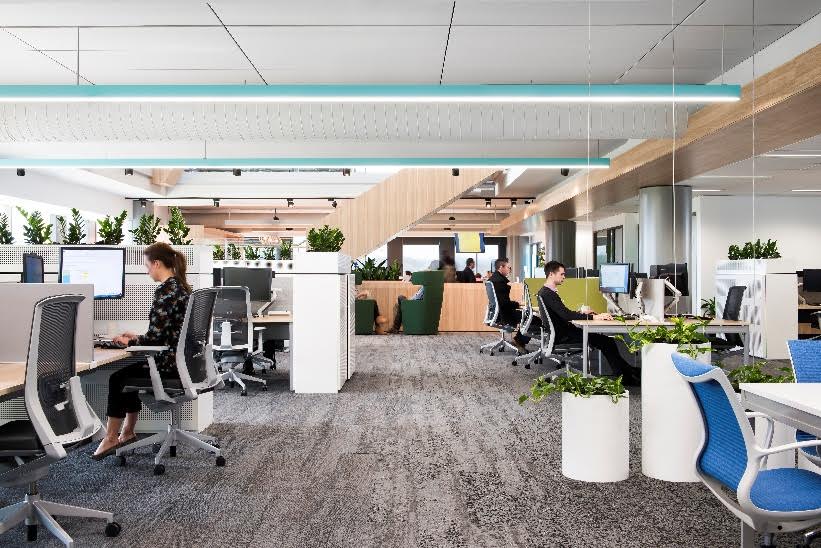 New agile office for AstraZeneca Australia uses 'zones' to provide employees with more workplace choices
AstraZeneca Australia, an affiliate of the global, science-led biopharmaceutical company AstraZeneca, has adopted agile-based working in its new Macquarie Park offices by incorporating specialised work 'zones', providing employees with a variety of choices over how and where they want to work.
Designed by leading architectural design firm, Futurespace, AstraZeneca Australia's new 3,000 square metre office gives its 200 office-based employees the option to work in four 'zones', with each zone catering to different styles of working and collaborating.
Managing Director at Futurespace, Angela Ferguson, said, "We designed the four zones to liberate workers from the
desk
bound experience."
"Sitting at the same desk all day does not promote productivity, health and wellbeing, or collaboration. However, it is just as troublesome to have employees work wherever they want without having the correct design infrastructure in place. That is why the 'zones' are effective."
"Each zone was designed to facilitate different styles of working, whether it's informal chats over coffee, structured team meetings or focused individual work," added Ms Ferguson.
The 'zones' in the AstraZeneca Australia workplace include:
-          The Unplugged Zone – this area is characterised by highly interactive management activities.
-          The Connected Zone – this is a stimulating environment, where employees engage with colleagues and visitors and includes formal meeting spaces, conference rooms with video conferencing and audio visual systems, as well as collaborative spaces.
-          The Base Zone – is at the heart of the office and includes open plan work areas, private work areas, project areas and informal meeting areas. It acts as the primary space for individuals and teams to carry out their core activities throughout the working day.
-          The Virtual Zone – this zone isn't a physical zone, but is the integrated technology overlaid in and out of the workplace for employees. One standout feature imminently being rolled out includes Wi-Fi technology that will allow staff in the agile-based working office, with no assigned seating, to locate each other within the large building at any time, enhancing collaboration. The Virtual Zone also encapsulates the latest technology to allow employees greater mobility, both in and out of the office.
"In addition to the innovative 'zones', we also created spaces that are comfortable to be in. We achieved this by incorporating features of timber to create warmth, as well as plenty of natural lighting, indoor greenery, and a large multi-purpose open area where employees can have lunch and meetings ," said Ms Ferguson.
The 'zones' are consistent with   AstraZeneca's global workplace strategy, called "iwork", which outlines a more agile way of working.
"iWORK, agile- based working environments, is the future of AstraZeneca's workplaces. Our new offices reflect our culture, our aspiration to continue being a Great Place to Work, a place where everyone is encouraged to be their best self. The new working environment truly promotes knowledge sharing and collaboration", commented Paul Spittle, Country President AstraZeneca Australia and New Zealand and continued: "It's a real pleasure to come in to work every day to such an amazing environment. It's incredible how much difference it has made. The amount of impromptu conversations in passing I now have with people from all across the business, how I can walk past an open meeting space and stumble across a cool piece of work one of the teams is doing, which I otherwise would never have seen. It's changed the dynamic of the business totally".
"We now have a flexible and agile work space that allows us to maximise our collaboration and creativity.  The energy you feel when you visit our New HQ will be key to helping us attract new talent and ensure our staff have a great experience when they come to work", said Kimberly Elliott, Director of People, Capabilities and Sales Operations at AstraZeneca Australia and New Zealand
AstraZeneca Australia and New Zealand Head of Procurement, Mark Sheridan said, "our workplace plays a key role in reflecting our culture. The design of our new offices brings to life the key characteristics of AstraZeneca; it is an environment grounded in science, modern, vibrant and inclusive".
About Futurespace
Futurespace is a cutting edge interior design and architectural agency leading the way in creating the future spaces in which people will work, learn and live. Futurespace believes that people are the product of their environment and designs and creates future focused, intelligent and practical physical spaces that enhance people's lives and businesses.
www.futurespace.com.au