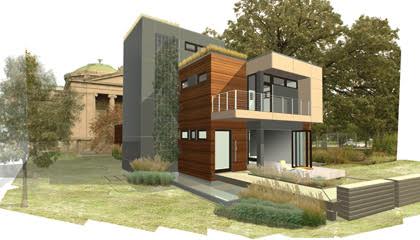 2016 is here, and the calls to 'go green' in almost all aspects of our lives are getting louder. Commercial and residential construction is adopting sustainable ways of doing things and everyone is snapping up eco-friendly approaches in all aspects of operation.
If you are looking to maximise on what is trending and go green like everyone else in the construction industry, take a look at the approaches below:
The return of steel
For a long time, steel reigned supreme as the building material of choice, only to be replaced by wood. However, this is changing because the wood needed for modern construction is simply too much. Experts are now convinced that this metal is the ideal alternative to wood, particularly because it can be recycled again and again for long stretches of time. People are also using steel for many other purposes around the home for-example, making furniture and kitchen items.
Net positive energy residences
The good thing about zero energy homes is that they strike a balance between the production of energy and its consumption. However, positive energy alternatives are on the rise and they do not simply make up for what they use up - they actually produce more than they can use. The net effect is the availability of excess power, which can either be sent back to grids or used to run a range of appliances.
Smaller homes
Large homes have been the 'in-thing' for a long time now, but that is now changing. People are now realising that downsizing saves a lot of resources and allows them to manage a sustainable existence. Building a smaller home means that you can manage the space around and cut back on the bills you used to rack up in the past. It also means that you use a lot less labour and materials that you would have done by going for bigger designs.
Smart ways of managing water
All thorough Australia, states are facing an ever increasing challenge when it comes to managing their water supply and replenishing their existing sources. Approaches involving the conservation of water are going to be a major trend this year. Positives changes are also going to be experienced in areas such as irrigation, the reuse of water and drought-resistant landscaping.
The recycling of countertops
If you are looking for classic countertop designs, then recycled materials will be the ideal approach in 2016.You could make use of aluminium, glass and paper parts. The good thing about the three is that they fit right in with any theme and marry with your décor. Bamboo is also a great choice for rustic homes as it is capable of withstanding pressure for long stretches of time.
Drought resistant yards
Xeriscaping is a creative form of landscaping whose primary motive is to limit the use of water. It involves using the right soils for a particular area, choosing localised plants and reducing the stretches of grass in a given area. Drip irrigation systems are also set to become more popular in yards because they cut back on total water usage by up to 50%.
Sustainable flooring
Floors made from recycled materials such as carpet fibres and water bottles can be durable as long as they are set right. Items such as salvaged wood, glass, bamboo or even stone can add a touch of sophistication to an otherwise plain setting. These materials will work best in bathrooms, kitchens and other areas that are traditionally expected to showcase interesting patterns.
Nanotechnology
The process of nano-insulation has been proven non-toxic and the coatings used have been miniaturised so much that they are hardly visible. This form of insulation is also at least 20% more efficient than traditional approaches.
Cool roofs and green roofs
Cool roofs are popular for their ability to absorb very little heat and reflect plenty of sunlight through the use of reflective paints and specialised tiles. Green roofs have vegetation atop them in order to reduce gas emissions and regulate the use of energy.
Construction patterns around the home and in business premises are poised for a change this year, with the primary focus being going green right from foundations to rooftops.