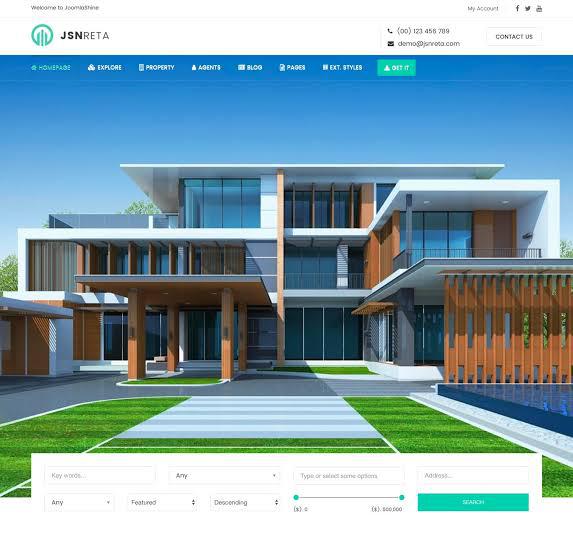 Property is investing in immovable assets, but your business should not be treated this way. Your business should still be versatile and current and not feel outdated and stuck in the old ways. Even though it is about the buildings and the quality of construction, how you present yourself to the public, and namely your clients are important, and you must invest time, effort and money into building a striking online presence. There is so much available on the internet that can help you know where to start, but here are a few summarised tips that will take you scrolling through blogs and watching countless hours of doing it yourself videos.
It begins with a website
To find the right experts to get you going, search for a phrase like 'property web devs Melbourne' if you're based in Melbourne. You can obviously tweak the search depending on where you are based – but ideally, you want to find somebody located near you. They will engage with you to find out what you need your website to achieve and they can then recommend a solution. While this seems rather simple, it can be a complex process. Web developers will build functionality into your website that will help you generate leads and even convert into purchases. If you're not needing to have e-commerce built-in, it could be a place where browsers can do 3-D tours of the properties that you have on the market. This requires the back in to be designed in such a way that it can handle this demand.
Design the look at feel
Ask your web developers if they have an internal graphic design team that can support the creation of the right look and feels for your website. If you haven't already created your brand image, this would be the time that you could and should do this. Knowing the target audience that you're attracting will guide the look and feel of your site. You will want it to be appealing to your customers and make them want to keep coming back.
You can't go anywhere without mobility
With smartphones being so powerful, so much is done from a mobile device. Your website needs to be designed with mobility in mind. If your primary source of browsers in using a mobile device, you may even choose to opt for mobility as the first requirement. Moving through your website must be seamless and intuitive. Pages that struggle to load or information that is hard to find are deterrents and irritants and may be enough to turn a customer away.
Keeping in touch
Use social media, emailers, and newsletters as a way of keeping in touch with your client. Social media involves a tiny step of commitment by liking a page, sharing an article or photo or signing up to receive specials or newsletters. Even the tiniest bit of commitment is gold, so handle it carefully like fine china. You want to nurture that interest and keep the customer engaged and entertained, winning over their trust and slowly leading them closer to making a purchase. Know what the purpose is of every online campaign that you do no matter the platform, it all needs to speak to the greater goal of getting deals signed.