Barcelona has no shortage of things to do: It's a bustling city known for its architecture, museums, restaurants, and clubs. Further, its Mediterranean location allows you to get the best of both worlds — an urban cultural trip and a beach vacation with incredible weather. But because of all the city has to offer, planning a trip might initially feel overwhelming. If you're at a loss of where to start, below are some suggestions for what you should do when visiting Barcelona.


Visit La Rambla
La Rambla is a popular tourist street in the center of Barcelona that has plenty of shops, cafes, bars, and sights. If you're looking for a place to grab a bite to eat, La Boqueria is a large open market that sells a wide variety of food, fresh produce, gifts, and souvenirs. Other popular places to visit on La Rambla include: the Font de Canaletes (an ornate fountain); the Teatre Principal (the oldest theatre in Barcelona); Gran Teatre del Liceu (an opera house); Joan Miró's pavement mosaic, titled "Pla de l'Os"; the Centre d'Art Santa Mònica (a rotating contemporary art museum); and the Palace Virreina (a Baroque palace that houses temporary art exhibitions).


Tour Barri Gòtic
Barri Gòtic, or the Gothic Quarter, is a must-visit area for lovers of Roman and medieval history. Some of the Gothic Quarter's major landmarks include: the remains of the Roman wall and temple; Santa Maria del Pi (a Gothic church); and the Plaça del Rei (a medieval public square where many royals once lived). To make the most of your Gothic Quarter experience, consider taking a walking tour to learn more about the local history and some of the best spots to check out. And if you're in the mood to shop after an educational tour, head over to Portal d'Angel for some shopping.


See Antoni Gaudí's Architecture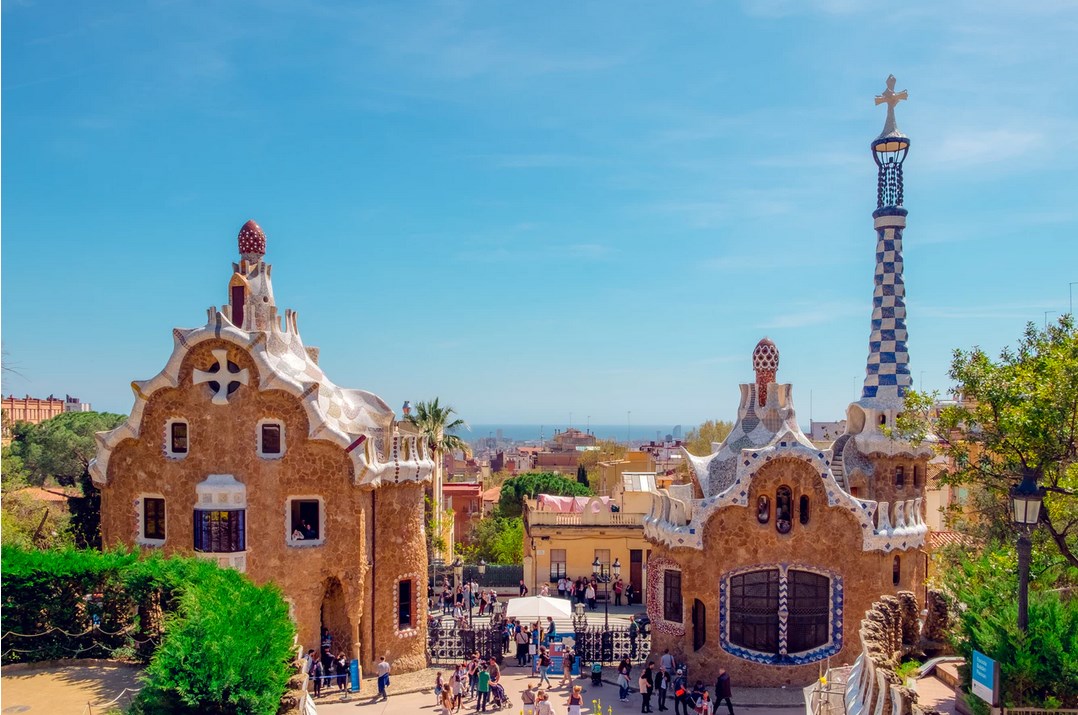 Photo by Daniel Corneschi / The Unsplash License

A trip to Barcelona wouldn't be complete without seeing some of the city's incredible architecture. Antoni Gaudí is arguably the city's most famous architect, so you'll come across a lot of his work. Gaudí's La Sagrada Família, arguably one of Barcelona's most iconic landmarks, is his most well known project, and a must-see for anyone traveling to the city. The temple has been under continuous construction for 135 years, and isn't expected to wrap up until 2026. Some of Gaudí's more playful works include the Casa Batlló (now a museum) and Parc Güell (a park of elaborate design).


Spend Time at the Beach
La Barceloneta Beach — located in the fishing district near the Gothic Quarter — is one of the oldest and most popular beaches in Barcelona. It's a busy beach full of sports, restaurants, games, and other activities. But it's also a good place to take a break from seeing the sights and relax along the Mediterranean. Just don't forget to set aside some time to enjoy some tapas during or after your visit.


Check Out the Art Museums
Barcelona has roughly 50 museums, from art and history museums, to science and sports museums. But if you're interested in art, head to the Museu Picasso to see more than 3,800 works by Picasso, including works from the Blue Period and Las Meninas series. Some other art museums to check out include the Museu Europeu d'Art Modern, Museu Art Contemporani de Barcelona, and Museu Nacional d'Art de Catalunya. A full list of all of the museums in Barcelona is available on their tourism site.


Some Final Suggestions
This is by no means a comprehensive list of things to do in Barcelona. Before or after you book your plane tickets, do some research. See if you'll be visiting when some of the major festivals — such as Sónar, Primavera Sound, and Festa Major de Gràcia — are going on, because you won't want to miss them. If you're traveling with your family and need a break from history and art, there are several adventure and amusement parks to keep everyone entertained. But if you're interested in less family-friendly activities, Barcelona's nightlife is not something to miss either. And last but not least, you can't head to Barcelona without indulging in Catalan cuisine.
Image credit -
Photo
by Enes / The Unsplash License