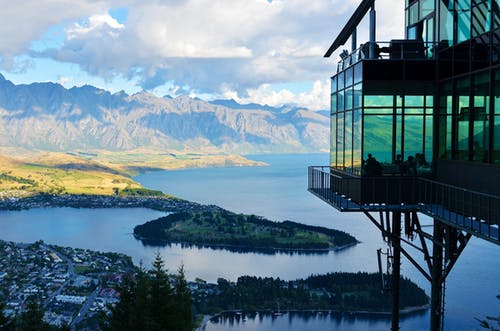 If you're a first-time traveller to the land of Kiwis, you'll need some guidance about what to expect and what you can experience in New Zealand. You probably already know some of the trademarks of this lovely country such as The Lord of the Rings trilogy, their masterful rugby game, and Sauvignon Blanc from Marlborough but what you may not know yet is how unpredictable the weather can be as well as a few other interesting facts that will come in handy for everyone who hasn't visited the land of Kiwis yet.
Get ready for crazy weather
If you thought that the weather in your hometown has been crazy for the past few years, you'll be relieved to know that in New Zealand, four seasons change during a single day. It's no exaggeration, considering a mild climate and plenty of rainfall tend to switch up the temperature a lot. If you're planning to travel around Christmas, when summer is expected, you'll still need a jersey (jumper), as well as jandals (thongs). To winter travellers, we advise you to avoid beach resort areas because you won't find a lot of people during the cold weather.
Swim with dolphins
Kaikoura is 2.5 hours north of Christchurch and there you can have one of the most memorable experiences of your life: swimming with some of the biggest pods of dusky dolphins on the planet. New Zealand is also home to the world's smallest Hector dolphin, so don't miss a chance to splash around the waters of New Zealand but only after having a cup of hot beverage, because the waters won't be that pleasant to take laps in.
Ride the Christchurch gondola
If you plan to visit Christchurch, you should not miss a gondola ride. Also, a friendly reminder would be for you to get a car rental from Christchurch airport because it'll make your trip around the city much more convenient and hassle-free. Start your gondola ride on the Heathcote Valley floor and climb up the side of Mount Cavendish. You can enjoy the view from the restaurant at the top, take breathtaking photographs or simply admire the landscape as you wine and dine. Feel free to follow the example of many other people and cycle or walk back down.
Don't miss skiing in Wanaka
For all the winter sports lovers, Wanaka will be a must-see destination in New Zealand. This ski and summer resort town is situated on New Zealand's South Island, set on Wanaka Lake, having the wonderful backdrop of snow-capped mountains. If you'd like to discover all the beauties of the Southern Alps' Mount Aspiring National Park, all the gorgeous glaciers, beech forests and alpine lakes, Wanaka is the place to visit. All the boating enthusiasts will be happy to know that Wanaka Lake itself is perfect for this type of activities, from jet boating to sailing and kayaking. Check out the Treble Cone and Cardrona ski resorts nearby if you're eager to experience the best of skiing and snowboarding. When you're all burned out from the winter adventures, enjoy some quirky fun and visit Puzzling World outside the town. In an outdoor maze and sculpture gallery, you'll have the best laugh of your life.
New Zealand can be expensive
Holidays should be all about indulging, but if you're travelling on a budget, you should get ready for steep New Zealand prices. According to nomadicmatt.com, a restaurant meal with a drink with table service can cost about $35-40 NZD ($25-30 USD) per person. If you have no problem eating Chinese, Japanese or Korean food, you can save a lot of money because sushi costs between $10-15 NZD. Sandwiches can cost you up to $8 NZD ($5 USD) and fast food like McDonald's or Burger King won't break your bank with average pricing between $7-15 NZD. Activities go between $100 and $600 NZD which will be one of the biggest expenses of your trip, so come prepared.


Going to New Zealand will certainly leave an unforgettable trace in your mind, but you'll need to plan smart for your holiday. Do your research well if you're a first-time traveller and be prepared for anything. Pack well for the unpredictable weather, look through all the potential sights you should visit and enjoy at least one of the adventures or activities you've never done before.