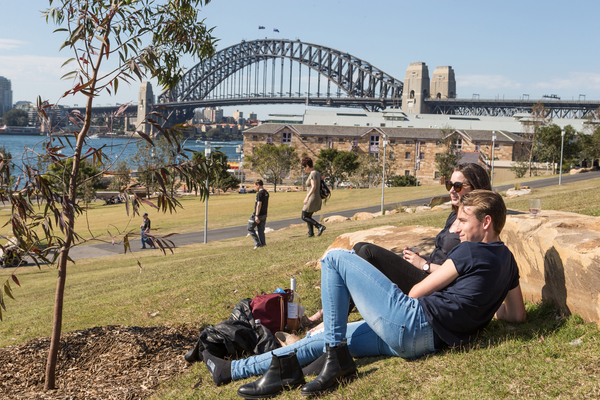 Travelling 'down under' to Australia is an exciting adventure that anyone can enjoy, whether you're travelling with kids, a partner or just a group of friends. The incredible subtropical climate of Eastern Australian states like New South Wales and Queensland (the most popular tourist destinations) is a welcome change when it gets colder in the northern hemisphere, making the country a popular winter holiday destination for Americans and Europeans especially.
If you're planning a holiday to Australia, you might feel a little overwhelmed thinking about how to maximise your fun and create unforgettable memories. The first rule is to relax and not stress about making every minute memorable.
Take a look at the following examples of fun things you can do in Australia.


Snorkel the Great Barrier Reef
The Great Barrier Reef (Queensland) is one of the seven natural wonders of the world and definitely somewhere you need to visit while in Australia! It has one of the most diverse underwater wildlife in the southern hemisphere, with you getting to chance to see starfish, sharks, stingrays, octopus, turtles and hundreds of species of colour reef fish. We strongly recommend getting a full face snorkel for a 180 vision when snorkelling.
Of course, you need to be careful and respect the natural environment while you are there. The Great Barrier Reef is already endangered by coral bleaching and other ecological problems – so you should go see it while it lasts!


Scale the harbour bridge
The Sydney harbour bridge is one of our most amazing man-made landmarks and has been a symbol of the city (next to the Opera house) since it's completion in 1932. This magnificent structure was the winner out of many bridge designs that were considered.
While you can always walk or drive across the bridge like everyone else, you can get a truly breathtaking experience scaling the harbour bridge with a tour group. Don't worry, you'll be safely hooked up and be dressed in a wind resistant suit so you're warm and safe while climbing.
You can get some incredible photographs up here and it's the perfect spot to take your best selfie ever! The view of the city is truly spectacular, and you need to see it for yourself to understand.


Enjoy our beautiful beaches
Australia is famous for its beaches and many tourists visit the country just so they can experience them first hand. Bondi beach is the most famous, but also the most crowded – so you would be better off finding a smaller but equally gorgeous beach to enjoy.


Go camping
NSW has some of the best national parks and forests to camp in in the entire world. Hopefully you'll get to spot native animals like wombats and possums and get some amazing photos of the forest.
There you have it, 5 fun things you can do on your Australia holiday. There are plenty of more great holiday destinations, just take a look online.


Go bushwalking
The Australian bush or 'outback' is a unique type of landscape that you really have to experience firsthand to truly appreciate. Not quite a desert, and not quite a forest, the bush is home to an array of amazing flora and fauna that have adapted to survive the dry conditions with infrequent rainfall.
While you're on your bushwalk, you might enjoy using your e-cigarette in the open air, and you can get flavours from an online store. It much better to use an e-cigarette on your bushwalk as regular cigarettes pose a risk of causing a bushfire.
Make sure to bring your camera and picnic blanket too! You're going to want to spend a while here and take snaps of the amazing things you see.