Written by

Sophie Armstrong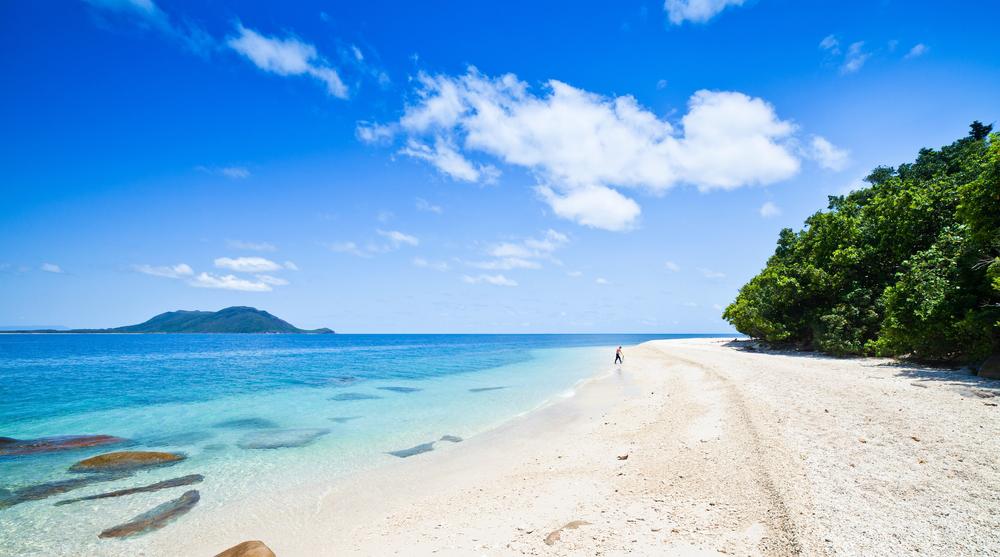 Are you thinking of taking a vacation overseas for the first time? There are several countries that can give you a wonderful time, but if you want to see the most beautiful beaches that the world has to offer, you might want to try visiting the paradise islands of Australia first.
Australia is a large country made up of at least 8,000 distinct islands, with most if not all of them viable options for newbie travellers. The country is popular for its huge collection of pristine, turquoise-coloured waters crashing against the pearl-white sands of the region. In this article, we will help you get started on planning your vacation by providing a few islands in Australia you shouldn't miss.
Fitzroy Island
Fitzroy Island is one of the top destinations in Australia, regardless if you are travelling with family, as a couple, or alone. Tourists can sign up for the Great Barrier Reef tour right upon landing to make sure their first day is as productive as possible. This full-day experience starts off with a ride on a catamaran, cruising around the island territories for an introductory experience to the local nature scene. Then there are optional activities that you can participate in, from snorkelling and kayaking to jumping on ocean trampolines. Each activity is lead by an expert in the field and the program takes care of the equipment and gear you will need. If you want to see more into the ocean floor, there are also glass bottom boats available for tours.
Fitzroy Island is also the home of the famous Nudey Beach, where tourists can enjoy the beach and the sun without the need for clothes, as intended by the beach's name. Nudey Beach has received numerous awards over the years not just for the nudist gimmick but also for its picturesque features, especially the way the lush tropical rainforests meet the colourful reef formations along the shore. There are also whale-watching programs offered along the island coasts near Cairns, as the royally rare Humpback Whales take their time to migrate across the shores.
Rottnest Island
Rottnest Island is another famous location in Australia, located in the western region of the country and easily accessible from Perth or Fremantle. You can find a great guide to help you choose when considering to stay in Perth or in Fremantle when you next visit.
This island contains more than sixty beaches, so travelers can take their pick of where to swim and snorkel. Each of these beaches has its own share of resorts and inns as well, so securing a place to stay won't be hard. Adventure-seeking tourists usually try skydiving in Rottnest, as experienced and well-trained skydive professionals will be there to ensure you complete the task safe and sound. Despite being a daredevil stunt, this activity is quite rewarding as it allows you to see the entirety of Rottnest Island in a unique perspective, coming from a thrilling and exhilarating vantage point.
People also like going to Rottnest Island for its distinctive animal species. The island is the natural habitat of the quokka, a famous marsupial line recognized as the "selfie animals" on the internet. Travelers flock to the island to get a chance to encounter a quokka in person and snap that popular "selfie" photo with one. Additionally, the island is known to serve hundreds of Humpback and Southern Right Whales as a temporary home in the months of August until November, right before they leave to migrate to the south. During this time, there are several tours offered so tourists can see what they look like up close: on the seas via ferries or on land via the Island Explorer buses.
Several accommodation options are available on the island which is suited for all types of preference and budget.
Great Keppel Island
Great Keppel is a large island situated near Yeppoon, Queensland, which is surprisingly underrated. Not a lot of travelers go to the island because it's not as heavily advertised as its nearby counterparts, but the seclusion and privacy that the crowdless beaches provide is actually the island's best charm. There are no cars on the island and tall beaches are nowhere in sight, which is great for tourists yearning to escape the tiresome city feeling.
The accommodation on Great Keppel is mostly bungalow-type, which fits the simplistic nature of the island resort. The bungalows are cozy and surprisingly good at calming and offering relaxation while you watch the ocean waves rock the shore from a distance. Even the food scene on the island is uncomplicated, as most travelers just bring their own rations and barbecue their meat themselves. Of course, if you feel that you shouldn't be cooking your own food while on vacation, there's always the option of going to the local restaurants for professionally-prepared cuisine.
Great Keppel Island is a great location to cool down in after engaging in the active party scenes of the other island beaches. The island has an effortless serene vibe, as shown by locals who patrol the area barefoot under the sun. There are a number of bush walks for casual strolling or romantic conversations, and there are also dolphins colorful fish in plain sight right along the beach waters. Without question, Great Keppel offers great value for being such an affordable tourist attraction.