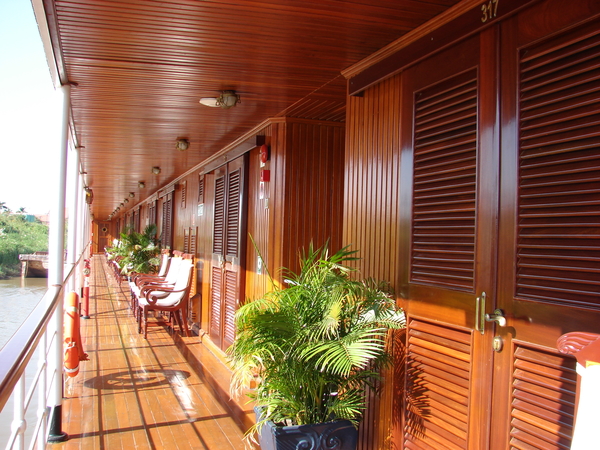 There can be no tapestry of river life as fascinating and varied as the River Mekong. Indeed there can be no more striking a cultural contrast as that between the bustling Vietnam delta and the tranquility of Cambodia. Pandaw's Classic Mekong's cruise passes from the vibrant French colonial port of Saigon, through the vast delta so rich in human life and endeavor, to travel along the main channel into the rich countryside of Cambodia. After a full day in charming Phnom Penh the cruise proceeds to explore remoter waterways on the way to great monuments of Angkor.
Pandaw was the first to offer river expeditions on the Mekong back in 2003 and have since been honored by many imitators. Pandaw, though, has always stayed a step ahead of these shadow ships and this season introduces another first for this expedition through Vietnam and Cambodia.
On the sumptuous Mekong Pandaw we will go one step further and higher up the Mekong than any other vessel as far as Kratie. Only Pandaw ships with their ultra-shallow draft can go this far adding another 100km to the river route and penetrating deep into rural Cambodia.
Kratie is an attractive French colonial river port but the main excitement are the dolphin grounds on the Mekong just north of there. As this is a protected area we cannot take the mother ship so we will travel there by local transport and sampan.
These 'Irrawaddy' dolphins are unique to Asian rivers and can be found on the Ganges, Irrawaddy and Mekong. It really is a very moving sight and not to be missed.
The Mekong Pandaw sails weekly between Saigon and Siem Reap covering the highlights of Vietnam and Cambodia with an absorbing stop in Phnom Penh.
This ship, With 800 square meters of open deck space and a further 600 meters of indoor space, which includes a bar, restaurant, spa, gym and library, each passenger has a 29 meters to himself when outside of his stateroom. No other ship offers this passenger-space ratio.
Cruise Price Includes: Entrance fees, guide services (English language), gratuities to crew, main meals, locally made soft drinks, local beer and local spirits, jugged coffee and selection of teas and tisanes, mineral water. Transfers between the meeting point and the ship at the start and end of a voyage. For more information and to make reservations log on to Pandaw.com