Written by

Frederique Gulcher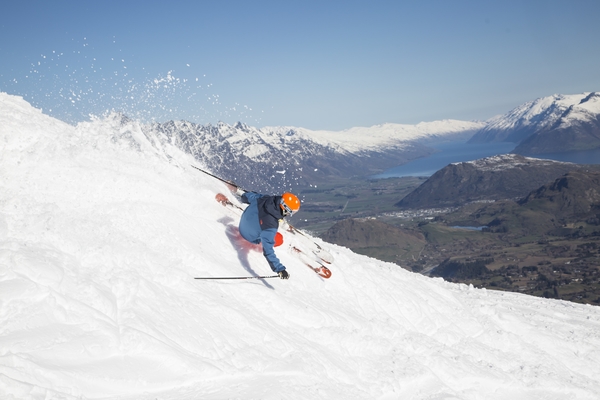 Following the success of its 2016 season, NZSki has announced it will leave its season pass pricing unchanged for the 2017 season, starting with the $599 earlybird 3 Peak Pass and $299 Mt Hutt super earlybird prices released this week (Thursday 27 October).
The 2017 3 Peak Pass offers skiers and snowboarders unlimited access to Coronet Peak and The Remarkables in Queenstown, and Mt Hutt in Methven near Christchurch during the 2017 season, running from mid-June to early October. It includes school holidays as well as night skiing at Coronet Peak which runs on Friday and Saturday nights from mid July through to September. There are no blackout dates!
NZSki CEO Paul Anderson says the 2017 passes represent great value and are likely to attract newcomers and locals back to the slopes.
"The customer and industry feedback to our 2016 season passes was fantastic, so we thought 'let's do it again'" he says.
"For us it's about sharing our passion for the snow with locals, families and visitors.
"There's nothing better than seeing lots of smiling faces having a blast on our ski areas!"
Paul says that as well as attracting more locals, the season pass pricing encouraged visitors to Queenstown – in particular Aucklanders and Australians – to purchase season passes and give skiing or boarding a go.
"We had an excellent take up which brought newcomers to the sport through our Intro to Snow packages. We reckon they'll be hooked and will be back for more thanks to our earlybird offer."
The popular Intro to Snow NZSki four-day lesson package available at all three mountains has not changed either.
"We also look forward to welcoming back repeat pass holders who have been stoked about the earlybird pass release."
More about the 3 Peak Pass Earlybird
This season pass provides the holder with unlimited skiing and snowboarding at Coronet Peak, Mt Hutt and The Remarkables for the 2017 season during the standard operating hours, plus Night Skiing at Coronet Peak on Friday and Saturday nights from 4pm - 9pm from the start of July through until mid September. The pass also provides holders with discounted access to 14 Mountain Collective resorts around the world, free skiing at Kiroro in Japan and access to discounts and special offers both on mountain and from NZSki's partners in Queenstown.
The earlybird pass can be bought online here (https://www.nzski.com/queenstown/passes-packages/season-passes) until March 30 2017.
Watch the promo video here.
Further pricing details
The $599 earlybird 3 Peak Pass special is valid for purchase until 30 March 2017. Thereafter the pre-season adult pass (31 March 2017 – 31 May 2017) is $799, while the full price adult pass released after 1 June 2017 is $999, also the same as last year.
The Mt Hutt earlybird pass is repeated at $299 available until 31 January 2017, with an earlybird price of $349 until 31 March 2017 and a pre-season price of $549 until 31 May 2017. The full adult pass is $749. Watch the video for Mount Hutt here.
Intro to Snow four-day ski and snowboarding package is also being repeated. Refer to the website for specific details.
More about the Mountain Collective
The Remarkables, Coronet Peak and Mount Hutt are the only New Zealand ski resorts that are a member of the international Mountain Collective for 3 Peak Pass holders. These pass holders will enjoy half price lift passes and discounts at the 14 member resorts including Aspen/Snowmass, AltaSnowbird, Ski Banff-Lake Louise-Sunshine, Jackson Hole, Mammoth Resorts, Revelstoke Mountain Resort, Squaw Valley/Alpine Meadows, Stowe, Sun Valley, Taos, Telluride and Thredbo.

Visit Holiday Centre for Ski Holiday Bookings