Written by

News Feature Team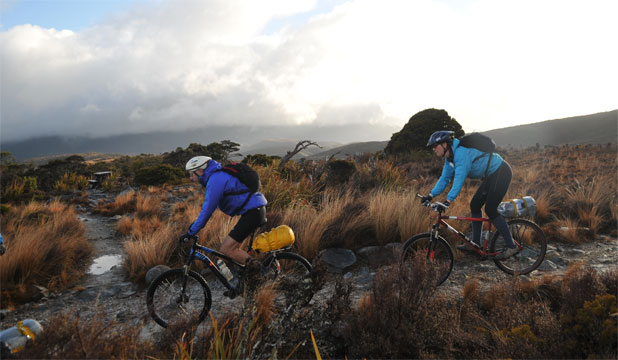 When it comes to biking adventures, one of the absolute top worldwide destinations is New Zealand. The sheer diversity of terrain and the quantity of top rated trails make this country an absolute paradise for bikers. Each year, no matter the season, thousands of bikers take a campervan hire new zealand journey across the country, hitting the many trails as they go along. This is definitely the biking journey of a lifetime, and anyone who is an avid biker and seeking the most thrills for their travelling dollar should definitely keep this trip near the top of their wish list. If you've made the exciting decision to head out on a New Zealand biking expedition, then you should keep these trails in mind.
Whakarewarewa Forest
This is what New Zealand biking is all about. Here you have dozens of trails making their way through lush redwood forests. Known simply as "The Redwoods" in biking circles, this is a trip you won't soon forget including stunning lookouts, trails under dense forest canopies, and plenty of surprises along the way. Clear streams, rocky riverbeds, and pine needle covered hills await you on the journey. No NZ bike trip is complete without a ride through the redwoods, so make sure to book at least a day to experience these trails.
Rotorua
Rotorua is an excellent single track winding its way through lush forests and steep inclines. There is a shuttle that will take you to the top of the trail, and you can enjoy a long zoom through the redwoods. This is some of the most beautiful country you will find in New Zealand, and this track is a great way to get up close and personal with the land. The steepness of the track is definitely a highlight, allowing bikers to zoom at a perfect pace through the terrain. Plus, when you're done with your ride you can visit the café for a nice bite and a rest.
Queenstown
If adrenalin-pumping trails are what you're after, then in Queenstown you will have come to the right place. These trails are definitely for the more ambitious and experienced riders, including downhill trails through rugged terrain. Against amazing alpine backdrops, such trails as Rude Rock and Coronet Peak attract riders from the world over. Many bikers will take a campervan New Zealand journey and hit all the trails in the region. Featuring thrilling descents, tricky terrain, and stunning views, the trails of the Queenstown area are an adrenaline junkie's dream.
Old Ghost Road
This legendary trail is a favorite for bikers and hikers featuring panoramic views and the abandoned mining villages that give it its name. Just some of the many features on this trail are the wild rivers you will zoom across, a number of terrific ridge sections that are thrilling to maneuver through, and of course the abandoned villages that have an eerie, ghostly vibe that makes for a truly unique biking experience. This is truly one of the world's most legendary biking trails, so a ride here is an absolute must for any biker.

Heaphy Mountain Biking Track
This remote track runs right through the Kahurangi National Park and features an amazing variety of landscapes. There are a number of wild rivers that can be followed across the terrain, not to mention spectacular mountain ranges and the area's legendary back country huts where you can sit down for a break and to enjoy the scenery. This area is so wide and the trails so long that you may not run into a single other hiker or biker on your journey. The remoteness of this trail is one of the main attractions, so if you want to truly enjoy the landscape in solitude on your ride, then Heaphy is definitely for you.
Welcome Rock Trails
In the high country of the Southland lies the legendary Welcome Rock Trails where a single track snakes its way through a series of ridges, waterbeds, and panoramic views. For those looking to complete the entire trail there are a number of huts available for overnight stays. This is a perfectly executed trail that has long been a mecca for bikers in search of a longer, committed journey with great views and versatile scenery.
The Timber Trail
This trail goes deep into the Pureora Forest and features mixed terrain, amazing wildlife, and suspension bridges that will really put a thrill into your ride. There are relics from old timber milling cites along the trail that will give your ride an interesting edge. This is what sets the Timber Trail apart from any other trail in the world and makes it a highlight amongst the many great trails in New Zealand.
One of the best biking territories in the world, New Zealand features so many great trails it can be overwhelming o plan you campervan hire new zealand journey. It all comes down to personal taste, so make sure to do your research in order to make sure you will be hitting the right trails for your preferences. There are so many diverse trails here, there is no doubt you will find what you are looking for in New Zealand.