Written by

Tess Sanders Lazarus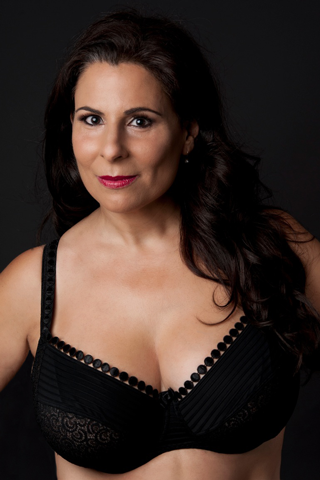 Australia's very own 'Bra Whisperer', Esther Labi, founder of iconic bra store 'Storm in a D Cup', this week warned that more than 80 percent of women are wearing the wrong bra size and probably encountering issues because of it.
"Once upon a time, going to the shops to buy a new bra involved being fitted by an experienced bra fitter," Esther Labi said today.
"Unfortunately, over the years, retailers have cut costs, and services such as bra fittings have gone by the wayside from most departmental stores.   Combine this with our increasingly busy lifestyles and many women finding that they don't even have time for a fitting.   The result is that many women simply just buy sets off the shelf and wear a bra because they think it fits.   Sadly it's not always the case, especially for those in D cups or larger.
"In the store, around 80% of women walk in wearing the wrong size bra.   They are often shocked to find that they have been wearing such an ill-fitting bra for so long and can't get over how comfortable their new correctly fitted bra is.
"I explain to women that if they are wearing the wrong bra size, the result is that they are not getting the right support for their breasts and this contributes to stretch marks, sagging and even back, neck and shoulder pain.  
Women's breasts change due to weight, hormones (the pill or HRT), pregnancy, menopause and other factors.   Just because you wore a size 14C ten years ago, doesn't mean that size is right for you today.   Berlei did a study in 2015 that showed the average size in Australia had gone up from 12B to 14D, so you might be surprised at the size you fit into now."  
Esther has some great tips on how to check if your bra is the right size for you:
-        Your bra should be comfortable, above everything else. The best fitting bra is one that you don't feel you're wearing.
-        If you look in the mirror at your profile, your breasts should sit at a height mid distance between your shoulder and your elbow. The back band should also sit straight across the body. 
         If it rides up your back the size is too big.
-        The bra should be anchored to your body when you lift your arms. If it comes away from your body it usually means the back is too loose.  Try wearing it on a tighter hook.
-        The underwires should sit flat on the front of the chest and fully encircle the breasts.
-        Breasts spilling out of the cups (the double-boob effect) or the underwires sitting out from your chest wall at the front, are both signs the cup is too small.
"Wearing the right size bra is very important for good health and wellbeing and also for comfort and appearance," Esther added.
"Everyone has a different shape, that's why there are so many different types of bras available – full cup, half cup, moulded, plunge etc.
"Once you find your size, it's important to find the right style that suits you.  When you've found 'the one', you'll know straight away because it will feel so comfortable. Don't get caught up on the letters and numbers of the size.
"I suggest getting a new bra every six to 12 months, depending on how many you have on rotation.  Bras naturally stretch with wear so it is important to buy a bra where you can secure it on the outer hooks and then tighten as your bra stretches.  
"The good news for women is that just because you are time poor doesn't mean you have to miss out on getting a proper fitting.    We offer virtual fittings over Skype and can help you even over the telephone. 
"Wearing the right size bra will enhance your comfort and also your appearance.  A well fitting bra can make you look five kilos lighter and give you a waist that you'd forgotten you had."