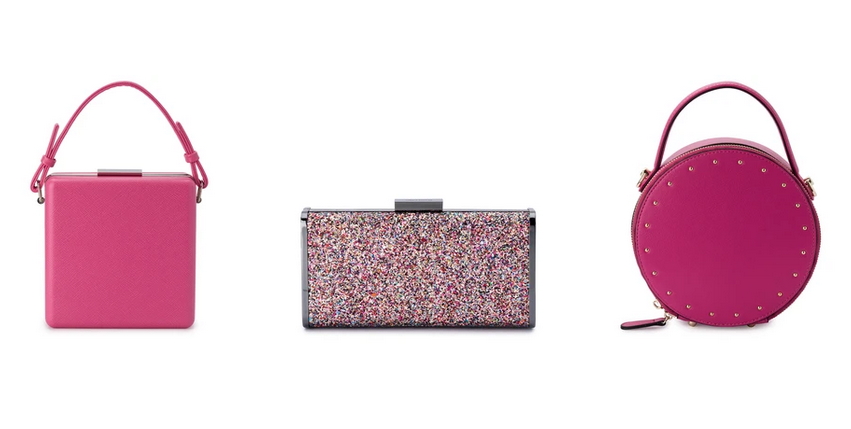 Clutches are a cute, durable and easy way to carry your everyday essentials without slinging an oversized tote everywhere you go. This season, clutches have re-emerged from a period of dormancy with fun and furious embellishments and bold new designs. Here are the top 5 clutch styles you need this year.
Acrylic panelled clutches are Oh so 80's!
If you think acrylic jewellery is cute, wait until you see this year's take on acrylic handbags. With everything from 80's-inspired tortoiseshell detailing to glitter panels, you'll love how seamlessly acrylic panels work on the classic clutch. If you want a particularly kitsch addition to a new outfit, try an acrylic clutch with a cutesy saying splashed across it in glitter. "Feeling Lucky" written across your accessory is a guaranteed conversation starter.
Faux snake and croc skin even for the faint hearted
You're eco-conscious and you're chic: In 2020, you can be both thanks to this year's range of vegan leather snakeskin and crocodile skin accessories. If you're keen to try the animal skin trend (vegan of course) but you're a little timid, a vegan snakeskin clutch is a good place to start. The clutch is small, allowing you to try the trend gently. Plus, animal skin adds subtle texture to any outfit, perfect to break up solid colours of maxi dresses or suits.
Blush Pink, always
You know that feeling when the manicurist rolls over the trolley of nail colours during a manicure and you get overwhelmed? You reach for the classic hue we all love: Blush Pink. That's what clutches are offering this year; rows and rows of blush pink clutches in modern, geometric styles. Just like your nails, blush pink accessories go with everything. If you have an event coming up and you still haven't chosen a dress, buy the accessory first and opt for a blush pink clutch. Whatever you choose, it'll match perfectly.
Metallic glam rock chic
Metallic details aren't new, but great brands have a fresh take on metallics by offering metalic panelling and metallic stud details on this year's clutches. 80's fans will love panels showcasing heavy studs and patterns incorporating metallic crystals. For those looking for a more subdued metallic finish, a metallic woven fabric such as vegan leather metallic weave is sleek option, perfect for outfits with their own buys patterns.
Glitter is for grown ups
Glitter is everywhere! No longer reserved for five-year-olds, glitter clutches are here to stay. Whether you're heading to a formal event and want to add some shine to your look, or you're going out with the girls and want something fun and silly to hold your wallet and phone, glitter clutches are this season's silliest, best new accessory. Achieve your glitter look with blended glitter vegan leather panels, or embrace the acrylic trends and try an all-out glitter bomb with an acrylic glitter panelled clutch.
Clutches in 2020 have had a huge resurgence thanks to the incorporation of fun new trends from acrylic panels to glitter. Be brave and add a cute clutch to your look next time you go out, your outfit will thank you for it!