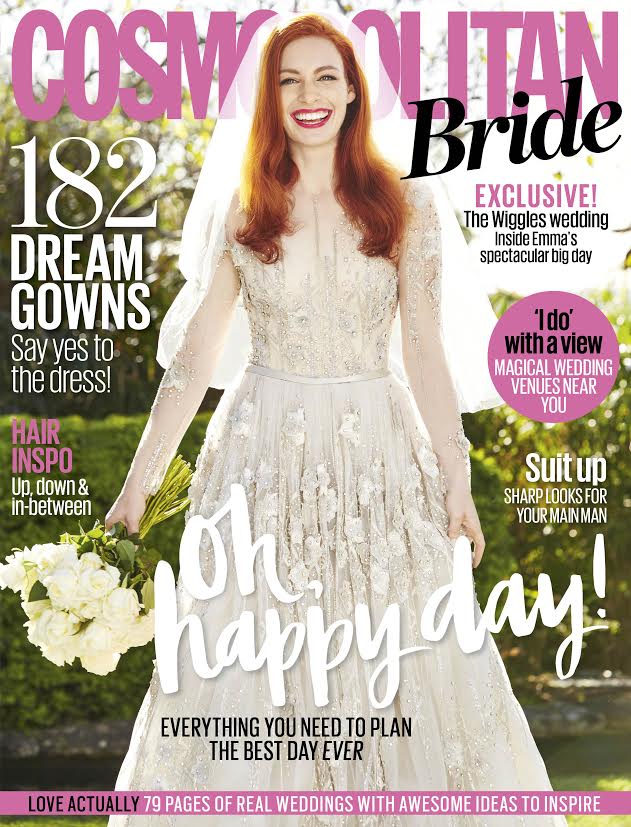 The July issue of Cosmopolitan Bride magazine features cover girl Emma Watkins of The Wiggles whose April wedding to fellow Wiggle Lachy made headlines nationally.
Cosmopolitan Bride is exclusively sharing the happy couples full wedding album in its latest issue on sale July 4, with all the details of the big day including everything from baby goats to a Viking tent! They also teamed up with Emma and her wedding vendors to create a seven-page fashion shoot featuring milliner Viktoria Novak, dress designer Suzanne Harward, photographer Lara Hotz and more.
"When we first sat down with Emma to chat about her upcoming wedding, I could tell that she was a Cosmo Bride sort of bride," says managing editor Alexis Teasdale. "She is a true delight, full of energy and excitement and so very much in love with Lachy. You can tell from their wedding photos that the day was an absolute joy for them. Our fashion shoot, showcasing her incredibly talented wedding experts, was fun from beginning to end. I know Cosmo Bride readers will find a lot of inspiration in Emma and Lachy's Big Day and she is the perfect fit for our cover."
"I am so excited to be on the cover of Cosmo Bride," says Emma. "What an honour and a joy it was to work with the team on this bubbly, bright cover, and also to have the wedding photos and dream team photo shoot included inside the magazine.
"The wedding day itself was magical and Lachy and I felt that we were able to personalise our wedding and share our love of music, food, goats, sign language and dancing with our guests.
"I am thrilled with how Cosmo Bride captured superbly the ebullient spirit of the wedding day."