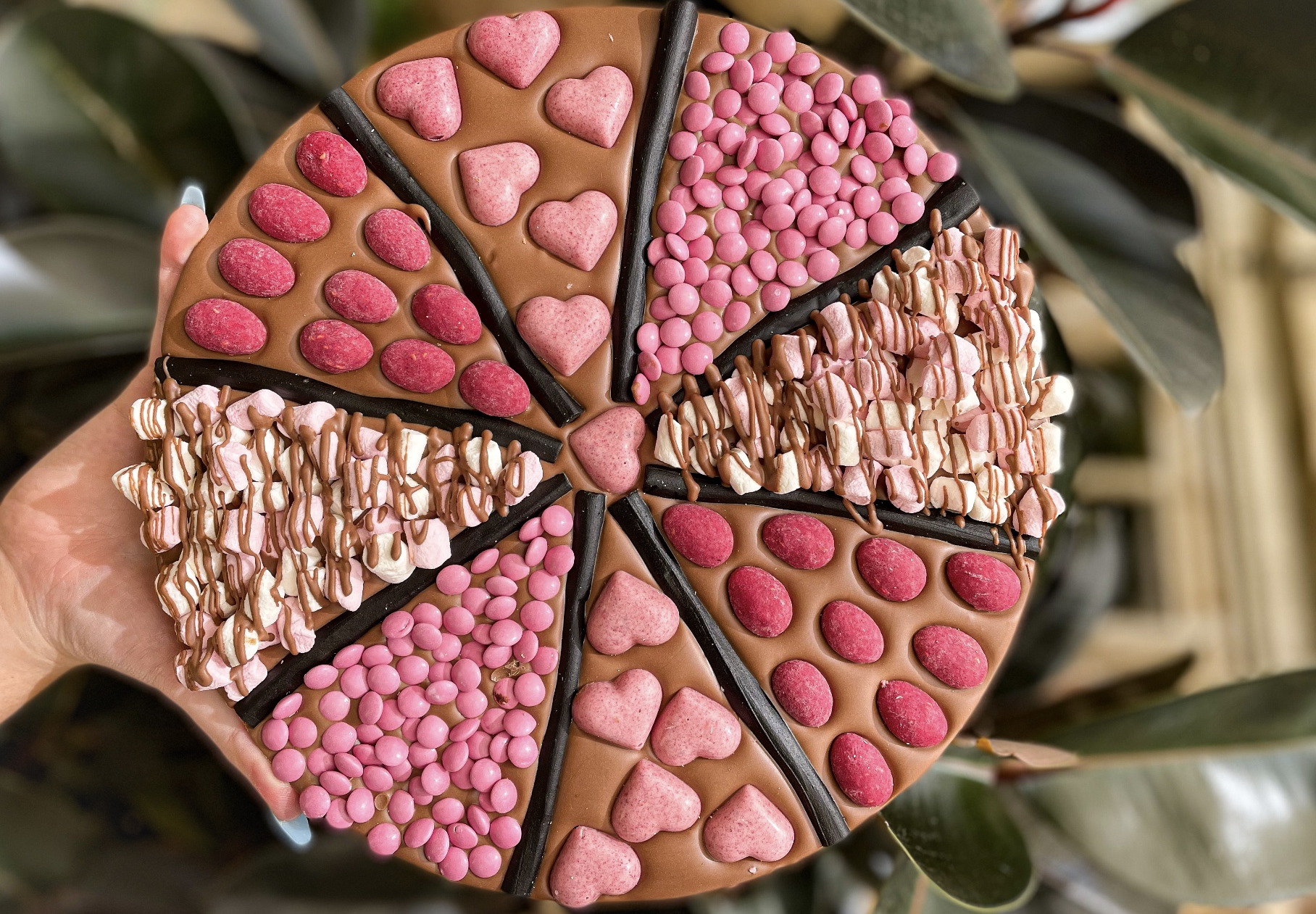 Nothing says love like chocolate and pizza and Junee Licorice and Chocolate Factory in the NSW southern Riverina region is not only combining them into one delicious feast – Valentine's Day Pizza Wheels weighing more than half a kilo each.
The pizza wheelbase comes in a choice of milk, dark, white or caramel chocolate, and the treats on top can be from a mixture of delights, including marshmallow rocky road, pink 'yummies' – which are like organic Smarties – and white chocolate roasted almond love hearts with a raspberry-infused white powdered dusting. The dividers are made from black licorice.
Available on-site and online, the Valentine's Day Pizza Wheels are 28cm in diameter, weigh over half a kilo and cost $40.
Rhiannon Druce, General Manager for the leading organic confectionery company, says,  "The wheelbases are made from milk, dark, white or caramel chocolate and they can be filled with all sorts, including macadamias, licorice, marshmallows, chocolate-coated strawberries, honeycomb and freckles."
The family-run business is also re-introducing its limited edition salted caramel macadamias for Valentine's Day and in even better news to locals, Australia's leading organic confectioner is also, literally, offering the real Willy Wonka Golden Ticket experience this Sunday from 6pm – a romantic on-site Valentine's Day dinner surrounded by chocolate.
Diners can enjoy a sumptuous Valentine's Day dinner on the premises (2 x courses for $55 and 3 x courses for $65) whilst being surrounded by chocolate, watching the workers make the delicious treats that Australia has come to love so much.
To book a table or for more information, visit https://www.juneelicoriceandchocolate.com

To order a Valentine's Pizza Wheel online click here.
More hi-res images, videos and interviews available on request.
About Junee Licorice & Chocolate Factory 
Located at the restored Junee Flour Mill the farm is owned by the Druce family – one of the first organic farmers in Australia –  produces a variety of certified organic chocolate and licorice. Adventurous guests wanting a hands-on experience can make their own 'freckle' or rocky road creation with Organic Belgium couverture chocolate. More info: https://www.juneelicoriceandchocolate.com and Instagram.
Five Fun Pizza Facts
Pizza Day started in the 10th century in Naples, Italy

It started out as a simple flatbread spread with sauce and sprinkled with cheese

Legend has it that the classic margherita pizza was invented in 1889 by a pizzaiolo named Raffaele Esposito for Queen Margherita
The cheesy golden discs really exploded after World War II when American soldiers came home from Europe with a taste for Italian dishes 
The most expensive pizza in the worldcosts $12,000 – it's called the Louis XIII. Made from organic Arabian flour, it's dusted with Murray River pink salt and takes 72-hours to prepare. It's topped with three types of rare caviar – Oscietra Royal Prestige, Kaspia Oscietra Royal Classic from the Iranian coast, and Kaspia Beluga – Norwegian lobster and 7 types of cheese. The dish is also served with host of the finest hand-selected beverages including Champagne Krug Clos du Mesnil 1995 which compliments the lobster and caviar, followed by Carta Real Sanches Romate Finos brandy and Louis XIII cognac – the rarest cognac in the world.