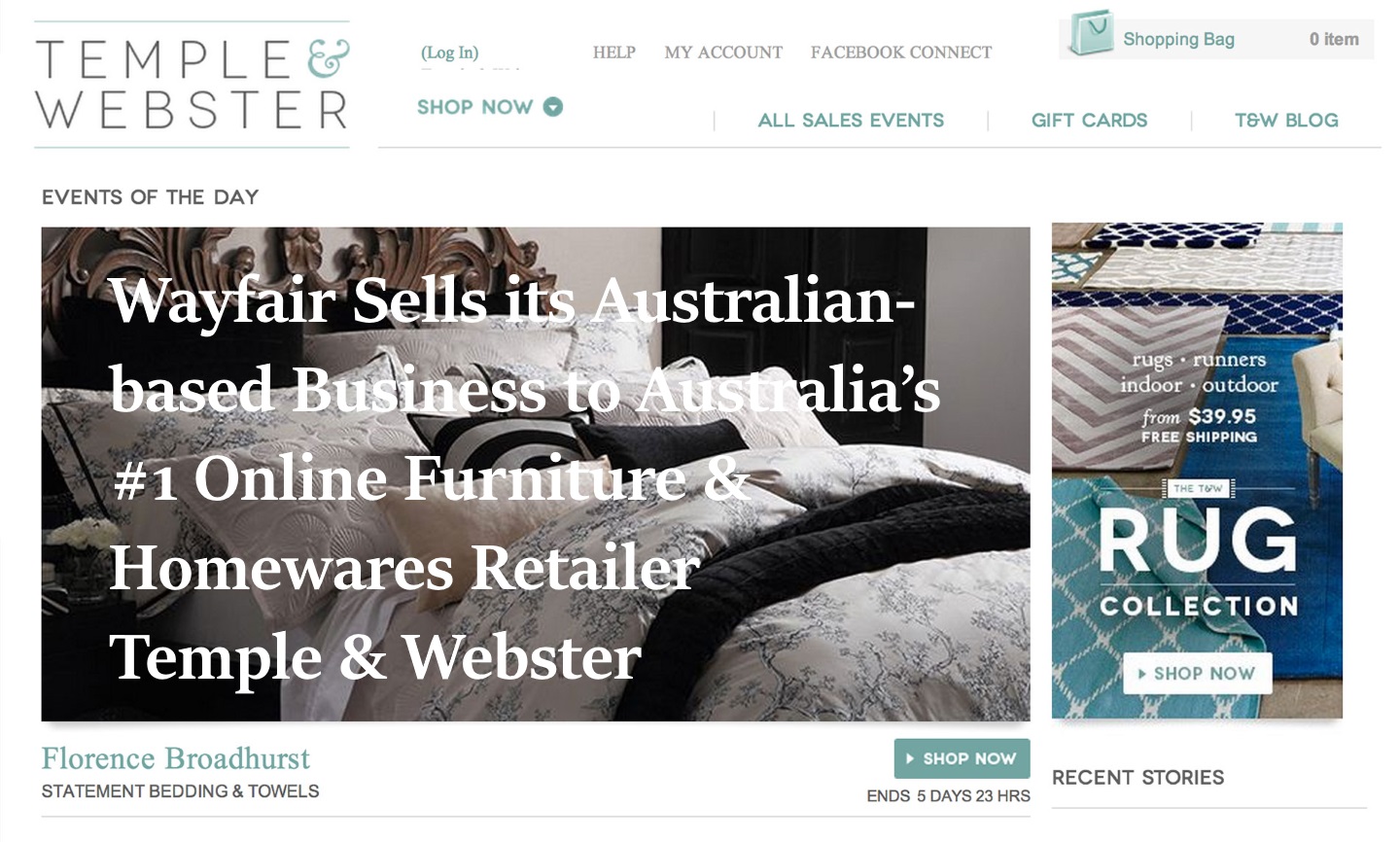 July 31, 2015 – Wayfair (NYSE:W), one of the world's largest online destinations for home furnishings and décor, today executed an acquisition agreement to sell its Australian-based business to Temple & Webster, Australia's number one members-only online destination for the home. The www.wayfair.com.au website will continue to operate under the Wayfair name for 45 days and then will be re-introduced under a new brand name from Temple & Webster. Terms of the transaction were not disclosed.
"As we continue to rapidly scale our business in North America and Europe, we are strategically focusing our resources on those two very large markets," said Niraj Shah, CEO and co-founder of Wayfair. "We are confident that the transition of our Australian business will serve our existing Australian-based customers and employees well. Temple & Webster shares our commitment to technological innovation and outstanding customer experience in home retail and has a great track record in the Australian marketplace."
"The acquisition of Wayfair.com.au is a natural next step in the continued rapid growth of Temple & Webster. It's an exciting opportunity for the progression of both businesses in the Australian furniture and homewares market" said Brian Shanahan, CEO and co-founder of Temple & Webster. "The combination of Temple & Webster's strong brand identity and unique ability to inspire its loyal member-base, through beautifully curated and presented products, and high quality editorial along-side Wayfair's broad product offering, world-class technology platforms and exceptional speed of delivery, will provide an unparalleled online shopping experience for every Australian.
About Temple & Webster
Temple & Webster launched in October 2011 and now has over 1.1 million members

On average, a new member joins Temple & Webster every minute

On the busiest days:

More than 85,000 members visit Temple & Webster – that's more people coming to Temple & Webster than 6 Australian IKEA stores.

They turnover more than $200,000 in 24 hours - That's as much turnover as a typical David Jones or Myer store, or 7x a David Jones or Myer homewares department.