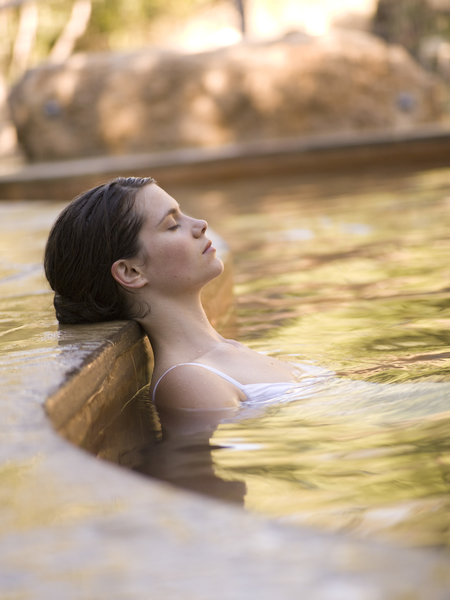 Peninsula Hot Springs has become the first Corporate Friend of Mental Health Australia, supporting the peak body in its mission to create the best mental health system in the world.
"Peninsula Hot Springs (PHS) has a deep and fundamental desire to improve the wellbeing of Australians and connects well with the work of Mental Health Australia," Mental Health Australia's CEO, Frank Quinlan said today at the launch of the partnership.
Mental Health Australia is the peak charity organisation representing the mental health sector in Australia, representing national service providers and advocacy organisations including beyondblue, headspace, Lifeline and ReachOut, while also facilitating a voice for local organisations and people who live with mental illness.
"We work tirelessly to provide frank and fearless advice to government and the sector, building connection, relationships and facilitating a voice for those who live with mental illness every day. Only a truly independent organisation can push for the creation of a new mental health system, one we need and deserve. Our friendship with the Hot Springs helps us to do just that, we are proud to be associated with them."
Peninsula Hot Springs Global & Community Relationship Manager Yuki Davidson said the partnership "signifies the PHS commitment to tangible and active involvement in improving mental health in Australia."
"This friendship with Mental Health Australia is  natural evolution of our wellbeing program and third stage in PHS growth, where mental and physical wellbeing has been a primary driver to our wellness destination for over 10 years".
Peninsula Hot Springs CEO and co-founder Charles Davidson said: "Peninsula Hot Springs welcomes more than 440,000 guests each year seeking relaxation, escape and time out. Our PHS purpose statement is 'to create experiences where people relax in nature and connect with the deep well of their being' - the Mental Health Australia Friendship now signifies our involvement beyond creating the beneficial experiences, to include PHS advocacy, education and research for both mental and physical wellbeing."
"Recent collaborative research with RMIT at PHS has demonstrated that hot springs bathing has a community role, our hot pools are not merely provider of relaxation and wellbeing. We are increasingly being recognised as a destination for regular therapy of balneology for everything from back pain to depression," Mr Davidson said.
"RMIT research shows us that visitation to PHS has major results for many who report they have stress, anxiety or depression. Among the nearly 4000 regular visitors surveyed, 'significant relief' was reported by 38% of those who said they had depression and 48% of those who said they had stress/anxiety. Over 80% of the total said they had better sleep after visiting PHS."
This new friendship also helps Mental Health Australia in its work to encourage business to recognise and assist with mental health issues in the workplace. It is estimated that one in six working-aged Australians is living with a mental illness, at a cost of $11 billion per year to business.
"Two thirds of people surveyed by beyondblue in 2015 said that they would not disclose their mental illness to their employers due to concerns about repercussions. This issue is having a direct impact on absenteeism and presenteeism," Mr Quinlan said.
"But it doesn't have to be this way. The corporate world has a major role to play in helping to break down the stigma associated with mental illness, providing people with a safe and caring work environment."
Mr Davidson said: "The Peninsula Hot Springs extended family recently had an intimate insight into, and hold a sincere empathy for, the devastation mental illness can cause. This is sadly common in Australian workplaces. We have a solid commitment to mental health for all of our 250+ staff, our guests, and the wider community – we encourage other businesses to also consider what they can do to ensure healthy staff and healthy communities."
The new MHA Corporate Friends program involves a $5000 donation by businesses per year. To give your business support, email MHA: info@mhaustralia.org