Written by

News Feature Team
Long haul cycling can be exhausting and you don't want to deal with a heavy load when tired, nor would you like to be stuck and unable to help yourself. It's time you found out which items will be of use and what to eliminate from your supply.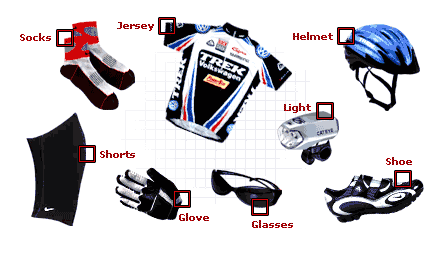 1. A pair of cleated shoes


You may think you don't need these, but you really do! They will give you the much needed support and comfort, no matter how weird they look when you're not on a bike.
2. More bike clothing


It's not enough to have one set of clothes only. You will need to replace these, depending on how many days you're spending on the road. Stores selling accessories of cycling sports online will guide you to the best jerseys, as well as to more pleasant alternatives. Consider buying different sets, for cold, respectively warm weather, to be prepared for anything. Place your bet on wool – it's what will keep you cold in hot weather and warm when it's cold.
3. Small solar charging equipment


At times, you'll have no place to charge your electronic devices. When there is no gas station or cafe in sight, pop out your solar charger. You can find such gadgets that can be easily fitted to a bike, so they charge as you cycle.
4. Adequate underwear


It's too bad that only a few dare to talk about this topic. After all, one should aim for comfort when cycling for many hours. Underwear is thus a priority; it must not be too tight, nor made of fibers that make you hot. Also, it's better if it's seamless.
5. A hydration pack


A simple bottle of water will not be enough; you may think you'll be filling it as you stop, but this can become rather annoying. Do yourself a service and buy hydrating gear for cyclists. You'll be able to take with you as much as 3 litres in one pack alone. Imagine having to place somewhere each of the 6 water bottles you'd have to take with you.
6. Bike fixing gear
Most likely, you'll be required to fix small details or bigger issues. In the vast majority of cases you'll only have yourself to rely on. Thus, your trip gear should include a series of basic tools, counting a small tire pump, a flat kit, chain oil for lubrication and a chain cleaner.
7. Sunglasses


A fly or debris getting into your eye at high speed can be such a nuisance. It may even destabilise the cyclist. Wearing sunglasses or regular ones can prevent such incidents. Choose the appropriate type depending on the weather and the season. They will make for a reliable shield you absolutely need.
8. Reflecting gear


Apart from providing your bike with reflective signs, it's safer to wear a reflective vest yourself. In addition, to make sure no one misses your signals, you should purchase signaling gloves. Many come with luminous LED signs that will make your hands visible under all circumstances.
It's essential to know what to prioritise before engaging in long haul cycling. Pack what's mentioned about when you need to face strenuous lengthy rides and use your common sense/intuition when selecting other items that you may need. Each cyclist has particular needs or problems that can be exacerbated during a long trip and with the effort it entails.