Written by

Tess Sanders Lazarus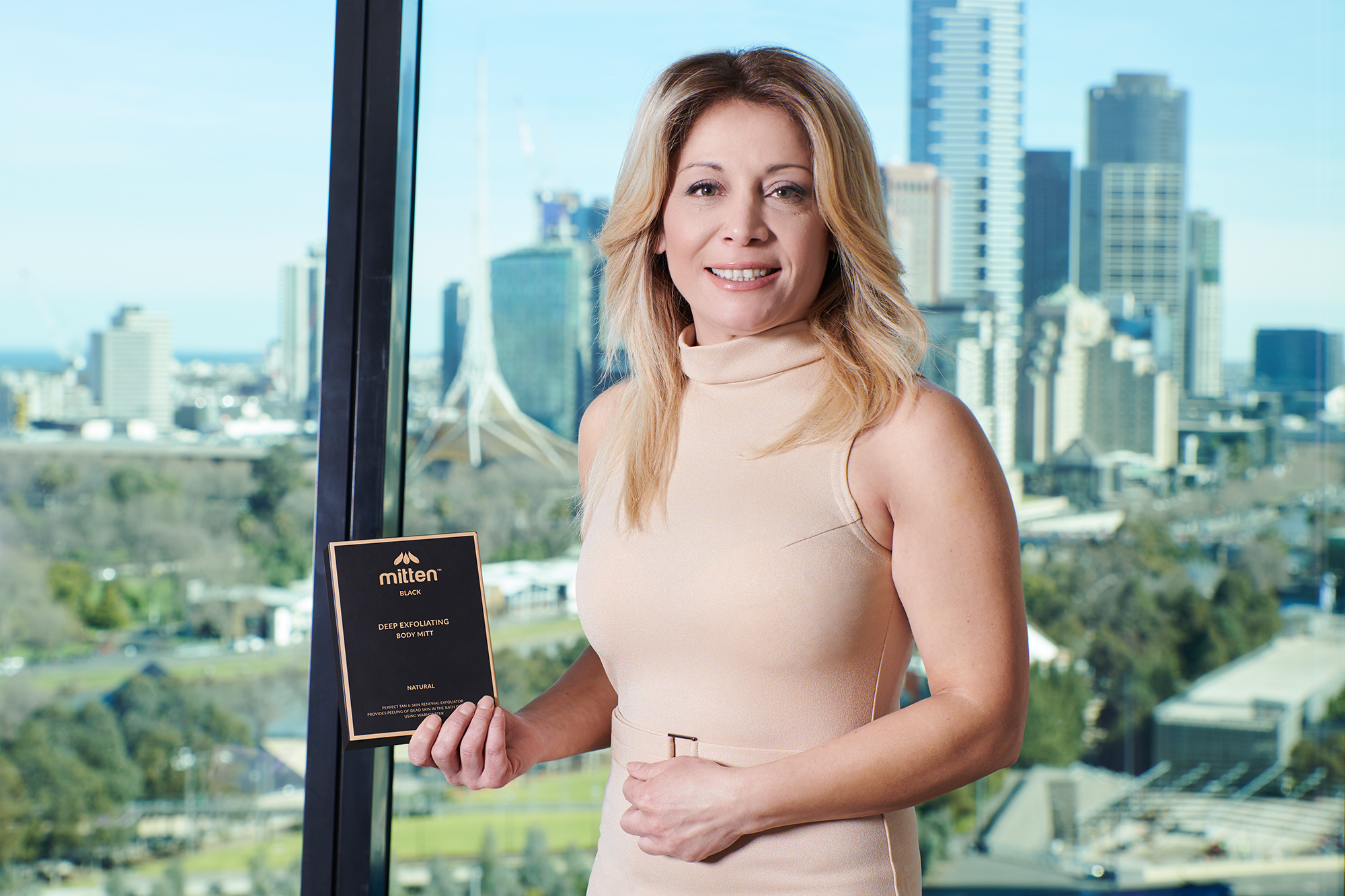 With Christmas parties, end of year gatherings and summer holidays almost upon us, many women are already contemplating how to get their skin ready for the onslaught.  
Everyone wants to look fabulous lounging around swimming pools in swim wear and drinking cocktails.   
"Summer is all about getting out and about and enjoying the sun.  However, it's also a time when our skin is most exposed to high UVA and many environmental dirt and toxins," Fiona Theodoropoulos, founder of skin rejuvenation product 'Mitten', said.
"Without appropriate skin care, our skin can be compromised which can affect the skin's structure and result in unhealthy skin.
"Deep exfoliation is a great way to maintain healthy skin as it removes the build-up of environment dirt and toxins and melanin (brown glow produced through sun tanning) which can also result in dried out unhealthy skin.
"Everyone wants to look great for end of year parties and lounging around the poolside in swimwear.   Unfortunately, winter takes its toll on our skin.   Winter weather strips our skin of moisture and of our natural oils leaving our skin flat, tired and dry looking.   We also eat a lot more heavy food in winter which isn't that great for our skin.  It's no wonder we lose our glow.
"Given our sun has high UV rays, self-tanning products have become the norm for many Australians who want that natural sun kissed look, however without appropriate exfoliation many self tanning products leave a patchy look on our skin, which makes our glow look un-natural and uneven.
"Deep exfoliation, is an easy and effortless way to renew skin to achieve a flawless finish in sunless tanning especially maintaining difficult areas like the knees, elbows and underarms. Effectively exfoliating the skin prior to using sunless tanning products will also ensure sunless tanning products last longer.
"Getting our skin ready for end of year parties, functions and getaways requires some work and planning.   Basically, skin maintenance is the key and you need to start now.  
"My key tips for getting your skin ready for summer are:
-        Deeply exfoliate the skin weekly to remove environmental dirt and toxins and the built-up of dead skin cells through exposure to the sun; and
-        Use a strong SPF while out in the sun to reduce the impact of Ultra Violet rays and always drink plenty of water to replenish your skin's moisture.
"It is important to increase your water intake every day.  Water cleanses the body and helps to flush away impurities and reduce cellulite.
"Cut out heavy foods and start increasing your consumption of good foods such as fatty fish, avocados, walnuts, broccoli and tomatoes.
"Get moving and work up a sweat - blood moves oxygen and nutrients around the body and into our skin.   Deep exfoliation not only renews the skin but also promotes circulation and allows for movement of toxins in the lymphatic drainage system.  Sweating not only removes impurities from our skin it helps protect us from bad bacteria.
"Cut out bad makeup and skin care products.   Many cosmetics contain all sorts of nasty ingredients with damage and clog up our skin.   Purge products which include concerning ingredients and try to reduce your use of make up where possible.
"Following these tips will see your skin come to life and regain its natural glow.     You don't have to go out and spend hundreds of dollars on expensive creams or treatments.  Following my simple steps will help you to get your skin ready for summer. 
"Naturally, as the founder and inventor of the world's most loved exfoliation mitt, I strongly suggest exfoliation, especially deep exfoliation.   Using a product like Mitten, means you can exfoliate in the shower using just water and no products - giving your skin the best chance of rejuvenation."
Although exfoliation is great way to renew skin, one of the most fundamental benefits of deep exfoliation is the fact that it promotes circulation.  Without appropriate blood flow to the skin and body, the body is unable to activate the movement of cells.
Deep exfoliation not only visibly removes dead skin cells but it also promotes whole body blood flow which enables the body to reinvigorate itself hence energise the skin and body which results in the natural glow.