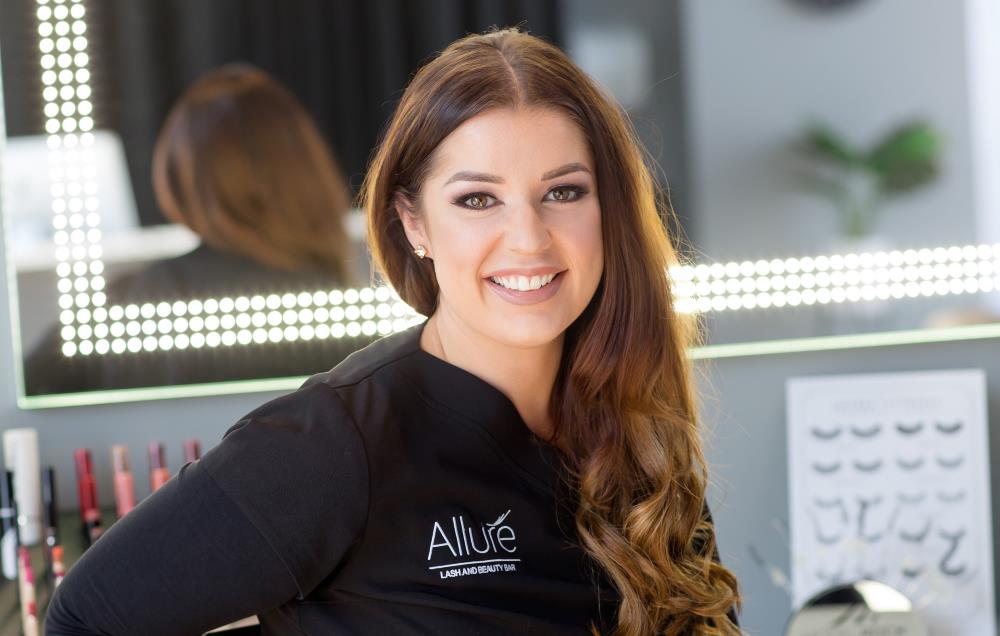 Worldwide winner announced in Canada May 6
2nd April 2019: From the hottest celebrity to the girl next door, women all over the world are obsessed with lashes, and leading the lash industry Down Under is a small but impressive salon in Albury, NSW.
NALA (the National Association of Lash Artists) - the world's foremost body promoting the global lash industry - has decided one of the top five lash studios in the world is Allure Lash and Beauty Bar in Albury NSW, owned and operated by beautician, lash expert and mum of two, Lauren Lappin.
Lauren's salon is only one of FIVE in the entire world nominated for the "Lash Studio of the Year Award" – the top gong in the competition and, with thousands of beauty salons in Australia, this is big news for the beautician, wife and Mother of two.
Says Lappin, "I am so excited at being named one of the top five specialist lash salons in the world. I have worked so hard to offer the highest quality lash treatments to our clients over the years and to be recognised internationally for this is nothing short of amazing!"
If Lauren wins the top honour for her salon when the winner is announced in Canada at the NALA Awards on May 6 (May 7 local time), her studio will be number one in the world.
Lauren's husband, Owen, is incredibly proud of his wife's achievement. He says, "It hasn't been easy for Lauren being a mum, wife and running two businesses with multiple staff. I think it's fantastic to see that she has now been recognised by an international association for all of her years of hard work and dedication."
What sets Allure Lash and Beauty Bar apart is the fact that the salon specialises specifically in lash treatments. Lauren's team completes an incredible 150+ sets of lashes each week, therefore all lash artists have the knowledge and expertise required to offer a quality service. Lauren and her team regularly attend lash specific training and conferences to keep their skills up-to-date, and all artists hold memberships with Australian and international lash associations that uphold the highest standards for natural lash health, safety and cleanliness.
In addition to her work achievements, Lauren isn't a stranger to accolades. In October 2018, Allure Lash and Beauty Bar was named as a top three finalist in Lash Vision's "Lash Salon of the Year with 2+ Staff" category. Also, in 2015, Lauren placed second in the Australian & New Zealand Lash Master Competition Creative Category, and third in the Master Volume Category and is one of only seven lash artists in the country to achieve the ADFEE® Damage-Free certificate. The Damage-Free certificate is why Allure's clients still have healthy, natural lashes without damage to their natural lashes.
Lauren and her family will be waiting for May 6 (May 7 ADST) with bated breath. Says Lauren, "When I put my mind to something, especially a personal passion, I give it my all and to be recognised for my hard work will be a dream come true".
Aussies can watch the announcement aired LIVE on the NALA YouTube Channel on Tuesday, May 7 at approximately 1pm ADST.
For more information about Lauren, please log onto www.allurelashes.com.au and www.runwaylashco.com. You can also find Lauren on Social Media:
Facebook: Allure Lash and Beauty Bar and Runway Lash Co.
Instagram: allure_lashbeautybar and runwaylashco
About Lauren
Lauren Lappin is a beauty therapist, lash expert, and entrepreneur based in Albury, NSW. She worked in warehousing and information technology before diving into her true passion, beauty therapy and lash extensions. She opened her own specialist lash extension salon, Allure Lash and Beauty Bar, in 2014.
Lauren has travelled internationally to attend training with world renowned lash artists, gained multiple high-level certifications, and is one of only seven lash artists in Australia to achieve the ADFEE® Damage-Free certificate. She also holds a Diploma in Beauty Therapy with Distinction.
Lauren regularly attends lash conferences both here and overseas to improve and extend her knowledge and also offers lash extension training, and business growth coaching/mentoring to other lash artists, including her own staff.
In July 2018, Lauren was named as a finalist in the AusMumpreneur awards Hair and Beauty Category for her rapid business growth and being a mum (juggling businesses and kids!) but had to withdraw her entry after her grandfather passed away.
Lauren was born in Canberra, ACT and has lived in Albury since she was five years old. She now lives in West Albury with her husband Owen and two young children.