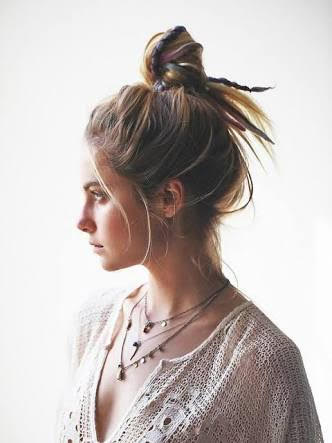 Within the transitions of Sydney's natural variation of punk, boho, vintage and contemporary trending comes an "alternative" stance to Australian fashion trending. We've had fads of bobs, blunt cutting, long voluptuous hair and classic up styling. Whether we are out or about Sydney living has naturally grown to grasp into an easy going, laid back approach to styling. 
Bohemian buns naturally encorporate into the groups; the corporate female world, the stay at home Mums and the everyday casual everyday woman. This practical yet effortless look can timelessly fit into anyone's wardrobe. The great thing about this new summer trend as we head into 2017 is that it only takes 1 minute to create! 
Steps:


1) begin to style your Hair as you are creating a pony tail. Choose and style if you are having a front or side fringe. Pull out any side shaping/ loose hair pieces. 


2) choose your positioning height and start to tie the hair tie


3)tease the ponytail area to create a "messy look" 


4) instead of tying a ponytail, create a loop to shape a loop/bun shape. 


5) mouldy and balance any hair pieces with hair pins. Finish with hairspray. 
The way to ensemble a bohemian bun whether it's a high, medium or low bun is to be easily fixed with either pearls, hoop earrings or the simple studs. All you need is a hair tie, and some bobby pins to create this look! 
Whether you are wearing a summer dress, little black "formal dress" or a tracksuit, this effortless finish can save a woman time, money and energy.