Written by

News Feature Team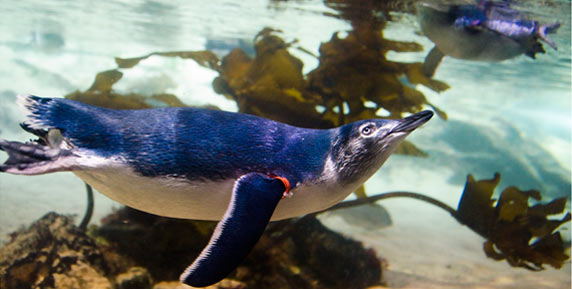 SEA LIFE Sydney Aquarium is set to become home to the world's first-of-its kind penguin exhibit this summer, with the immersive experience allowing visitors to get up close and personal to a spectacular colony of King and Gentoo Penguins during a sensory and educational sub-Antarctic journey like never before.
Opening in November, Penguin Island Expedition is inspired by Macquarie Island - an Australian owned island that lies in the southwest Pacific Ocean - and will create an explorer out of each and every guest as they travel in a raft through a rugged, sub-Antarctic environment at a cool but comfortable six degrees Celsius.
Explorers will be surrounded by penguins and experience a flurry of snow, whistling winds and the stunning southern lights, before arriving at the Macquarie Island Explorer Hut. Here they can observe these inspiring creatures on land and under water and learn more about life on the remote island.
The state of the art exhibit represents a $9 million investment, making it SEA LIFE Sydney Aquarium's largest creature investment since opening 28 years ago. It will also be the first time colonies of sub-Antarctic penguins call Sydney home, underpinned by a dedicated breeding and conservation-focused education program.
Rob Smith, Divisional Director, Merlin Entertainments ANZ, said, "Penguin Island Expedition is an exciting, world first innovation and a must-see for local and international visitors alike. Offering true immersion in a brilliant replica of our penguins' natural home, the ride allows guests to make amazing discoveries about life on Macquarie Island, the different personalities of cheeky Gentoo and majestic King Penguins, and how we all play a role in protecting their futures".
Gerhard Beukes, Curator at SEA LIFE Sydney Aquarium also commented, "These animals are ambassadors for their species and play a vital role in helping us to communicate our conservation values of 'Breed, Rescue and Protect' to the huge number of visitors that pass through our turnstiles each year.
"Wild penguin colonies throughout the world are under increasing threat due to pollution, global warming, dwindling fish stocks and habitat destruction, and it is our responsibility to educate the public on how they can help. This education is so important as what our guests see and do at SEA LIFE Sydney Aquarium, and how they choose to switch their actions at home, can affect the penguins' habitat for years to come".
SEA LIFE Sydney Aquarium will work alongside the SEA LIFE Trust and Macquarie Island to highlight strong conservation messaging throughout the experience, including Macquarie Island's pest eradication project and plastic pollution solutions. Initiatives, such as the SEA LIFE Trust's support of proposed research into the impact of plastic pollution on the island's penguin colonies, are hoped to inspire guests to 'choose to reuse' and help make a difference to penguin habitat protection and restoration.
The King and Gentoo Penguins will be a welcome addition to the 13,000 animals from 700 different species that call SEA LIFE Sydney Aquarium home. These curious, playful and sometimes cheeky critters live in sub-Antarctic conditions; they can withstand the harsh winter environment and thrive in the chilly water. King Penguins can grow up to 100 cm tall and weigh 11 to 16 kg, while the smaller but still impressive Gentoo's reach a maximum weight of 8.5kg.
Alongside Penguin Island Expedition, guests can marvel at sharks, dugongs, rays and a variety of animals from The Great Barrier Reef, making the attraction home to one of the largest displays of aquatic life in the world.
Entrance to Penguin Island Expedition - including daily feeds and talks from dedicated keepers and trainers - is included in the cost of general admission, starting from $28 online per person. Visitors are urged to book tickets well in advance to avoid missing out on this very cool experience. For more information, visit www.sydneyaquarium.com.au.