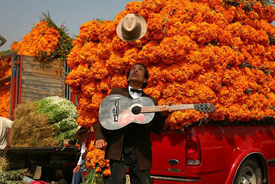 This May, the world's most-awarded tequila Milagro will unveil an exciting art exhibition by Mexico City based photographer Mark Alor Powell at SoCal Neutral Bay. The fifteen piece pop-up gallery named the 'Museo of Miracles' captures the everyday wonders of Mexico City and ultimately the inspiration behind the Milagro brand, from its fantastical and surreal architecture to its expressive street art and creative people.  
As part of a global tour, the gallery will be open for public viewing from Cinco De Mayo, (Friday 5 May) from 12pm, until Sunday 18 June. Cinco de Mayo is the annual Mexican holiday symbolising the victory of the Mexican army over French troops in 1862, traditionally celebrated with the hallmarks of any great Mexican fiesta: endless colour and excitement, dancing and street parades, flowers, feasts, and of course, tequila!  
In celebration of the exhibition, SoCal will also host Milagro Sundays throughout the exhibition period. Expect to witness the vibrancy, passion and creativity of Mexico City right in the heart of Neutral Bay, with the freshest Milagro Margarita specials, tequila tasting flights, photo competitions and the taste of an authentic Mexican menu. Guests can go into the running to win Milagro Margarita kits, and an exclusive Museo of Miracles print alongside a bottle of Milagro, simply by uploading a social photo of their favourite piece at the exhibition using the tags @MilagroTequila #MilagroTequila and #MuseoOfMiracles.
Powell says, "There is a certain imaginative spirit found only in Mexico. From the extreme contrast and clash of cultures that go back to the conquest, to the contemporary display present within the Mexican landscape. Events happen unexpectedly and often with a surreal flavour - fiestas, religious ceremonies, street art, buildings and monuments all compete in a cacophony of meaning questioning What is Mexico City?"  
Originally from Detroit, Powell has lived and worked in Mexico City for the past 10 years and his renowned and spontaneous street photography has been exhibited around the world.  
Milagro was founded in 1997 by Mexico City natives Danny Schneeweiss & Moy Guindi, who wanted to bridge the romantic and honest world of traditional tequila with the vibrant and sophisticated world of modern-day Mexico City.  
The visionary to make this dream a reality was Master Distiller Pedro Juarez. Pedro's vision included two key methods: firstly, he insisted on using only the remarkable Jalisco Highlands 100% estate-grown blue agave, which is sweet, fruity and aromatic, setting Milagro Tequila apart from other tequilas.  And secondly, Pedro formed a new kind of distilling process, combining both pot and column stills together. The pot still allows the retention of the incredible nuances of agave flavour while the column still imparts the exquisite smoothness that compares to the finest white spirits in the world.  
To this day, Milagro Tequila continues to combine time-honored methods of production with fresh thinking to produce its award-winning tequila.  
The Freshest Margarita
2 parts Milagro Tequila
1 part Fresh Lime Juice
1 part Agave Nectar
Combine ingredients with ice and shake. Strain over fresh ice in a rocks glass and garnish with a lime wheel. Salt optional.  
Milagro is a 100% blue agave tequila, renowned for its smoothness, mixability and crisp clear taste. Meaning miracle, the tequila's unique aesthetic are a true celebration of Mexico's passion for art and design. The Milagro Tequila range consists of six expressions, with Silver, Reposado and Añejo expressions of its Core and Select Barrel Reserve ranges respectively.  
William Grant & Sons, Ltd. is an independent distiller founded by William Grant in 1887. Today the luxury spirits company is run by the fifth generation of his family and distils some of the world's leading brands of Scotch whisky, including timeless favourite Drambuie, the world's favourite single malt Glenfiddich, The Balvenie range of handcrafted single malts and the world's third largest blended Scotch Grant's® as well as other iconic spirits brands such as Hendrick's Gin and Sailor Jerry.  
For more information visit:
http://www.milagrotequila.com/
or
http://www.williamgrant.com/
Follow Milagro on
Instagram
or
Facebook