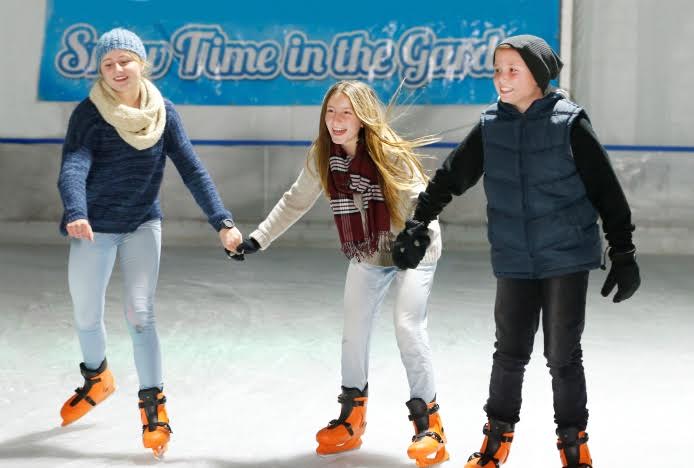 Get ready for a Winter Wonderland that is jammed-packed this year when Hunter Valley Gardens 'Snow Time in the Garden' returns for 2017.
Hunter Valley Gardens has pulled out all the stops this year, adding more rides and entertainment than ever before to this incredible winter event.
The one of a kind destination will transform into a glittering winter fair from Saturday June 24th until Sunday July 16th, with new activities and something for everyone to enjoy at any age. The icey festivities will be open every day for three weeks, and are an easy two-hour drive from Sydney CBD.

ACTIVITIES:


ICE SKATING RINK
Kick off your Snow Time fun with a spin around the much-loved Snow Time Ice Skating Rink. Skating sessions will run for 20 minutes and can fit up to 200 skaters at any time. With sessions starting at 10.00am every day, collect your session ticket, grab your skates and helmet and make sure you don't miss out!
SNOW TIME FAIR RIDES
Brand new to Hunter Valley Gardens, these incredible additions will bring a spectacular Carnivale vibe to Snow Time in the Garden. With a 25m Ferris Wheel, 12m-long Swing Chairs and traditional-style Carousel, little ones and kids at heart are sure to get a thrill from these Italian-made beauties. Some height restrictions apply: children must be over 110cm tall to ride the Swing Chair, with kids over 120cm able to fly solo, and those 110-120cm riding safe alongside an accompanying adult.
SNOW TIME PLAY ZONE
Get ready to have Frozen's 'Do You Want To Build A Snowman?' stuck in your head all day – the ever-popular snow play area is back, with adorable snowman accessories galore. With two equally large play areas, there's plenty of room for Snowmen, Snow Angels, or anything else that takes your fancy.
INFLATABLES
Young ones of all sizes can enjoy unlimited bouncing, frolicking and racing on these giant Jumping Castles and Obstacle Courses, this year seeing two separate Inflatable zone areas to accommodate toddlers and big kids alike. With 6 Inflatables in total, there will be more than enough bouncing time to go around.
REAL ICE TOBOGGAN
Go speeding down the Ice Toboggan on your snow tube as many times as you like! At a breathtaking 40 metres long, it'll be sure to get your blood pumping.
HUNTER VALLEY GARDENS SUPER SLIDE
After its incredibly popular induction into last year's Snow Time attractions, the HVG Super Slide is here to stay! This thrilling ride will continue to light up Hunter Valley Gardens during Snow Time and throughout the year. Standing at a huge 12 metres high and 35 metres long, it's time to grab a giant slide mat and zip down the rainbow at full speed. Swing Chair height restrictions apply.
The family fun doesn't stop here. Other activities throughout the event include Face Painting, Snow Ball Challenge and Arcade Alley. The incredible live Ice Sculpting by Kenji Ogawa will also be wowing crowds on weekends. A range of delicious food options and warm beverages will be on offer, and The Garden Terrace Café will be open 9am – 5pm daily.
For more details on Snow Time in the Garden, tickets and the full program please visit: www.hvg.com.au  
Ticket Information
Adult (16yrs +) - $32.00
Child (4 -15yrs) - $25.00
Children under 3 – FREE
Family Pass (2x adult and 2x children) - $102.00
Family Pass (2 x adult and 1x child) - $82.00
Extra Child (to be used with family pass) - $20.00
Seniors - $26.00
Event accommodation packages are also available, for more details visit www.harrigans.com.au 
Opening hours:  Monday – Friday 10am – 7pm, Saturday & Sunday 10am – 9pm
All activities excluding Super Slide, Swing Chair and Ferris Wheel are FREE once admission is paid.
Super Slide: $2 per ride pp.
Ferris Wheel: $6 per ride pp.
Swing Chair: $6 per ride pp.
Unlimited rides on Super Slide, Ferris Wheel AND Swing Chair: $15 pp.


Snow Time in the Garden is proudly supported by the NSW Government through its tourism and major events agency Destination NSW, as part of its 2017 Regional Flagship Events Program.