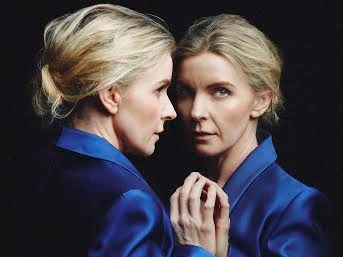 9 November to 19 December 2015. Opening Night: 13 November at 8.00pm Drama Theatre, Sydney Opera House
Following recent celebrated performances in The Present and Children of the Sun, Jacqueline McKenzie is back at Sydney Theatre Company (STC) for the whimsical, magical tale of time and transformation, Orlando, Sarah Ruhl's adaptation of Virginia Woolf's 1928 novel. The wild ride spanning more than 300 years also features John Gaden, Matthew Backer, Luisa Hastings Edge, Garth Holcombe, and Anthony Taufa, directed by STC Resident Director Sarah Goodes, at the Drama Theatre, Sydney Opera House, from 9 November to 19 December 2015.
Orlando (McKenzie) is a nobleman in the court of Elizabeth I who catches the eye of many, including the aged Queen (Gaden) herself. As his story unfolds a world of ravishing Russian beauties and Romanian aristocrats eventually leads him to a particularly debauched night in Constantinople and a long slumber from which he awakes transformed. Orlando is now a woman and she must find her way to her true self via a glorious journey of time travel from the 16th Century all the way through to the twentieth.
Inspired by her affair with the author Vita Sackville-West, Orlando is arguably Woolf's most popular and accessible novel and often cited as a feminist classic. The fantastical escapade was memorably adapted for film in 1992 featuring Tilda Swinton as the eponymous hero.
Director Sarah Goodes most recent work for STC includes Kylie Coolwell's Battle of Waterloo and Joanna Murray-Smith's Switzerland (to be remounted for Melbourne Theatre Company in 2016). She again collaborates with Designer Renée Mulder, with whom she has worked on Battle of Waterloo, The Effect, The Splinter and Edward Gant's Amazing Feats of Loneliness for STC.
Sarah Ruhl's In The Next Room, or the vibrator play, also featuring Jacqueline McKenzie, was presented by STC in 2011.
Director: Sarah Goodes. Designer: Renée Mulder. Lighting Designer: Damien Cooper. Musical Director and Composer: Alan John. Sound Designer: Steve Francis. Dramaturg: Kip Williams


Cast: Matthew Backer, Luisa Hastings Edge, Garth Holcombe, John Gaden, Jacqueline McKenzie, Anthony Taufa
Box Office: 02 9250 1777. sydneytheatre.com.au
Tickets: from $58 (fees apply)
Suncorp Twenties become available for Orlando from Tuesday 3 November. Suncorp Twenties (a selection of $20 tickets for every performance) are released for sale each Tuesday at 9am for the following week's shows (Monday to Sunday).