Written by

News Feature Team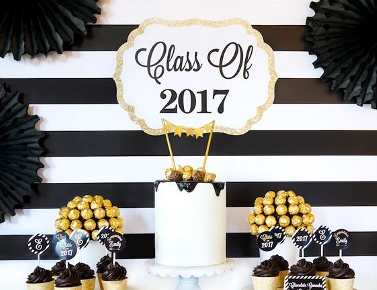 Graduation season is upon us.
This means one of a few things: you are graduating (yay!), you get to go to a lot of parties (fun!), or you have to throw the ultimate party (yikes!). If the third option is you, I am here to ease some of your stress. There is no doubt that throwing your child the best graduation party is the second most important party you will throw for him/her (assuming a wedding down the line will probably be more expensive and stressful). But seriously, parents these days are going all out for grad parties. Lucky for you I am here to give you 10 tips for throwing the ultimate grad party without breaking the bank.
1) Rent a Photo Booth
There is something about a photo booth that captures a certain silliness from guests and grads. Hiring a photo booth for your next event is the perfect way to get random groups together for photos that wouldn't happen with a regular photographer or phone snaps.
2) Instagram Hashtag
Guests will be snapping photos left and right.
To ensure these pics don't get lost in the sea of a hundred different Facebook pages, create a party specific hashtag that guests can tag and all photos will end up in the same place. #jensgradparty2017 will be trending before you know it.
3) Diploma Napkins
Small, thoughtful touches will really spruce up a grad party. One fun idea is to get square, white napkins, roll them up, and tie with black ribbon. These little decorations look just like a mini diploma, really highlighting the grad theme!
4) Jenga Guest Book
Guest books are a great idea for a grad party.
It will be fun years later to look back and see who was in the grad's life during that chapter. But a boring old guestbook is so last year. How about buying a game of Jenga and having guests write a silly memory with the grad on a piece as their "signature" in the guest book.
5) Dedicated Gift Corner
I hate that awkward moment when I walk into a party and there is no designated spot for gifts and cards. So I end up walking around holding a bulky box until I find a surface to place it on. A dedicated gift corner will make it easy for guests to offload the gift and head straight for the snack table and really get into the party spirit.
6) Slide Show
Graduation marks the end of an era.
It is a day to celebrate not only accomplishments, but experiences. Sometime during the middle of the party, when mosts guests are inside, bust out a slideshow of the grad with some great music to accompany photos. Slide shows will make mothers cry and friends laugh and are always a hit.
7) Baby Photos
A must have for all grad parties is a combo of adorable and embarrassing baby photos.
Print a series of photos from baby through grad age and hang decoratively on a string fastened with laundry pegs on a long wall. Don't forget those awkward teenage year photos!!
8) World Map
Place a world map on a wall and use one colour pins to indicate where the grad has been, and another colour pin indicating where the grad wants to travel. This is a fun way to highlight past and future adventures of your special grad!
9) Advice Tree
We have all been there.
Stuck in a corner at our own graduation party with our old Auntie with droning out way too much unsolicited advice. The thought is sweet, but the delivery is painful. Make an area where people young and old can impart wisdom for the grad. One cool way to do it is get a fake tree, then have a table near with small pieces of paper and pens. Guests can write the advice on the paper, then fasten it the tree.
10) Yard Games
Avoid that awkward moment at the party when people are standing around with nothing to do by organising yard games. Guests always love a good game of corn hole or boccee, you could even get silly and creative with a festive game of pin the cap on the grad!
Grad parties can be be fab or a flop.


Being creative and sticking with the grad theme are great ways to make your party memorable for guests and your special grad. Using the tips above, and adding some personal flair, you are sure to be the party of the season. Get that photo booth booked as soon as possible to make sure the best ones don't get booked out! Best of luck party thrower!