UP-AND-COMING CLASSICAL CROSSOVER STAR RELEASES DEBUT ALBUM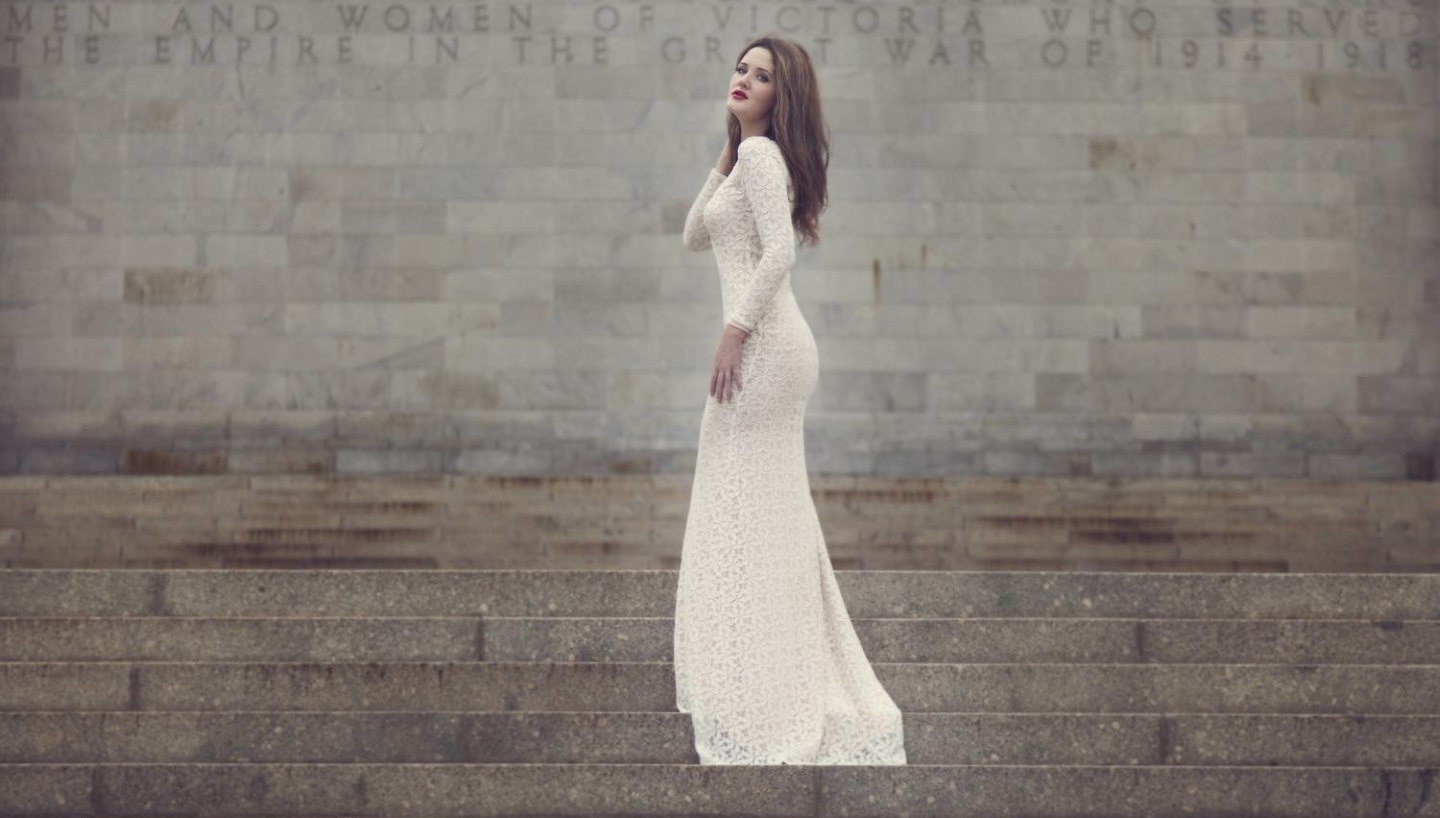 Sydney 30 July 2015: Melbourne's Monica Oriel, the voice behind Australia's Cricket World Cup Grand Final win, has just released her debut album, First Love. Recorded with John Foreman, producer extraordinaire Simon Paul and the 68-piece orchestra Melbourne Youth Orchestra, her ten track classical crossover album is a showcase of operatic arias, Broadway musicals and old favourites with Monica's trademark classical twist. This album is a culmination of years of classical training, real life experiences, and an incredible passion for classical crossover music.
Monica is an internationally broadcast classical crossover soprano, and has trained with some of Australia's best vocal coaches. Born in country NSW, 27-year-old Monica has performed the Australian National Anthem at the Cricket World Cup, the Ashes, and two Boxing Day tests; where she sung Australia to victory in all matches, and also each series. She is undoubtedly Michael Clarke and the Aussie Team's good luck charm.
On top of her national success, Monica was the only Australian to be chosen to perform at Buckingham Palace for the Queen's Coronation Festival, and has performed in front of HRH the Prince of Wales and the Duchess of Cornwall, Charles and Camilla. She has sold out solo concerts, performed personally for Andrea Bocelli and sung to thousands of people at the Hyde Park ANZAC Day Service in London.
The ten track CD includes Summertime, You'll Never Walk Alone, Quando M'en Vo (Musetta's Waltz), The Prayer (with Stephen Smith), Song to the Moon, I Could Have Danced All Night, Pie Jesu, Music of the Night, O Mio Babbino Caro, and What a Wonderful World.
"To me, classical crossover is about taking well-known melodies and lyrics, and stripping them back to see the song from a new perspective, let it take you on a new journey. Singing has always been my greatest passion, and I hope First Love brings everyone the joy it's brought me."
First Love is available for $25 from www.monicaoriel.com




About Monica Oriel

Monica was born and raised in the small dairy town of Wauchope in NSW, Australia. At 5 years old, Monica was taken out of classes by the local nuns at her primary school for singing lessons, and began her classical singing training at 14 years old. After receiving Honours in her 8th grade AMEB exam at 17, she deferred a place at the Conservatorium of Music to study her degree in Biomedical Science. In her first year, Monica was struck down with a devastating bout of viral meningitis, and forced to delay her studies while she recovered. Monica continued her classical training privately, earning a 2nd place in her first Sydney Eisteddfod. 

Monica performed at Buckingham Palace for Queen Elizabeth II's Coronation Festival, where she sang for the Prince of Wales and the Duchess of Cornwall at the event headlined by Katherine Jenkins and Dame Kiri te Kanawa. A crowd favourite, fans lined the side of the stage after each of her performances and she was interviewed for the first story on Channel 7 National News in Australia. She also sang the Australian National Anthem at the Boxing Day Test match between Australia and Sri Lanka at the Melbourne Cricket Ground in front of a crowd of over 60,000 at the venue, as well as being nationally and internationally broadcast on both television and radio. She was interviewed on ABC 774 Melbourne, and twice with Liz Ellis on ABC Radio before and after singing the Anthem. Monica was honoured to be the soloist of the ANZAC Day Dawn Service at the Hyde Park Australian War Memorial in London earlier this year, performing for members of the Royal Family. She also sang at Richard Strange's famous Cabaret Futura in London, and performed with operatic group, The 7 Sopranos, now signed to ABC Classics. Her first solo concert sold out in just 5 days. Monica is also passionate about donating her time and talents to charity, and sang at Sienna's Frangipani Charity Gala Dinner for children's cancer research in January, headlined by Jack Vidgens and hosted by Mark Beretta and Natalie Barr. 

Monica's onstage performance experience to date encompasses opera, operetta, music theatre and concert performances, and includes leading roles in Chess the Musical at the Theatre Royal, Joseph and the Amazing Technicolor Dreamcoat at Glen St Theatre, Love's Lessons Learned at Sydney Conservatorium of Music, and Pirates of Penzance at the Seymour Centre. She was also the soprano soloist for St Mary's Cathedral Christmas Eve masses in 2005 and 2007, as well as performing as a soprano soloist in various feasts, masses and concerts at the Cathedral with St Mary's Singers. She has worked with some of Australia's biggest names in opera and stagecraft, including Stuart Maunder, Michael Black, Sharolyn Kimmorley, Anthea Moller, Anke Hoppner, and Nicole Dorigo.