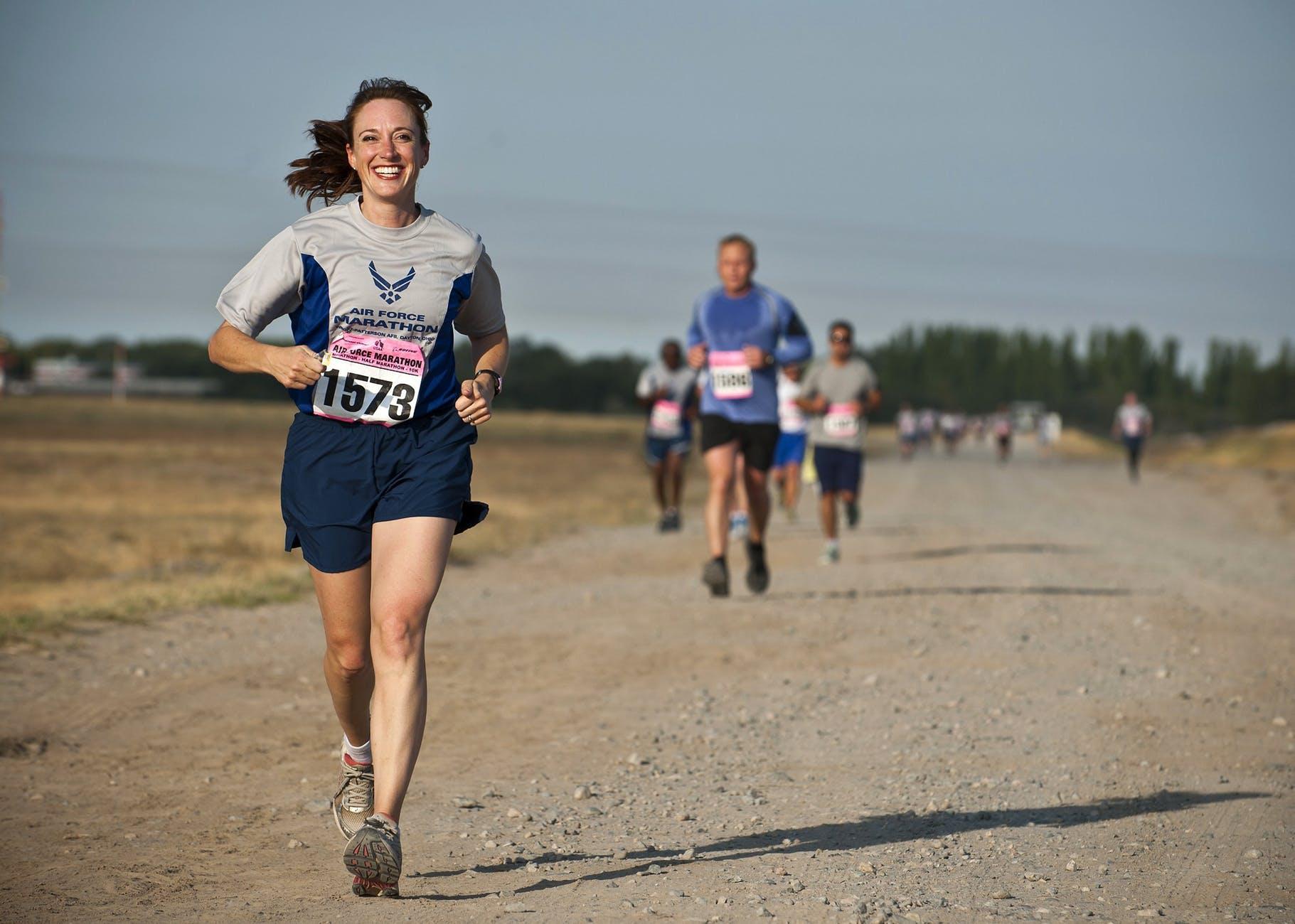 Running is a lot more than just exercise. It is, in fact, a commitment to yourself. It allows the use of your body's physical energies to their optimal potential. It is a great stress-busting strategy and releases happy hormones to keep off depression and anxiety. You can participate in running events, be a part of a passionate community, and run for a good cause.
Exercise is truly the best way to connect with your own body and feel good about yourself. Making running a part of your daily routine will help you ward off the risk of chronic ailments. It will promote an active body and a healthy weight. The benefits of daily running rituals extend to your emotional, physical, and mental wellbeing.
In this article, we will explore the benefits of making running a part of your daily routine in great detail.
Let's get started.
1. Releasing Happy Hormones
Regular workout regimes and running sessions are an excellent strategy to feel happy and good. No matter how tough or disappointing your day was, running can help you clear your head. Research reveals that the phenomena we refer to as the runner's high are the release of endocannabinoids.
Endocannabinoids are feel-good hormones that engulf the body after 30 minutes or so of running. Exercise and running are ideal for fighting off depression and anxiety. It aids in finding happiness from within and nourishing one's mental and emotional wellbeing.
2. Maintaining or Losing Weight
Do you want to shed off a few pounds or maintain your shapely figure? Running is the cheapest and most rewarding strategy for an effective weight loss regime. Unlike gyms and yoga classes, it costs absolutely nothing, and you can add it to your routine with great flexibility.
Regular running encourages fat burn even after you stop running by speeding up your metabolism. In order to stay motivated, you can challenge yourself to take part in exciting running events.
3. Boosting Bodily Strength
Regular running will not only boost your endurance and increase your bone mass. But more importantly, it will help you become more energetic and agile by preventing any age-induced bone loss. Running is excellent for boosting knee health and protecting all your joints and bones.
4. Sharper & Energetic
Starting your day with an early morning day is the secret recipe for being energetic and active all day long. If you make it a regular habit, you can enjoy its benefits for years to come. Regular exercise, especially running, keeps the brain sharper, alongside making your body more energetic.
Research reveals that it aids in combatting age-induced mental decline, which tends to impair memory, focus, and attention spans. Running has great benefits for the human brain. It aids in enhancing blood circulation throughout the body and brings about striking improvements in memory retention, concentration, and organization.
5. Running for a Cause
Running is a splendid way to give back to your community. You can join running events, and charities focused on mental health and other rewarding causes. You can choose a running adventure that beguiles your inner athlete. It could be a trek in the wilderness, a long run alongside the stunning coastline, or even an exciting hike.
Running events can help you be a part of a wonderful community of runners who share your passions and struggles. It is a remarkable gesture to give back to your community and be proud of supporting significant causes.
6. A Flexible Commitment
Regardless of your age, we all need to commit to at least one form of exercise to maintain bodily and mental health. However, as compared to gym or dance classes, running is a much more flexible commitment. At times, we find it difficult to pay for the gym or yoga sessions. We also find it difficult to make time from our busy routines.
An exhausting day at work or school is enough to make us feel lazy and avoid our exercising commitments. However, running is not that difficult to manage. You can add it to your daily routine in the morning or at night. It can be an excellent strategy for evening relaxation, or you can tackle it during your lunch breaks.
7. Rejoice the Glories of Nature
Regular running sessions allow you to rejoice the beauty of nature and be inspired by its different colors. Whether you are a morning runner, an evening runner, or even a hiking enthusiast. Running is a great exercise habit of feeling closer and more connected to nature.
You can start your day with the lovely chirping of the birds and the refreshing greenery that greets you. If you live near state parks or nature trails, you can explore the wilderness each morning and rejuvenate your soul.
8. Busting Everyday Stress
Running is an excellent strategy to get rid of everyday stress and complications and avoid panicking. If you deal with anxiety and panic attacks regularly, running is the ultimate solution to uplift your mental wellbeing. Research reveals that running eliminates overthinking and promotes relaxation by reducing activity in the frontal cortex.
It is the healthiest, most rewarding commitment to uplift your emotional health and eliminate everyday stressors. Running is immensely helpful for those who suffer from anxiety disorders, helping them cope in situations that stimulate fear. Physical activeness and agility make you feel more in control of your body and emotions.
9. A Natural High
Running allows you to get high without doing any recreational drugs. More commonly known as the runner's high, it is a feeling of euphoria and happiness. It will lift all heaviness and burdens, allowing you to feel rejuvenated and free. Research reveals that much like recreational drugs and mood stimulants, running stimulates the brain receptors for reward and pleasure.
It will elevate your mood, making you feel happier and calmer. It can also elevate your focus and concentration. Participating in running events for charities and fundraisers is a great way to make your habit creative and rewarding.
10. Cut Down the Risk of Cancer
Running is an excellent prevention strategy to ward off the risks of cancer, even if you have a family history. There is an abundance of research that substantiates the impact of running in curbing the risk of cancer.
Several medical studies associate regular exercise and running with reduced risk of certain kinds of cancer. Moreover, running is highly advised for patients who have cancer or undergoing chemotherapy. It aids in elevating the overall life quality and regulating bodily functions.
Final Word
Running is a remarkable habit to unwind your mind and relax. It allows you to feel more connected to nature and be appreciative of its beauty. Most importantly, it is the cheapest and easiest way to make sure that you get plenty of workouts.