Written by

Madeleine Blake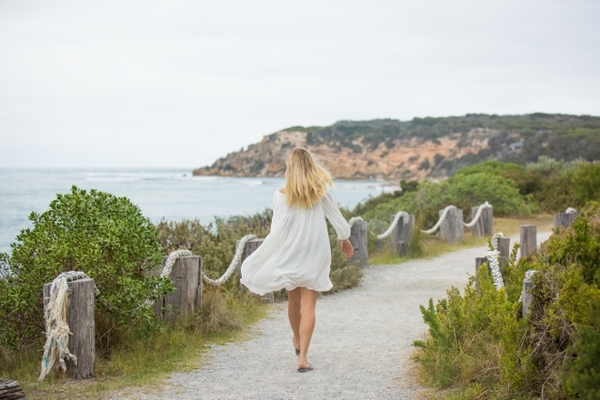 The Bellarine, an easy 90-minute drive from Melbourne, is the ideal location for an invigorating, indulgent and mindful weekend away. With ample health and wellness options on offer, The Bellarine provides the ideal winter escape where you will be inspired by coastal landscapes and revitalised by the crisp ocean air and glorious winter sunshine.
Relax and rejuvenate in one of the regions many day spas or partake in a yoga class or weekend wellbeing package. Take a walk or ride a bike along the Bellarine Rail Trail, play a round of golf and stay overnight at one of the many luxurious and indulgent accommodation options.
From spectacular coastal paths to rugged bush trails, there is an impressive selection of coastal walks and hikes on The Bellarine. Take a beachside hike from Point Lonsdale right up to the mouth of the Barwon River at Barwon Heads. For a shorter distance, walk an hour round trip from Ocean Grove to Barwon Heads along the sand or via the inland track. Or enjoy the stunning views towards The Rip and Point Nepean on the six kilometre coastal walk from Queenscliff to Point Lonsdale. Another popular option, Edwards Point Nature Conservation Reserve near St Leonards, boasts multiple walking trails, abundant wildlife, pristine sandy beaches and cool coastal woodlands.
To keep the blood pumping, jump on a bike and explore The Bellarine Rail Trail, a 35 kilometre scenic trail that winds from South Geelong to Queenscliff. The mostly flat trail is excellent for bike riders and walkers and provides easy access to many of the regions attractions and villages. Bike hire is available from Big4 Beacon Resort in Queenscliff and from several operators. Alternatively, leave the car at home and bring your own bike on the V/Line train from Melbourne to South Geelong before heading down the Rail Trail.
The Bellarine's outstanding golf courses offer additional opportunities for outdoor exercise, sharpening the mind and skills, while breathing in the fresh seaside air. Choose from a number of courses, many of which are consistently rated as the best public courses in Australia, such as  Thirteenth Beach Golf Links, Barwon Heads Golf Club or Curlewis Golf Club.
Yoga and pilates studios can be found in all major towns on The Bellarine. Big4 Beacon Resort offers regular yoga and pilates for both in-house guests and visitors. Other popular options include KYO Yoga in Ocean Grove, Bellarine Peninsula Yoga & Pilates in Drysdale or Barwon Heads Yoga. All offer a wide selection of classes in private studios.
After a day of exercise and exploration, wind down with a spa treatment at one of the regions day spas. An adult only luxury accommodation and spa retreat, Lonsdale Views in Point Lonsdale offers private beach access, a heated indoor pool and spa, plus private hydrotherapy and massage.
The Queenscliff Day Spa overlooks Queenscliff Harbour, with calming water views providing a picturesque backdrop for leaving every day stress behind. Also in Queenscliff, Mud Day Spa boasts four private relaxation suites, including a couples' room. Choose from a wide range of body and beauty treatments for men and women including facials, massage and wraps.
For a sense of seclusion, privacy and everything in one, you can't go past Bellarine Day Spa and Retreat. Tucked away on the outskirts of Portarlington, Bellarine Day Spa and Retreat offers three beautiful accommodation suites in the same complex as a well-appointed day spa.
A wide selection of accommodation can be found in the region. From camping and self-catered accommodation to luxury B&Bs and hotel accommodation. Much more than just a holiday resort, Big4 Beacon Resort, incorporating Mud Day Spa, offers wellbeing packages that include accommodation, healthy meals, herbal teas, pilates classes and massage therapy. Guests also have full use of the onsite facilities including a heated swimming pool.
Number 35 Bed & Breakfast in Point Lonsdale, boasts three light-filled luxuriously appointed suites and sits opposite the magnificent sweeping coastline of Point Lonsdale. Or Starhaven Retreat in Indented Head is a luxurious bed and breakfast with its own jet stream swim spa, rooftop terrace and 15-seat theatre room.
Refuel at one of the many cafes and restaurants on The Bellarine, many offering menus boasting locally sourced, organic food. Popular options include Elk Horn Roadhouse, PIKNIK and Annie's Provedore.
As you pack your bags to head home feeling relaxed and rejuvenated, be sure to stop by one of the many farmgates and provedores where you can load up with healthy, organic supplies to take home with you. Be sure not to miss Lonsdale Tomato Farm, Drysdale Cheeses, Farmer's Harvest, Wildings Pantry Essentials, Saltbush Fine Foods, Bellarine Community Farmers' Market and Advance Mussel Supply.
For further information go to www.visitgeelongbellarine.com.au