Written by

Bradley Thomas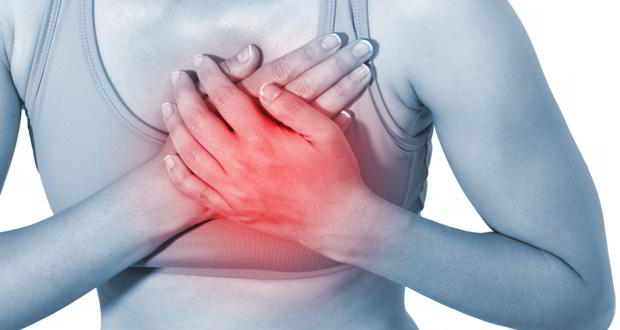 New Hypertension Guidelines released by the National Heart Foundation today will provide healthcare professionals with the latest evidence when dealing with patients who have blood pressure.
This latest guideline includes both a primary and secondary prevention focus on the contemporary management of hypertension in the context of an aging population with increasing complexities.
Heart Foundation Chief Medical Advisor Prof Garry Jennings said the Guideline differs from some other guidelines due to recent evidence outside the patient groups covered by the management of absolute cardiovascular risk (NVDPA, 2012) as well as information arising from new trials addressing blood pressure as a single risk factor in people with moderate or high risk measured using a variety of methods.
"This Guideline offers advice on new areas including out-of-clinic blood pressure measurement using ambulatory or home procedures, white-coat hypertension and blood pressure variability," Prof Jennings said.
"A key difference is the new evidence for a target blood pressure of <120mmHg in some patient groups.
"There is a recommendation in certain high cardiovascular risk populations to aim for this lower target with close follow-up to identify adverse effects including low blood pressure symptoms such as fainting, electrolyte abnormalities and changes in kidney function."
The new Guideline complements the current Absolute Risk Guidelines, addressing additional age groups, important comorbidities or target organ damage in hypertension that are known to increase risk.
"In these guidelines it has been necessary to make recommendations based on a lot of recent evidence on management of hypertension," Prof Jennings said.
"There is no one size fits all approach when managing hypertension but these guidelines will help clinicians address some of the variables each individual patient provides.
"We know that GPs want as much certainty as possible to help personalise their approach to treating patients with hypertension.
"This new guideline will guide management of hypertension in Australia for the immediate future."
The National Blood Pressure and Vascular Disease Advisory Committee, an expert committee of the National Heart Foundation, developed the new guideline.
Prof Jennings said committee members were selected based on their recognised expertise and included representatives from Royal Australian College of General Practitioners, National Stroke Foundation, Kidney Health Australia, Hypertension Nurses Australia, National Prescribing Service Medicinewise and the High Blood Pressure Research Council of Australia.
The RACGP has recommended the Guideline for approval as an Accepted Clinical Resource.
Prof Jennings said all Australians aged 18 years and over should have their blood pressure measur5ed by a health professional at least every two years.
"High blood pressure is a silent killer because there are no obvious signs or symptoms," he said.
"The only way to know is to ask your GP for regular check-ups.
"Uncontrolled high blood pressure is one of the greatest preventable risk factors that contributes significantly to the cardiovascular disease burden.
"The good news is that hypertension can be controlled through lifestyle modification and in more serious cases by blood pressure-lowering medications."
NOTE: Hypertension Guidelines will be available at this link from 12.01am on Monday
http://www.heartfoundation.org.au/for-professionals/clinical-information/hypertension
Key statistics
One in three Australians aged 30-65 have been diagnosed by a GP with high blood pressure – that's 3.5 million people

More than one in 10 Australians aged 30-65 (12%) have NOT had a blood pressure check in the last two years.

Heart Foundation estimates that more than 900,000 Australians aged 30-65 have high blood pressure or high cholesterol but don't know it.
What are the differences between the Guideline and other guidelines?
The differences related to targets (Table 1) and treatment strategies (Table 2) are detailed below.
Table 1: Targets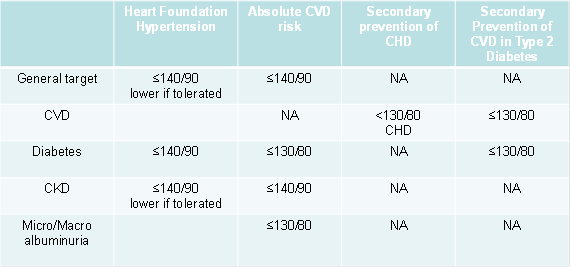 NA = Not applicable
Table 2: Treatment strategies