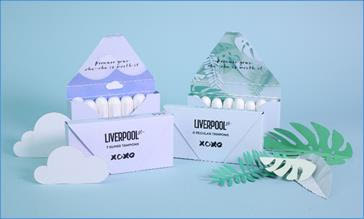 A health scare in 2016 forced events company owner Siobhan Komander to completely change her lifestyle and as a result, her career. When Siobhan was diagnosed with Type 1 diabetes at age 36, she overhauled her diet and her approach to exercise and healthy living. In 2015 her diabetes was spiralling out of control and her stress levels were sky high. This led to a series of problems that forced her to look at every product she used from shampoo to body wash and skincare to tampons and make the switch to natural or organic options where she could. As a time-poor businesswoman, Siobhan bought most products online but she found ordering tampons through an online chemist time-consuming and difficult. "The specific products I was looking for were just not easy to find," she says. This sparked an idea for a business – a natural and organic tampon delivery service that worked on a subscription model.
Siobhan cut her teeth in events from a young age and worked for APRA, Sony and the Sony Foundation before launching her own agency, Xphyr Brand Experiences, in 2004. She had a laptop, $3,000, no clients and a name only an owner could spell. One of Siobhan's first clients was a little company called Google who was, at the time, a brand new search engine in Australia and had only three staff members. Xphyr was hired to put together their first birthday celebrations and for 12 years, Siobhan and her team managed Google's Australian events. Other clients included YouTube, Spotify, Houzz and Twitter.
Xphyr turned over approximately $20 million in 2016 across both offices in Sydney and Singapore. It has also experienced year on year growth of an average 18% since 2012. "I was running a successful business, doing what I thought I loved and what I was good at – but I was a mess. I was stressed, anxious and had no work/life balance. The decision to wind back a business I'd worked so hard to build in favour for an online start-up was not an easy one, but it was the right one," says Siobhan.
Liverpool St, launching in April, delivers organic, natural, cotton tampons to women around Australia, including in rural areas, on a monthly basis. "Most women have encountered the unpleasant moment when their period arrives and they realise there's not a tampon in sight. As a society, we're busier than ever before and ensuring the cupboard is stocked with tampons each month is just one more thing on our list to worry about!"
On average, women use up to 8,000 tampons across their lifespan and we simply don't know the ingredients of most of them – and these products are closest to our most intimate areas. "At Liverpool St, we're so passionate about supporting women in looking after their health. We realised that a lot of Australian women are increasingly conscious of what they eat and what they put on their skin, with regard to the use of wholesome produce and natural skincare. Despite this, they don't think twice about what they insert inside themselves during their period!" says Siobhan.
"Liverpool St is so much more than just tampon delivery, though," Siobhan says. "We're establishing a positive and upbeat community for women where we break down the discussion taboo of our cycles."
Tampons are just the beginning for Siobhan as she plans to roll out a range of convenience products for women by the end of 2017.
For more information, please visit www.liverpool.st.