Christine Taylor founded her pooch pampering business in the backyard of her parents' home when she was just 16-years-old. Now, 23 years later the success not only of her business, Aussie Pooch Mobile, but also her franchisees, continues to grow in leaps and bounds.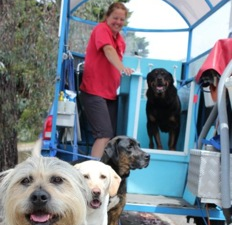 In the early days of Aussie Pooch Mobile, it was Chris' passion for dogs, determination and hard work that saw the business become the first mobile dog wash in the world.
While those values are still the foundation of the business, it is the dedication, support and encouragement her Aussie Pooch Mobile Pooch Pamperers receive that is a fundamental part of Aussie Pooch Mobile.
Age is no barrier, with operators ranging from 19 – 65 years. You can work your own hours, be your own boss and be as successful as you choose as there is the potential to wash and groom over 50 dogs a week, gain additional profits from retail sales and additional services. Work hard and you more than reap the benefits.
Once you've established your area, you shouldn't struggle with bookings as it is repeat business, which see customers coming in every 2–4 weeks for a regular service for their dog.
And demand for dog washing continues to increase. People love their dogs and treat them like children, and want the best for them. People are time poor and are outsourcing services more and more.
"We have people contacting us regularly asking for operators in areas we are still needing to fill. For the right Dog Lover we have areas available in all states of Australia and need people to keep up with the demand.
If you are seeking a new career, regardless of the circumstances, there is every reason to look into this company.
But how and where do you start?
"We have several options," says Chris. "You can operate by yourself, establishing the business in a management arrangement. You can operate with another franchisee helping them in their business or you can purchase your very own franchise."
"We reinvest in our people and this proven field and proven systems makes it easy for people to become part of the Aussie Pooch family."
Twenty-three years of experience with close to 5 million dogs washed can't be wrong. Aussie Pooch Mobile has established a business that has created even more opportunities for existing and potential franchisees.
So don't let the job market get you down. Becoming an Aussie Pooch franchisee is a viable option and definitely worth looking into.
See www.aussiepm.com.au for details.
About Aussie Pooch Mobile
Aussie Pooch Mobile is a franchised mobile hydrobathing service for the family dog that has been operating since 1991. The Aussie Pooch Mobile currently services approximately 20,000 customers every month and has over 200 operators throughout Australia. The company also services customers in New Zealand, The USA, New Caledonia, The United Kingdom, and Malaysia under the name of The Pooch Mobile.
The professionally trained hydrobath operators cater for all breeds of dogs, at the convenience of your home in our all weather, purpose built, mobile dog wash and grooming unit.