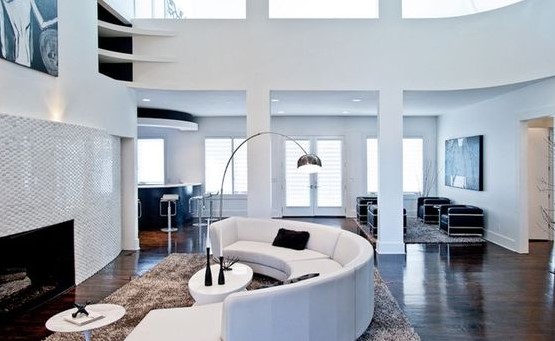 Who doesn't dream of a well-styled home? Well-styled and well-organised. If you are looking for decorating must-haves for your home, you have come to the right place. Consider this article mini-guide to a well-styled and organised home.
Although I am not often carried by 'dos' and 'don'ts' in home decor, there are certain accessories I turn to again and again for a comfortable and inviting space. Like magic, these must-haves can transform your home within the snap of a finger and make it look a lot stylish and prettier.
So here they are:
5 Home Decor Essentials for a Well Styled Home
A Splurge
This is probably the #1 piece of advice for everyone trying to decorate his/ her house. Buy the fancy pieces you have always wanted to get if they come under your budget.
Furniture is one of the most important essentials that can affect the entire look of your house. Therefore, you must invest in high-quality pieces that enhance and elevate the look of your space.
A stylish curvy couch with decorative pillows is the best thing to splurge.
Don't forget to accessorise the sofa well - think lights, rugs, art pieces, antiques and more.
The lighting
The lighting is exceptionally important - something that can make or break the entire look of your house. It is the surefire way to make any space feel more cosy, comfortable, and inviting. No matter how well have you decorated your space, if the lighting is not good, it can turn your space dull.
It could be anything. From a statement ceiling light or a crystal chandelier,
… to layered lighting. It will add the WOW factor to your space.
Wooden Dining Table
There is never enough wood when decorating your home. Dining table and chairs are the first things that pop up in our heads when purchasing furniture for our homes. And nothing beats a wooden dining table.
Wooden dining tables add sheer sophistication to an area. They bring warmth and comfort to your dining area.
Not to mention, wooden dining tables in Adelaide have their own organic element and can make any space stylish as well as natural.
A quiet corner
A good place to read where you can curl up is very essential. After a hectic day at work, you'll love spending time in this cosy corner of yours where you can rest and unwind.
Pick a corner that is silent and is not in the middle of your home. Add a comfy chair or a swivel chair, a floor lamp and a curvy table near at hand to make sure it's the perfect space for spending some 'me time'. You can also a throw blanket on the chair to suit your home aesthetics.
Rugs
One of the most overlooked, but arguably one of the most essential, home accessories is a rug.
Rugs look super elegant, add extreme warmth and final touch to any space and make it look more graceful in less than a minute.
Whether it is a simple rug in the bedroom, a small rug in the mudroom, or a stylish one in the dining area, these textiles underfoot create an understated level of comfort. This extra layer that adds both - dimension and visual interest, comes in massive variety, prints, colours and sizes.
If your home theme is light, you should get patterns and light colours, and if your home theme is dark, you ought to stick to a rug in a pastel shade that complements the dark colours well. Your rugs must complement your home decor, so keep it minimal and choose the patterns wisely.
Here, you have them.
These must-haves can help you style your home well - transforming your builder-basic house into a cosy, warm and welcoming home.