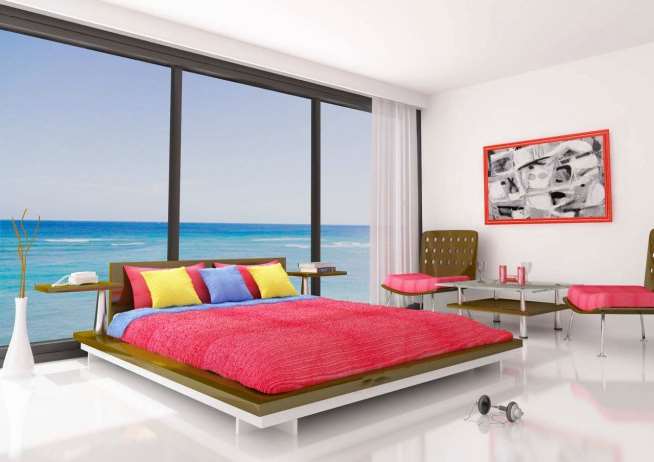 Looking for new bedsheets? With so much choice on the market, finding the best bed sheets can be a challenge – but when you're between the sheets for so many hours, it's important to get it right. You'll want to consider things like texture, feel, warmth, sustainability and value for money, as well as how easy they are to care for. For example, if shopping for children's sheets, you'll be looking for fabrics that are highly durable and stand up to repeated washing. You might consider buying a few different sheet sets, to suit your comfort level at different times of year. There is an enormous amount of variety available, and the choice is highly individual.
Thread count
A common misconception is that the sheet thread count is the most important indication of quality, but it can be misleading. Some manufacturers misrepresent the thread count by individually counting thin, low-quality fibres that are twisted together to make a single multi-ply thread. It's more important to consider the type and size of fibre, thread quality, and the weave. Many shops will have samples of sheets available that you can touch and get an indication of the quality, thickness and feel. It's also important to carefully check packaging to check where sheets are manufactured and whether the fibre is blended or pure.
With that in mind, let's find out how to choose the right sheets for the best night's sleep possible.
Cotton
Cotton is affordable, highly breathable and wicks moisture from the skin, making it a good year-round choice. It comes in different qualities, fibre lengths (known as the staple) and weaves, which change the feel, softness and durability.
Premium, long-staple cotton varieties include Egyptian and Pima, which make soft, high-quality and durable sheets, but they come with a premium price tag.
Examples of popular weaves include sateen, a luxuriously soft weave with a visible sheen; percale, a crisp, tightly woven, lightweight sheet; and flannelette, a thick, brushed weave that feels very warm against the skin, but has a tendency to pill over time. Many people choose flannelette in winter. A fur throw blanket also is the best choice for colder months.
Linen
Made from flax fibres, linen is a completely natural fibre and for some, there's no going back once they've purchased their first set. Highly absorbent, hypoallergenic and lint-free, linen is also a highly sustainable crop. Linen sheets boast an attractive and luxurious finish, but be prepared to pay extra.
Silk
Soft and luxurious, silk is a natural fibre and a good choice for people with skin conditions or allergies - but it requires special care with laundering that may not be practical for some people. Like linen, silk will cost more than cotton.
Bamboo
Bamboo has many advantages over cotton: it is beautifully soft, as each bamboo fibre is very long, giving the sheets a smooth, silky feel. It is highly sustainable and environmentally friendly compared to cotton, with bamboo crops yielding far more fibre but requiring only a fraction of the water. Bamboo is also naturally antimicrobial and resistant to dust mites. While they do generally cost more than cotton sheets, they are still relatively affordable.
There's clearly a lot to consider when shopping for new bedsheets – with the quality, characteristics and cost varying with each fibre type. It's worth taking the time to read labels, ask questions and research any marketing claims before parting with your hard-earned. You'll find the best sheets are a worthwhile investment, giving you a great night's sleep, wash after wash, for years to come.
Article provided by Chiropedic