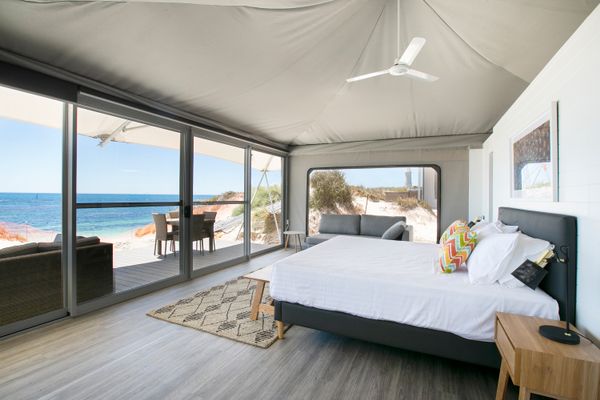 Decorating your bedroom adds more life and splendor to it. There are tons of ideas to spruce up the room, including wallpaper. With wallpaper, you can play around with the color, texture, and design to get a customized style altogether. Choosing wallpaper can be a daunting task if you don't have great ideas in mind. Here are the top factors to consider when picking out the interior décor for your bedroom.


1. Ambiance


For starters, bear in mind the feeling you want to create when you walk into your bedroom. This will help you to choose the right color combinations to bring out an ideal ambiance. The color choice solely depends on furniture, beddings, and walls. However, tones like red and orange might not be the best fit for your bedroom. Typically, they evoke irritation when you need a good night's sleep. The good news is that you can mix red with grey for a soft look.
Consider the following colors for the perfect atmosphere in the bedroom:
Blue: It is calming and accentuates openness.

Chocolate: Darker shades are excellent for comfort and relaxation.

Green: The best stress reliever for excellent sleep.

Cream: It is a neutral color that blends well with bright accents.
For a dark bedroom, you can create a relaxed atmosphere using light green. On the flip side, white or pale blue décor would match with a glossy texture material.

2. Taste and Preference


Your bedroom is a sanctuary to escape everyday life pressures. Thus, you can create a haven based on your taste and preference. For instance, if you want it to showcase elegance, it's entirely up to you to customize the designs. Traditional florals, for example, will complement antique furniture leading to a classy look.
If you prefer a romantic bedroom instead of a calm one, go for tones such as violet and blue. You can also bring a holiday to the bedroom amidst the pandemic with sunny beach wallpaper. Animal print wallpapers would be great to add texture to your walls.
If you are an aqua enthusiast, blue hues wallpaper will suit your bedroom. Also, nature lovers will appreciate emerald green as it showcases the personality and good vibes.

3. Material


Wallpaper comes from a range of materials that you can choose based on your budget and decoration needs. Here are popular fabrics for your bedroom wallpaper:
Acrylic: The wallpaper has acrylic on the layer to boost durability and attractiveness. Acrylic wallpaper is also environmentally friendly.

Paper: It is a commonly used material because it's low-priced and easy to install. What's more, paper isn't harmful to the environment.

Textile: Textile consists of paper, natural and artificial fabrics. The wallpaper is pretty expensive, but it lasts longer than its counterparts. The multi-layer coating is aesthetically pleasing and kind to the environment.

Non-woven: Non-woven wallpaper boasts durability and strength. It resembles fabric and comes with an excellent look. According to https://www.photowall.at/, non-woven wallpaper doesn't fade with sunlight and can withstand cleaning detergents. You can wipe it off when dirt accumulates on it.

Organic: It is made of natural materials like bamboo and wood. Organic wallpaper is eco-friendly, elegant, and safe for your health. What's more, it brings out a cozy and warm atmosphere in the bedroom.

4. Bedroom Size


The size of your bedroom will determine the wallpaper that you select. For instance, a small bedroom goes best with plain coatings. You can expand the room with wallpapers featuring a diagonal pattern. If possible, go for shiny surfaces to boost aesthetic appeal when bright lights hit them at night.
If you have a large-sized bedroom, consider blue tones to complement accent lights. You can decorate your room with floral or landscape wallpaper. Let your imagination go wild because a big bedroom is flexible to creative decoration.
Suitable wallpapers for a big bedroom include:
* Mountain scenery

* Sunset picture

* Foliage from forest

* Leafy botanicals

5. New Trends Are a Bonus


Times are changing in the interior décor space; hence you should embrace new trends. Your bedroom can be stylish and soothing at the same time. Here are wallpapers that you can consider to keep up with the changes:
* Watercolor blue

* Folksy flower composition

* Watercolor green

* Bohemian birds

* Landscape greige

* Miami blue sky
You can also opt for combined wallpapers for a modern and magnificent look. Customize your styles to come up with ideal wallpaper for your bedroom. A delicate scene like a misty pine forest is a popular trend for a bedroom. In addition to that, you can try subtle red and lilac tones to eliminate any form of dullness in the room.
For a more refined look, 3D effect wallpapers can deliver that. They also bring harmony and warmth to the bedroom. Motif leaf design wallpaper has gained ground due to the touch of royalty it shows in the bedroom.